Heart Evangelista has been hailed a "real crazy rich Asian" by no less than Kevin Kwan, the Singaporean-American author whose book Crazy Rich Asians has been turned into a hit movie.
And here's why, her glam life as seen in her Instagram account—pricey wardrobe from head to toe, business class trips abroad, and front row seats at fashion shows of top luxury brands.
But unlike the crazy rich Asian she epitomizes on the surface, Heart works hard and saves up to afford her lifestyle.
And in this aspect, she thanks her husband Senator Francis "Chiz" Escudero for helping her manage her finances.
"I have a genius for a husband so he helps me manage my finances, and we set a budget every year according to how much I will be making," she wrote in her latest "Chika Time" on Instagram stories.
"We are actually taping for my YouTube channel and he will be sharing all the amazing life lessons and ways to save money!
"So watch out for that!"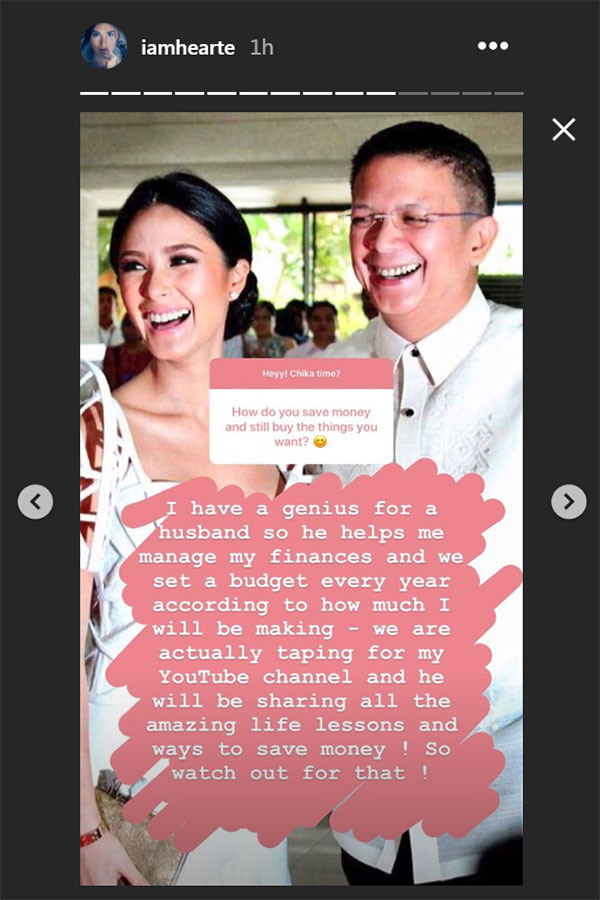 It's no secret that Heart, Love Marie Ongpauco in real life, was born with a silver spoon in her mouth.
The Ongpauco family owns the Barrio Fiesta Group of restaurants, which includes Barrio Fiesta, Bakahan at Manukan, Singing Cooks and Waiters Atbp, and Isdaan.
On her own, Heart also runs a number of businesses: a nail spa franchise and, soon, her own clothing and accessory line. She also earns from selling her artworks and commissioned paintings.
On top of that, she's one of GMA-7's most prized stars and one of the most bankable endorsers with dozens of local and international brands under her name.
NEW YORK FASHION WEEK
On Friday, September 7, wearing a custom-made Mark Bumgarner gown, Heart made headlines when she was tagged one of the best-dressed celebrities at Harper's Bazaar's ICON party 2018 by Elle US and The Cut.
View this post on Instagram
Heart proudly revealed on Instagram that she did her own hair and makeup for the party.
She wrote, "I'm spoiled with hair and makeup back home but I also come from a generation of artistas that had no stylist, makeup artist and hair stylist.
"So I was trained :) although, I did a little training with @abtkurniawan before leaving—video will be out soon."
Albert Kurniawan is Heart's go-to celebrity makeup artist.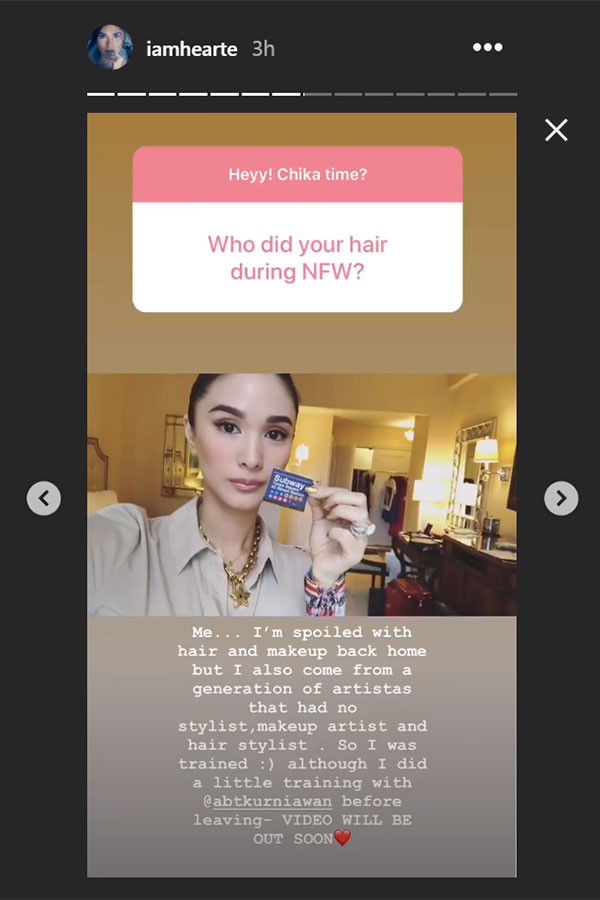 She also gave credit to her BFF Katrina Cruz for helping her with her OOTDs.
Heart wrote, "@iamkatrinacruz we travel together all the time 'cause she's also invited to the shows and I'm just lucky because every time I put things together it's so much more fun when she's around because she gives me validation in times of doubt... [emojis] also she brings her styling kit EVERYWHERE so no pants are too long..."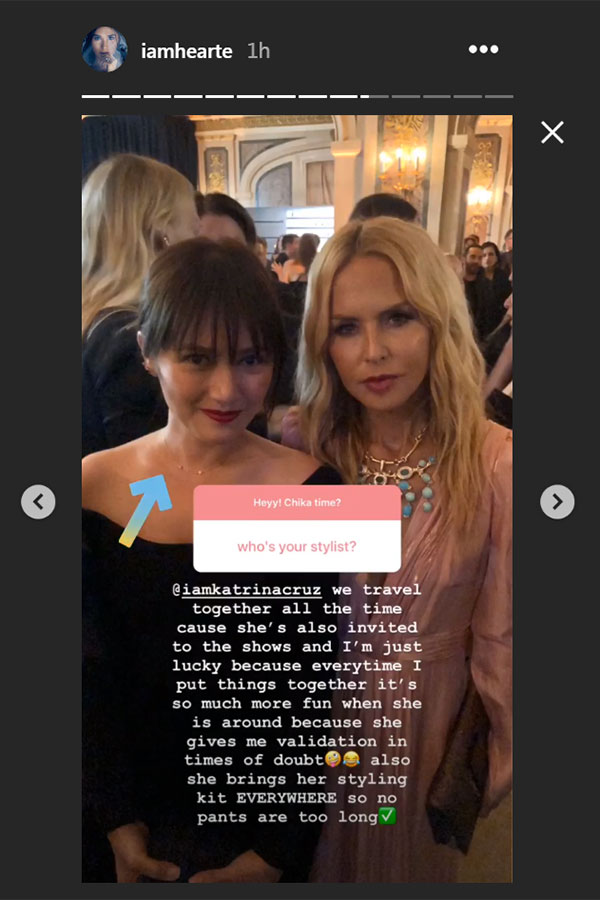 Another fan asked about her skin-care routine and how she's able to stay wrinkle-free.
Heart answered, "I think it's the life you live :) you need to be happy and the rest will follow—I also moisturize a loooot"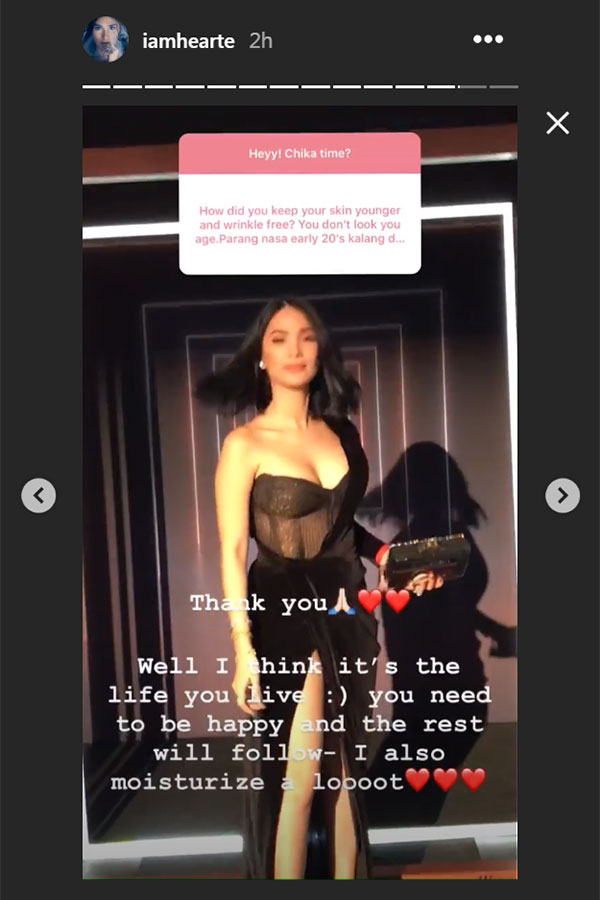 When asked about how she's able to keep herself fit, Heart revealed, "I actually don't work out :( although I need to start real soon...
"I eat healthy most of the time I think that works for me ;) I also know my body very well and wear only what compliments my body type."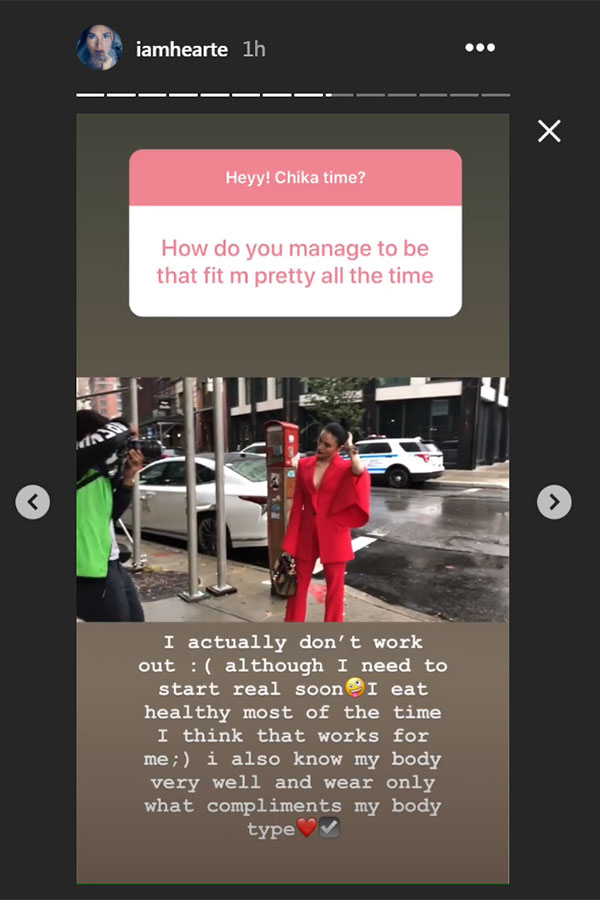 Recommended Videos