Coleen Garcia and Billy Crawford were the last Kapamilya stars to walk the red carpet of ABS-CBN Ball 2018, and Coleen almost missed it entirely.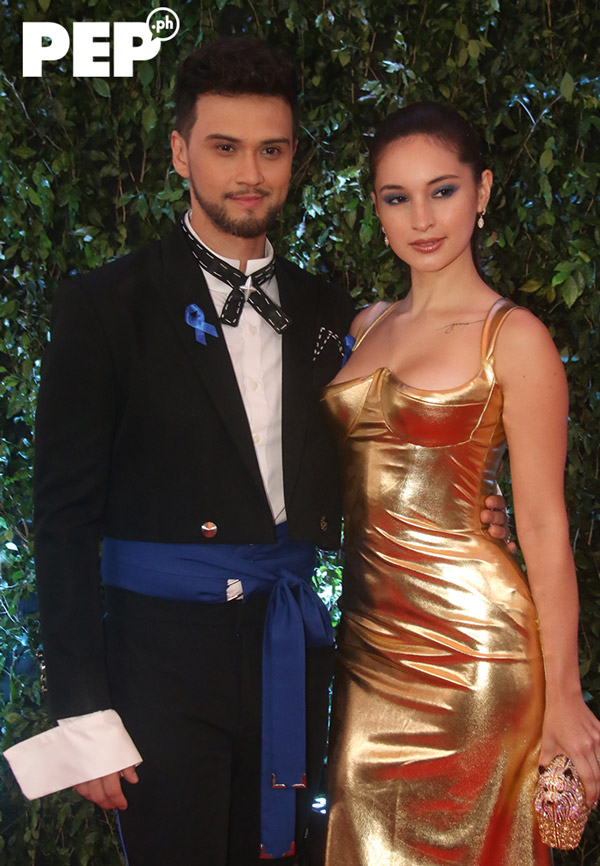 The 26-year-old ABS-CBN actress was in Paris, France early last week to attend the Paris Fashion Week, and her flight back to Manila was on the same weekend as the ball.
But Coleen had no plans on missing out on the event.
On her flight from Paris to Bangkok, Thailand en route to Manila, Coleen got food poisoning after eating a meal on the plane.
"... did not sleep AT ALL & kept vomiting on the way back. It was so bad," the actress wrote on her Instagram post.
"Once I landed in BKK, I didn't have much time but I was STRUGGLING to not pass out while walking in the airport!"
Coleen was by herself as this all played out.
She continued, "My vision was a blur, my body felt like it was melting & my head was spinning so bad, so I went straight to the nearest restroom & collapsed in the cubicle before continuing to throw up what was left of my guts.
"I inched my way to the lounge & the same thing happened until I heard my name being called, so with all my energy, I ran to the gate."
Despite the best of Coleen's efforts, she missed her flight to Manila by a minute!
Out of sheer frustration, she began to cry.
"...those who know me know that I don't usually cry!" she wrote.
"I was able to change my flight at no additional cost, but it meant that I would arrive in MNL by 7pm instead of the original time which was 11am. Our call time was at 6pm.
"I still hadn't fit my gown & I had no idea how I was gonna make it in time.
"I was able to rest & recover in the lounge before rushing like there's no tomorrow once I landed in MNL.
"On top of that, I was told that one of my bags got left behind. All of this after Paris, where I had multiple events per day."
Still, by miracle, Coleen made it to the ball in one piece.
In fact, she was an absolute stunner in her gold lamé Patricia Santos gown.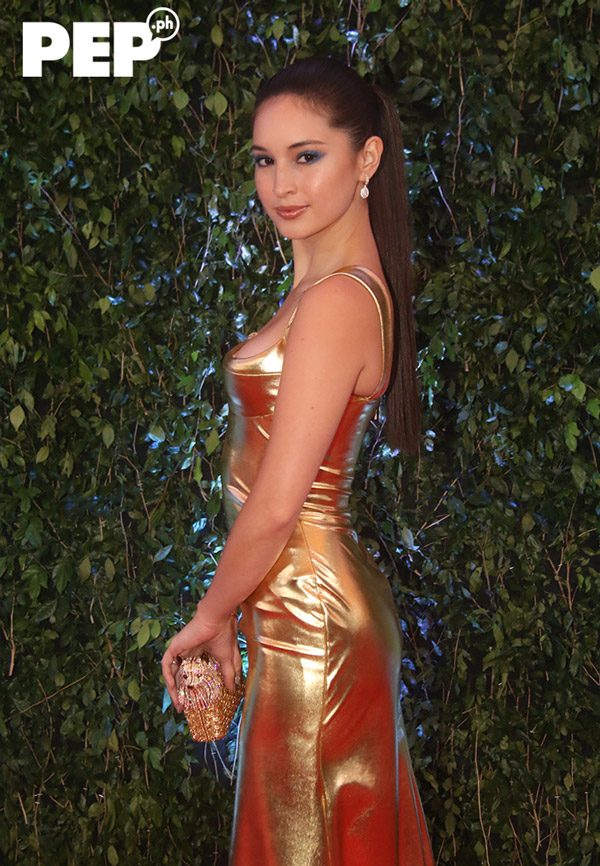 "The reason why I'm sharing this is [because] I'm blessed to know wonderful people who gladly came through when I needed it most," Coleen continued.
"@lovipoe ended up fitting my dress for me (tho I can't believe we have the same waist line cause hello just look at her! But then again, food poisoning...) and @kylieverzosa & @mica initially offered up their room in Shang before Tita Cory [Vidanes] heard what was going on & stepped in to save the day.
"It really saved me so much time & trouble!
"I could not thank you girls enough, you are all true friends! And thank you, Tita Cory!"
Ms. Cory Vidanes is ABS-CBN's chief operating officer, while beauty queen-actress Kylie Verzosa and singer Mica Javier were also attending the ball.
Coleen went on to thank more people, including his stylist Adrianne Concepcion, her husband Billy, Star Magic's Portia Dimla, and Narvacan, Ilocos Sur Councilor Luis "Chavit" Singson.
"Thanks @adrianneconcept, @billycrawford, @starmagic_portia, Tito Chavit [Singson], & everyone who assisted me in NAIA. It really took this many people lol
"Whatever it is, I'm just happy that I made it to the ball in one piece & enjoyed the rest of the night with good company.
"I cannot tell you enough how happy I was to be there! Hahaha"
On the comment section, Lovi, Kylie, and Adrianne sent their love to Coleen.
Lovi told Coleen, "You shined so bright that evening like none of those things happened!"
Kylie added, "You looked amazing"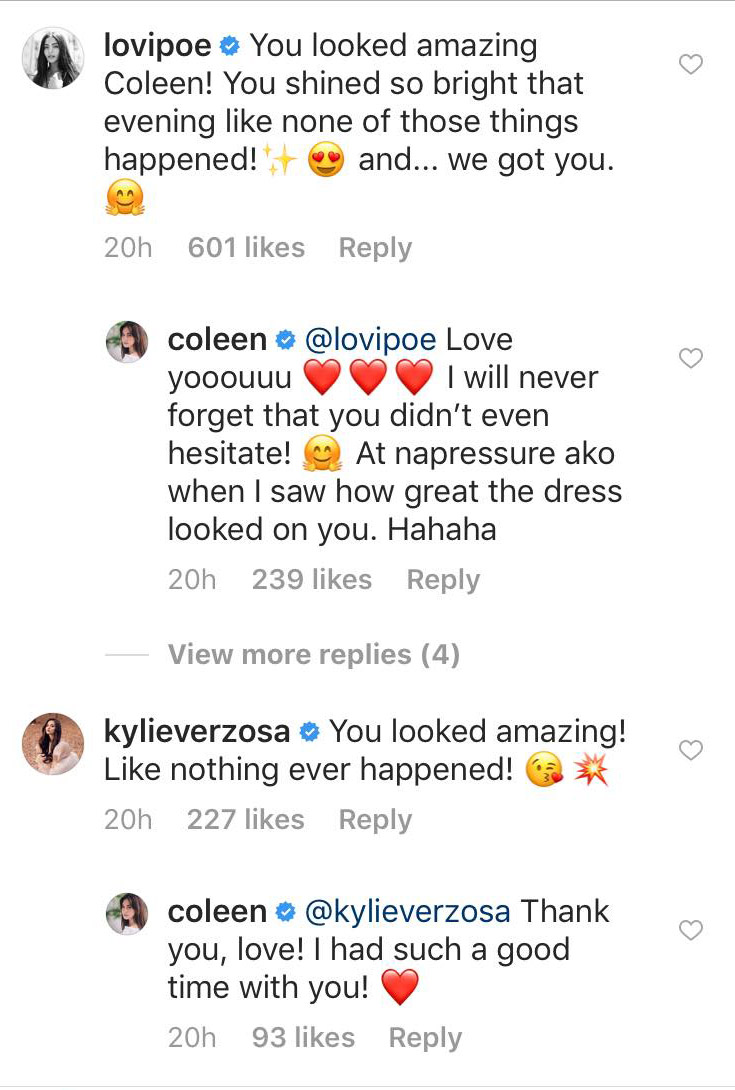 Adrianne, Coleen's stylist and close friend, felt her struggle.
She wrote, "I seriously teared-up when you called me in the morning, weak and crying... but we pulled through... reached the finish in gold!"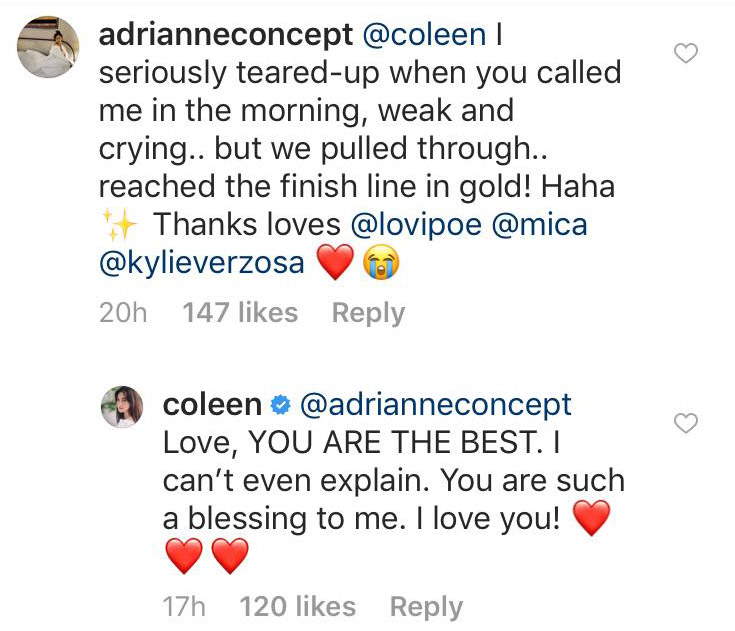 Read Coleen's full Instagram post here: