Nico Bolzico, the husband of Solenn Heussaff and the founder of the so-called Bullied Husbands Club, has recruited Dingdong Dantes to their team.
The model/entrepreneur made the announcement on Instagram last Thursday, November 22—a few days after their chat during The Color Run Hero Tour at McKinley West, Taguig City.
The Bullied Husbands Club came about after the netizens' positive response to his #Wifezilla posts—which capture funny snippets of his married life to the Kapuso actress.
It is also composed of the better halves of "It Girls" Anne Curtis, Isabelle Daza, and Georgina Wilson.
On his Instagram post, the Argentinian celebrity appointed Dingdong as the "Chief Operations Officer" of their club.
His full caption read: "At the #bulliedhusdbandsclubwe are constantly recruiting; and today we have the pleasure to announce that we have incorporated a key asset to the team, the unique @dongdantes...
"#ElDantes have joined the club 2 days ago upon full approval from @marianrivera; he will be the Chief Operations Officer, in his Curriculum Vitae he highlighted the following skills in no particular order:
"1- Fluent in wife dialect where '5 minutes' mean '1 hour' or YES means NO.
"2- Fastest 'Yes dear' ever answered.
"3- Full compliance with matching outfits when going out.
"4- Expert shopping bag holder
"5- Master degree in detecting when wife is moody because she is hungry!

"Welcome #DingBolzDantes #TogetherWeAreStronger #WeAreNotAfraid #ActuallyWeAreAfraidAndWeAreSorry"
Toward the end of his Instagram post, Nico wrote a special note for Marian, and said that it was just for laughs and nothing more.
"Disclaimer: Dear Marian Rivera Dantes, this post is simply a joke and doesn't reflect reality; if it bothers you in anyway, it will be immediately eliminated and you will receive an apology letter written by @erwan and signed by the whole #BulliedHusdbandsClub."
Meanwhile, Dingdong added more "achievements" in the comments section.
He wrote: "Mr. Founder, I am sorry I forgot to include the ff in my CV:
"- Cubao Chapter's Best in Dishwashing (2008 to present)
"- 3rd runner up, 'Bakit late ka na umuwi?' Reasoning Competition—(wait i have to go......)"
To this day, Nico is still waiting for Marian's response.
Among the many celebrities who reacted to Nico's post was vlogger and former Pinoy Big Brother housemate Wil Dasovich, who quipped, "Not sure if I'm more scared of Marian's incoming response or her no response, because as a bullied husband, nothing is worse that the silent response."
Nico replied in jest, "Bro if she doesn't respond in the next 3 hours I'll leave the country!"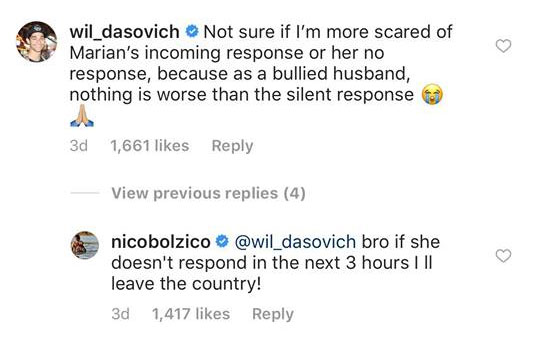 Some of Nico's followers started teasing him.
One commented, "Still no reply from @marianrivera. Is this goodbye ph for @nicobolzico"
Another threw in, "Did marian already reply? It's been days.. and where's the apology letter @erwan if so."