The year 2018 was filled with events that were much talked-about on social media.
Let us recount those trending moments.
Miss Universe 2018: Hail the queen, the magnificent, and the brave
The 67th edition of the Miss Universe pageant was one for the books. It gave a rousing welcome to its first transgender candidate and to the first titleholder from a tribal community to join the pageant.
Candidates from three countries—Philippines, Spain, and Vietnam—were the most tweeted, shared and liked from this year's Miss Universe competition.
Catriona Gray gave our country something to smile about this holiday season when she became the fourth Filipina to be named Miss Universe.
READ: Catriona Gray is Miss Universe 2018!
The 24-year-old beauty trended several times throughout the competition, but apart from her coronation, Catriona made a lasting impression on worldwide audiences with her unforgettable "Lava Walk" and slow-mo turn in the preliminary rounds.
READ: Catriona Gray's winning moments at Miss Universe 2018
Other than our newly hailed queen, the personal stories of Miss Spain 2018 Angela Ponce and Miss Vietnam 2018 H'Hen Nie touched the hearts of netizens.
Miss Spain, arguably, made the most impact at coronation night when the Miss Universe organization honored her as the first transgender woman to become an official Miss Universe candidate.
Magnificently, Angela delivered what had to be the most powerful statement of the night: "I don't need to win Miss Universe. I only need to be here."
READ: Miss Universe celebrates victory of Miss Spain Angela Ponce
Miss Vietnam 2018 H'Hen and her empowering story also endeared her to netizens.
She worked as a nanny to finance her own education, before she landed a modeling gig that laid the foundation of her Miss Universe journey.
H'Hen braved the odds and made it as the first Miss Universe Vietnam titleholder to hail from a tribal group in her country.
READ: The rise of Miss Universe Vietnam H'Hen Nie
The grand coronation of Miss Universe 2018 was held on December 17 in Bangkok, Thailand.
Pinay first: Kelsey Merritt lands gig with Victoria's Secret Fashion Show
The local fashion community witnessed a major first this year as Pampanga-based model Kelsey Merritt became the first Filipina to walk for the Victoria's Secret Fashion Show.
Kelsey walked alongside international models Kendall Jenner, Gigi Hadid, Bela Hadid, Behati Prinsloo, Candice Swanepoel, and Adriana Lima.
READ: Kelsey Merritt sizzles at Victoria's Secret Fashion Show 2018
Kelsey first announced the news on her Instagram account.
She captioned the picture with: "WE DID IT PHILIPPINES!!!!!! What an honor it is to be the first Filipino to walk in the Victoria's Secret Fashion Show 2018!!! Ahhhhhh I can't believe this!!"
While most celebrated her inclusion in a fashion show that promotes underwear but has become a coveted modeling gig, others questioned whether Kelsey's Filipino lineage could actually give her the "first Filipino" tag.
Netizens said her "eurocentric features" belied the claim, but to this, the 22-year-old Kelsey came back with a tweet:
"Pinanganak ako sa Pilipinas at lumaki ako sa Pampanga.
"Tinapos ko ang pagaaral ko sa Manila bago ako lumipat sa US last year.
"Mas pinoy pa dugo ko kesa sa mga 'pure' na hindi pa nakatapak sa Pilinipas.
"I love my country and I'm proud of where I came from."
READ: There's a lot to love about Kelsey Merritt
UP Fighting Maroons enter UAAP Men's Basketball Finals after 32 years
The UP Fighting Maroons were the darlings of this UAAP men's basketball season as the once cellar dweller (think 0-14) finally made their first championship appearance in 32 years. Their last was in 1986.
The rally of the Diliman began after winning a decisive game against De La Salle Green Archers at the end of the second elimination round.
Their victory secured them a slot in the Final Four, putting them up against Adamson Soaring Falcons in the semi-finals.
The Soaring Falcons held the twice-to-beat advantage in the game, but still the Maroons prevailed.
Their do-or-die showdown last November 28 gave the UAAP community one of its best games in recent years.
UP won by two points at the end of overtime in that game.
READ: Atom Araullo, Richard Gomez, Robi Domingo, Karylle wowed by historic UP Maroons win
Though the championship title ultimately went to the Ateneo Blue Eagles, UP's journey to the finals showcased the best of collegiate basketball, and the public responded.
UP star players Paul Desiderio, Bright Akhuetie, Juan and Javi Gomez de Liano became instant online stars.
The hashtag #AtinTo, a phrase that Paul took to heart during games, became the UP community's sounding battle cry.
WATCH: Bernadette Sembrano, Gretchen Fullido, Kim Atienza full of emotions over UP Maroons win
Grand Debuts: What netizens rooted or hooted
Two major debut celebrations became hot trending topics this year for opposite reasons.
Before the start of 2018, Isabelle Duterte had already caught our attention when she staged a pre-debut photoshoot at Malacañang Palace.
Netizens were quick to scrutinize the shoot, calling it an ostentatious display of privilege, especially for the granddaughter of a President that has cultivated an image of being of and from the people.
READ: Did Isabelle Duterte wear gowns worth PHP1.3 million pesos during her pre-debut photo shoot?
Still, President Rodrigo Duterte's granddaughter would not be denied her grand debut. On the very day of her birthday, January 19, at The Peninsula Manila in Makati, it was on.
Isabelle wore five different designer gowns for her party, including a Michael Cinco ball gown. Hermès items were given to the best-dressed guests of the night, and attendees went home with limited-edition Prosecco Wines by Brown Brothers in custom-made boxes.
How much did the debut cost? Reports ventured that the tab could have run up to PHP1.5 million.
Meanwhile, another debut was held which had netizens delighting in its youthful revelry: Juliana Torres Gomez celebrating her 18th birthday on September 8.
Dropping the usual debutante's ball trappings, the unica hija of Ormoc City Mayor Richard Gomez and Leyte Fourth District Representative Lucy Torres decided she wanted a chill, disco party.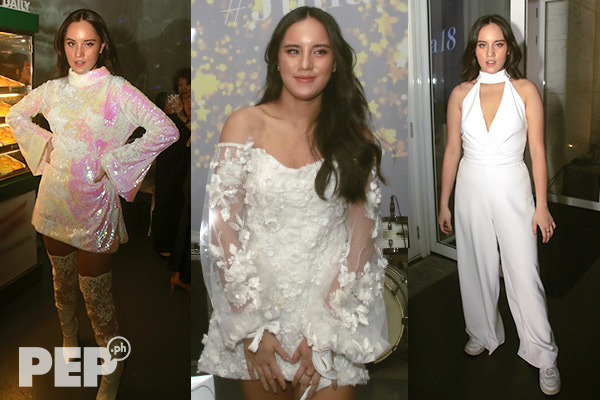 WATCH: Juliana Gomez debut party highlights
At the Bench Tower—Ben Chan, owner of Bench is a long-time family friend—in Bonifacio Global City, Taguig, guests danced all night to the tunes from the '70s, '80s, and '90s.
One of the party highlights that trended on social media that night was the fun father-daughter dance. Her father, the actor-sportsman-politician Richard Gomez, was game for anything on the dance floor.
That night, Juliana showed the country she had real dancing skills!
READ: Why Juliana Gomez's disco-themed debut party is a smashing success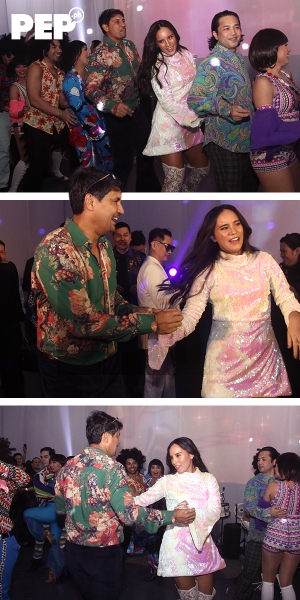 Royal Wedding: Meghan Markle becomes a royal
The world witnessed another royal wedding this year as His Royal Highness Prince Harry married former actress Meghan Markle on May 19 at St. George's Chapel in Windsor Castle, England.
Meghan, a biracial American divorcee, ushered in a new phase for the conservative British royal family.
For one, her wedding to Prince Harry already showcased a mix of tradition and game-changing moments.
From walking down the aisle solo to inviting African-American Bishop Michael Curry to preside over the homily, the Duke and Duchess of Sussex strayed from royal protocol.
READ: Six ways Prince Harry and Meghan Markle changed the royal wedding
Five months after their union, or on October 15, the couple announced they were expecting a child.
The baby is due in Spring 2019.