Lipad na lipad ka na ba? Now that we can go out again, it's time we get the best deals for shopping and traveling the world. At sa ultimate pasabog ng SMAC at Philippine Airlines, you can get both. SMAC, one of the country's biggest rewards programs, partnered with the Philippines' flag carrier to let its members convert their SMAC Points to Mabuhay Miles—Shop to Fly! And as the newest addition to this partnership, SMAC released a special, limited edition card that lets you get up to 500 Mabuhay Miles for FREE! This promo is open to all, so if you're looking for a sign to finally get into this rewards program, this is it.
To get a SMAC Limited Edition Card, all you have to do is go to SM Store, SM Hypermarket, SM Supermarket, Savemore Market, WalterMart Supermarket, W Department Store, or Alfamart from July 29 to September 30, 2022. The SMAC Limited Edition Card only costs P200 and comes with 100 Mabuhay Miles, but if you're lucky, you can get 500 Mabuhay Miles. How's that for the ultimate pasabog?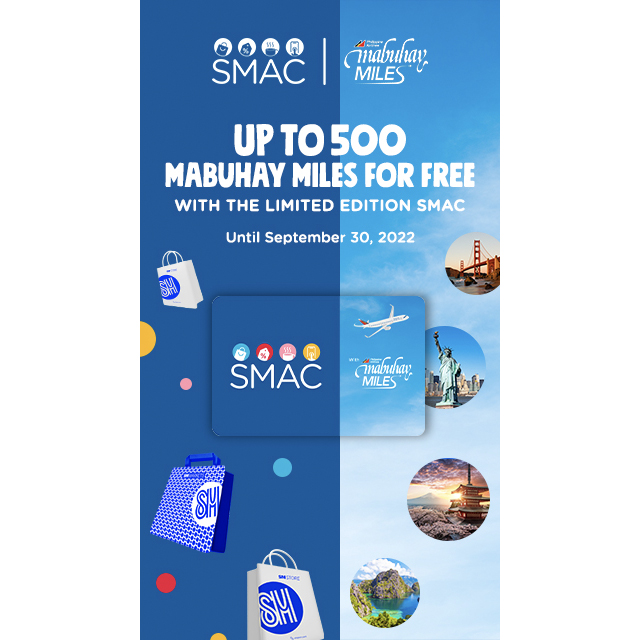 After getting your SMAC Limited Edition Card, you can register it through smac.ph or the SMAC mobile app. Once registered, log on to the SMAC website, click the SMAC limited edition banner, provide your Mabuhay Miles account number, and redeem your Mabuhay Miles. If you don't have a Mabuhay Miles account yet, you can enroll in the Mabuhay Miles program through www.mabuhaymiles.com/en/enrollment.
Just remember that only one PAL Mabuhay Miles account will be awarded per SMAC account. You also need to do it immediately, since SMAC Limited Edition Cards need to be registered within the promo period to redeem the free Mabuhay Miles. FREE Mabuhay Miles will be credited to your account real time.
SMAC lets you earn and pay with points, get discounts, and enjoy freebies every time you shop at over 4,000 SM retail partners nationwide. The more you shop, the more points you get! For every P200 you spend at retail partners, such as SM Store, Ace Hardware, Uniqlo, The Body Shop, Toy Kingdom, Baby Company, Forever21, and more, you get 1 SMAC point. For every P400 you spend at other brands like SM Hypermarket, SM Supermarket, Savemore, SM Appliance, and Watsons, you also get 1 SMAC point. But shopping isn't the only way to earn points. You also earn points and get perks at Shell, convert Grab Rewards points, and even PAL Mabuhay Miles to SMAC points.
To know more about the limited edition SMAC, check out SMAC's website.
Read the story? Tell us what you think!
How and where can I get this?