Jackie Forster's Instagram feed is like a mommy's diary, capturing the happy moments of her kids Kobe, Jared, Caleigh, and Yohan, and chronicling their milestones.
It also gives her 410,000 followers snippets of her life as an expat's wife, who has so far resided in five countries—Mexico, Malaysia, Singapore, China, and the United Kingdom.
It contains her struggles, too, and mirrors how she feels.
Remember when her unica hija Caleigh Simone was diagnosed with acute lymphoblastic leukemia in January 2014?
In May of the same year, Jackie happily announced, "Caleigh is in Remission!
Remember Jackie's reunion with Andre and Kobe, her sons with ex-husband Benjie Paras?
The comebacking actress reconciled with Kobe in January 2018.
In April of the same year, she reunited with her eldest son Andre.
She wrote a lengthy caption for the mag-iina's first photo after more than a decade.
Part of it read, "I told you all - #prayerswork. I ask for everyone to please respect their privacy now, we have shared so much of our personal lives with everyone and we want to take this time to heal and bond. No more bashing please.
"We lift you all up in prayers and speak blessing upon you all.
"The boys and I do not want to dwell on the past."
But what's on her Instagram account is just a fraction of her real world.
While Kobe has been visible on Jackie's feed since their reunion, her last post about Andre was dated May 14, 2018.
This has led people to speculate about the real status of their relationship.
But Jackie underscored that "everything is okay" between her and Andre.
On February 29, at the opening of Shinagawa Lasik & Aesthetic's biggest branch at the 21st floor of Ore Central Building, 9th Street corner 31st Street, Bonifacio Global City, she told PEP.ph (Philippine Entertainment Portal) and other members of the press, "I think, as showbiz as it is, he grew up na ang gulo ng life namin. It's something that he wants to keep private. I wanna respect it."
The mother of five does not want to put any pressure on the Kapuso actor, so she quietly unfollowed him.
"Noong parang medyo naguguluhan pa siya in the beginning, nag-unfollow muna ko sa kanya para hindi siya napi-pressure na kailangan niyang mag-follow, kailangan niyang mag-like.
"And that's fine, you just give him time."
Are they back to following each other on Instagram?
Jackie replied, "I don't know if I followed him. You know, I look like I'm very active on social media, but I don't know how to use some of the buttons.
"Minsan nga, may mga namba-bash sa akin na wrong spelling, okay."
Upon checking Jackie's account on March 5, 2020, Andre is included on the list of people she follows.
Andre does not follow his mom's account.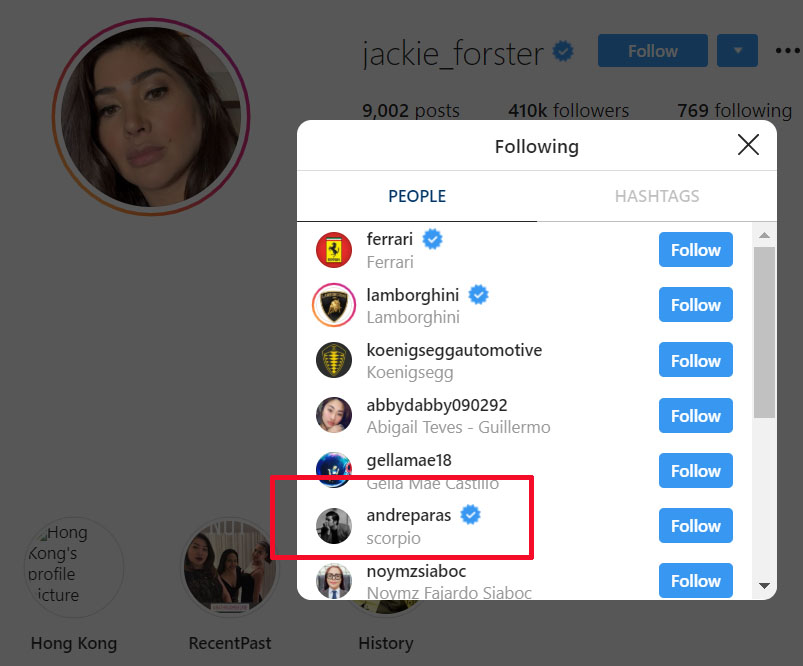 Between the two brothers, Kobe is more showy about his relationship with Jackie.
Their most recent "date night" took place on February 28, 2020, at the debut of Magui Ford Planas, daughter of Karla Estrada—a good friend of Jackie.
In the same event, the mestiza actress had a blast with her "sisters" and closest friends in showbiz—Karla (middle), Ruffa Gutierrez (2nd from L), and Donita Rose (L).
How about Andre? Have they been meeting each other?
"Not as regular," she said, sounding a bit hesitant.
Jackie continued, "Well, he's super busy. Andre works so much everyday. Workout and then basketball."
How about Jared, Caleigh, and Yohan—are they close to Andre?
"They're good. They're not too publicized. Tahimik lang, but everyone is good. Everyone is very happy."
Given that she and husband Michel Franken recently decided to make Manila their home base, Jackie is even more enthusiastic about her family life. Finally, she can be closer to Andre and Kobe in terms of distance.
"Everything turned out well, and it's good because we moved back. Eksakto lang that everything is turning out the way it's supposed to."
Besides, the three kids have always liked to live in the Philippines.
Jackie resumed, "It's funny because iyong last move namin from London to China, medyo naiiyak sila.
"Pero noong malaman nila from China na lilipat kami ng Pilipinas, oh my gosh, gusto nilang magpa-party.
"They're so happy. They love the Philippines. They love Filipino food. They love the beach, they love the sand. They don't like the traffic.
"And all their friends are here."
She added meaningfully, "Talagang in God's time."