Politics can often be divisive.
Sharply dissonant views can result in painful disagreements that put families and friends at odds with one another.
These past few days, two such families became the talk of the town.
There's Kito Noel, son of Malabon City lone district representative Jaye Lacson-Noel.
There's Kirk Nayona, whose LinkedIn profile indicates he's an advertising and promotions manager at ABS-CBN.
Kito's tweets about his mother went viral after he called her out on social media for supporting both the Anti-Terrorism Act and the junking of ABS-CBN's franchise.
The young Kito called out his mother as a "coward" and a "fascist."
He went on to urge the electorate not to vote for his mom in the coming 2022 elections, should she decide to run for another seat in government.
Kirk also took to social media to call out his father for the latter's "insensitive posts."
His dad had apparently posted his support for members of the Lower House who voted to deny the Kapamilya network's application for a new franchise.
Kirk not only called out his dad on Twitter, but also unfriended him on Facebook. Then he threatened to cut off their electricity and Internet.
netizens PUTTING DOWN KITO AND KIRK
Since then, however, both Kito and Kirk have deactivated their social media accounts.

There was too much flak from netizens and naysayers, who criticized them for being "ungrateful" kids.
Twitter user @RosalJaneRuda said it must have been painful for Kito's mom to get that kind of treatment from her son.
She wrote: "If I were the mother of Kito Noel, I would be angry. But first of all, I would be hurt. I would hurt like there's no tomorrow because for all that I've done and all that I've sacrificed for him, this is how he thinks of me. I would be angry but I would also be in so much pain."
Twitter user @lesssiiie also believed that Kito's reaction was "too much," and promised to never do the same thing to her mother.
Meanwhile, Twitter user @NufoneHudiz, reacting to Kirk, said she would never ask a sibling to leave her house even if they had opposing political views.
She wrote: "My brother who's living in the house I own—eats my foods, uses my electricity, my internet, my water, is a typical antigov kid. Pero hindi ko naman pinalayas... Hindi ko din naman sinusumbatan. These kids are just intolerant. Freedom of speech my ass."
Twitter user @paulmarcial concluded: "For some reason di sila marunong tumanggap ng opinyon ng iba. Pag di mo sila same sa opinyon kaaway ka na agad. Walang pamipamilya, kala mo naman grave sin ang di pagsang-ayon sa opinyon nila."
Agreeing with@NufoneHudiz's post, Twitter user @thelim_lights said she was also dismayed by Kirk's actions.
The tweet read: "Agree. Feel bad that politics divided us all. Imagine, you even cursed and humiliated your father by bragging that you [paid for] everything."
NETIZENS LAUDING KITO AND KIRK
On the other hand, there were those who came to the defense of Kito and Kirk.
Twitter @Atistah commended Kito for "bravely" calling out his own mother.

The Twitter user wrote: "Kudos! No, I don't see this as cyberbullying own mom but a son who loudly condemns reprehensible stances that adversely affects the nation. Maraming bulok sa sistema bec too many coddle/cover up/defend the wrongs of their fam/relatvs/friends or stay mum. This lad bravely didn't."
Echoing the same sentiments, Twitter user @fudgetajar said: "Some baby boomers and Gen Xers calling what Kito Noel did shaming his lawmaker mother online as immature and kulang sa palo. Please do not tell these kids to repress what and how they feel. Bowing to the powers that be is what made us reach this pitfall."
Then Facebook page DDS-CBN pointed out that Kirk is an ABS-CBN employee, telling those bashing Kirk that his reaction was understandable.
Part of the post read: "You people forget the fact that he works in ABS-CBN, and his father is in favor na mawalan sya ng trabaho, in the middle of a pandemic.
"Sinong anak ang matutuwa pag nalaman mong pabor ang magulang mo na mawalan ka ng trabaho ngayong merong krisis?
"And worse, wala naman talagang dahilan para magsaya sa pagsasarado ng ABS-CBN. May napala ba ang tatay nya sa pagsasara ng ABS-CBN? Heck, nawalan pa nga ng trabaho ang anak nya eh. They are just happy for their Poon."
A safe guess would be that "Poon" referred to President Rodrigo Duterte. The biggest numbers rooting for the demise of ABS-CBN are the Diehard Duterte Supporters, aka DDS.

Added the Facebook page: "Utang na loob? It goes backwards too. Masaya ka na nawalan ng trabaho ang anak mo na tumutulong sayo dahil yun ang wish ng poon mo na hindi ka naman kilala?
"Wala kang utang na loob. You don't deserve respect. Piliin mo ang anak mo na nagtatrabaho at tumutulong pa sa mga gastusin sa bahay.
"Biruin mo yun, nagtatrabaho sya, tumutulong sa mga bayarin sa bahay at iba pang gastos, tapos masaya ka bilang tatay nya na nawalan sya ng trabaho? Wala ka namang napala, nabawasan pa ng source of income ang household nyo, pero pabor ka dun? Blinded much? DDS beliefs over family? Kung ikaw ang anak hindi ka ba magagalit na ganyan kakitid ang utak ng tatay mo? Kung DDS ka siguro hindi ka magagalit.
"Tiis tiis nalang, magdasal nalang tayo, tumulong nalang, wag na magreklamo, we know the drill, yes na yes. But don't force your idiocy on normal people."
IT'S ABOUT RESPECT
PEP.ph (Philippine Entertainment Portal) asked its readers on Facebook to share how they deal with family members with political views contrary to their own.
Most answers agreed on one thing: It's about respecting each other's opinions.
As PEP.ph reader Mhean Evasco put it: "I treat them with respect. I may unfollow them but that doesn't mean I dont love them. We engaged in small debate to know each other's POV. But at the end of the day, we're still a family! No one can change that."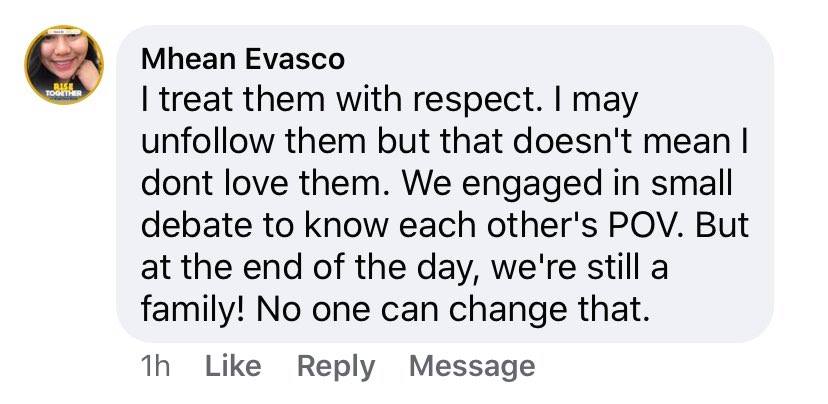 For his part, PEP.ph reader PJ Valdez Abogado noted that it is always better for families to argue their views privately rather than humiliate each other publicly.
He wrote: "The best and ideal way of dealing with family members having different political views/opinions is to discuss with them. Hindi yunh ginagawa ng mga woke na kesyo Pro-Duterte o Anti-Duterte yung kasama nila sa bahay, idi-disown nila online, pahihiyain pa. That is very wrong."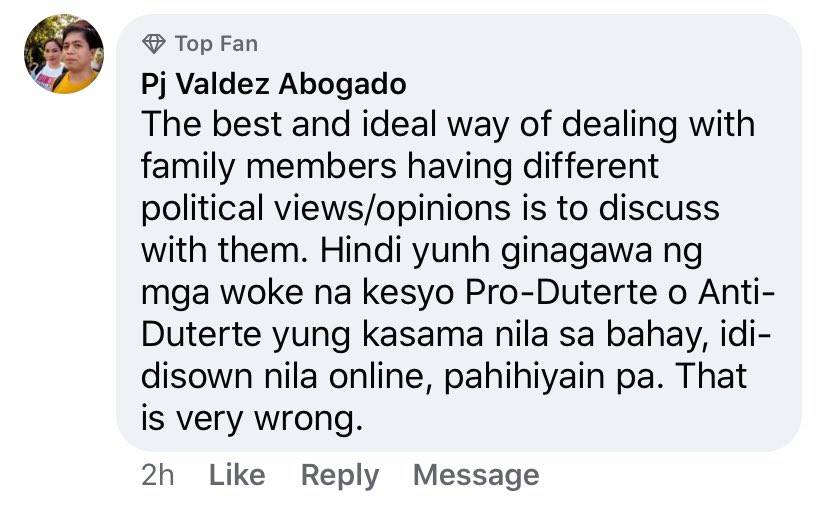 There are some families, in the meantime, who have made the decision not to talk politics at home, period.
Explaining, PEP.ph reader Mikee Alvarez said: "We don't deal with it, besides no matter how on point or not our political views are, it will be always offensive.
"Because opinions are offensive as we we're not sharing the same beliefs. I am not anti or pro-DDS because we don't need to support nor bash them.
"The most important thing is even [if] you and your family don't ride on the same boat, we still care, still aware, and understand though the understanding is not mutual."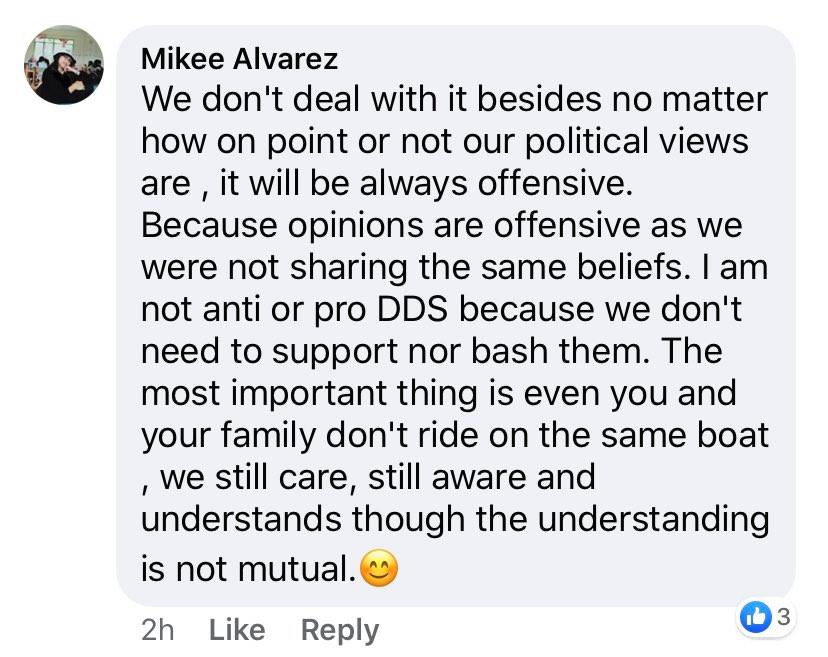 It might be good to remind ourselves of another reality: We have the freedom to surround ourselves with people who share the same politics, but we do not have the freedom to pick our relatives.
So, especially if we live under one roof, it is best to educate one another and, together, navigate these tough conversations with civility.
This, of course, works when both sides make the effort to keep an open mind.
In the end—always seek to educate, never to humiliate.
Gusto mo bang lagi kang una sa showbiz news at scoops? Subscribe to our Viber Chatbot here para lagi kang updated, and join our community for more pakulo!