This single mother from Dumaguete, Negros Oriental, is living a life on the road some people dream of.
Katrina Quisil is a mother of two working at two regular jobs as a licensed pharmacist and a bank specialist.
To manage her time, especially her sleep, Katrina converted a surplus van from Japan that she bought in 2018 into a makeshift halfway home.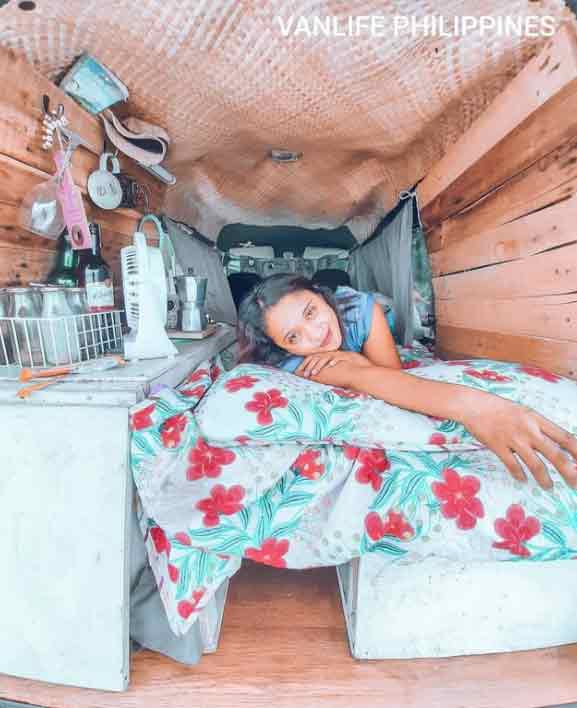 Since the van did not come with a manual, Katrina turned it into a liveable space in DIY fashion.
She told PEP.ph (Philippine Entertainment Portal) via email: "When my cousin and I discovered how to fold down the passenger seats, I right away put down a mattress on it and started sleeping comfortably in my van.
"I added some storage boxes. That's it. Ideas just kept flowing. That's the start of our so-called 'van life.'"
Gradually, the Dumaguete native began adding a mini work station and a mini kitchen. Next on Karina's list is a solar setup.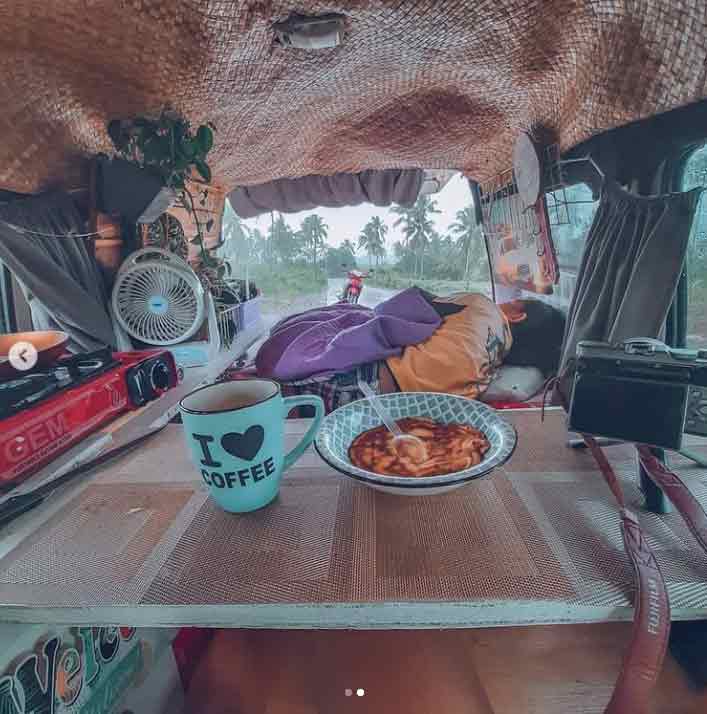 A week in the life of "Vanlife Weekenders"
The van is too small for a "full van life," but good enough for the weekend travels of Katrina and her kids Quinn and Duke around the region.
She shared, "We used it to travel on weekends and call ourselves the 'Vanlife Weekenders.'
"The transition is great! Of course, teaching them camper style toilet and bath is a challenge, but it was just at first.
"They adapt perfectly. They always couldn't wait for the weekend to come."
What's a typical day like for Katrina?
She said, "Typical day would start with me logging out from my night job as a bank specialist in some BPO, sleep for a few hours in the van, then off to my day job as a licensed pharmacist.
"At lunch time, I would go to my brother's [apartment] where my kids are staying for the weekdays, prepare lunch for them, shower, then go back to work again.
"In the afternoon, I would take them to their swim training. I would prepare a quick dinner then sleep in the van while they're doing trainings.
"After that, I would take them to my brother's apt, then I'm off to my night job.
"On the weekends, we travel away from the city."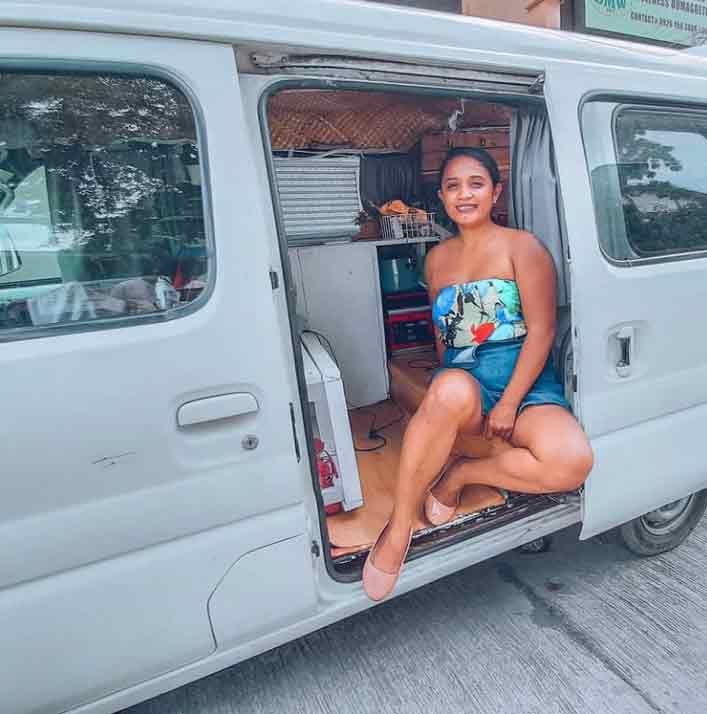 LIFE'S A BEACH LIVING IN A VAN
Despite her hectic work schedule, life in the van has allowed Katrina to spend uninterrupted bonding time with her kids.
The single mother said, "I love that we have this weekend break because I get to have them away from their phones and gadgets.
"They have the beach or the river or their bikes to play with. More active at day time, more relaxed at night time."
She added that Quinn and Duke have become "more independent," thanks to their new unconventional lifestyle.
"They answer their own modules. I'm just here to guide them, take the modules and back to the teacher.
"With regards to travelling, we are lucky to be in Negros island. We can do a lot of stuff here. We're not basically stuck.
"Also, the best part of traveling with the kids is the constant adventure and exploration.
"I could never give them the kind of education, experience and exposure to the world while simply living in a house.
"They got hands-on learning — learning about sea creatures and ocean life at the ocean. Nothing replaces firsthand experiences like that.
"I also love that I'm teaching them eco minimalism. We don't leave our trash behind.
"When they see a trash in the beach, they pick it up. My kids taking care of mother Earth is making me a proud mom.
"I'm a single mom and having two jobs help me a lot financially, but the experience that I give my kids is very fulfilling.
"I'm proud that they are more independent now than before. Including them in my life decisions and travel plans make them more in charge.
"I'm preparing them for the real world every day."
Part of Katrina sees van life as "midlife retirement," but she said she still needs the income to provide for her family.
"I think this should be a new thing that people do. Why wait until the end? Travel with your kids now—if you can make it happen!"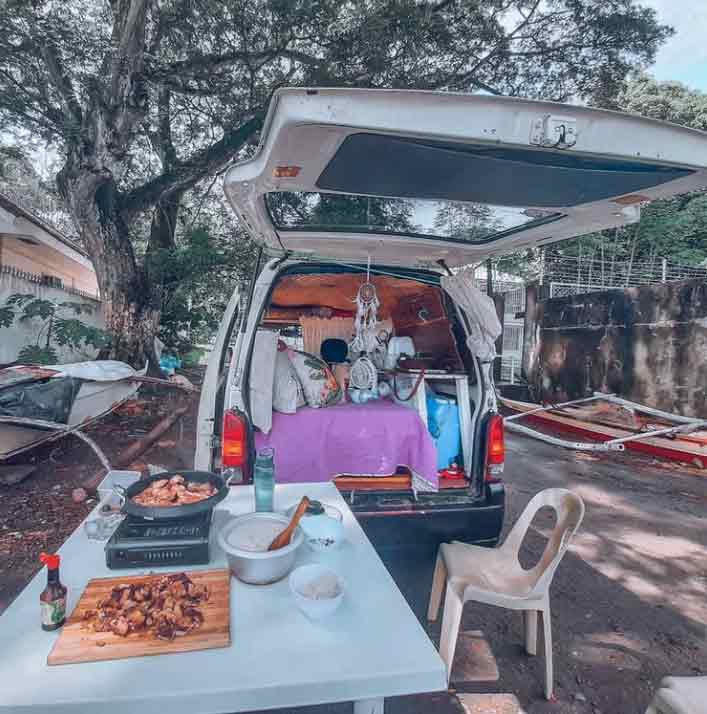 How to start the van life
Katrina advised it's important to have a stable income when considering a major change in lifestyle.
She said, "Once you get a stable income to live in a van, I say they should go for it. Or, they can also be like us, weekenders, and travel on weekends.
"Travelling is also education. It's giving the kids more freedom to explore. It's good for them.
"With vanlife, it's possible because you can do it without breaking the bank."
She stressed the importance of doing research on a place and learning how to "cook you own meals" before making the move.
Katrina added that monitoring the weather is also important with a reminder to bring "mosquito repellants" and "first aid kit in your van."
Gusto mo bang lagi kang una sa showbiz news at scoops? Subscribe to our Viber Chatbot here para lagi kang updated, and join our community for more pakulo!