Sitti Navarro already gave birth to her second child via cesarean section.
On Friday, September 24, 2021, the 36-year-old bossa nova singer revealed that she gave birth at exactly 11:12 p.m. on Wednesday, September 23, 2021.
She and husband Joey Ramirez named their daughter Osseah Lucille.
Sitti introduced her baby girl to her Instagram followers and wrote this in the caption:
"She's here [emoji] Osseah Lucille Ramirez. Born Sept 23, 2021 at 11:12pm. Weighing 5 lbs and 8 ounces, perfectly healthy!
"With an APGAR score of 9.9 [emoji] Thank You, Jesus [emoji]"
KidsHealth.org defined APGAR score as "a quick way for doctors to evaluate the health of all newborns at one minute and five minutes after birth" based on "color, heart rate, reflexes, muscle tone, and respiration."
In her Instagram Stories, Sitti said she was scheduled to give birth on Monday, September 27
She continued, "But yesterday [September 22] morning, after I vomited my breakfast, my OB asked to see me; she said it might be a sign of early labor.
"So we had our checkup in the morning.. it was all good!"
But the doctor eventually decided to deliver her baby girl after noticing that her heart rate decelerated.
She continued, "I felt some minor contractions that went away.. still, Dra asked us to go for a Non-Stress Test to be sure.
"She also asked us to have our RT-PCR tests done na rin just in case."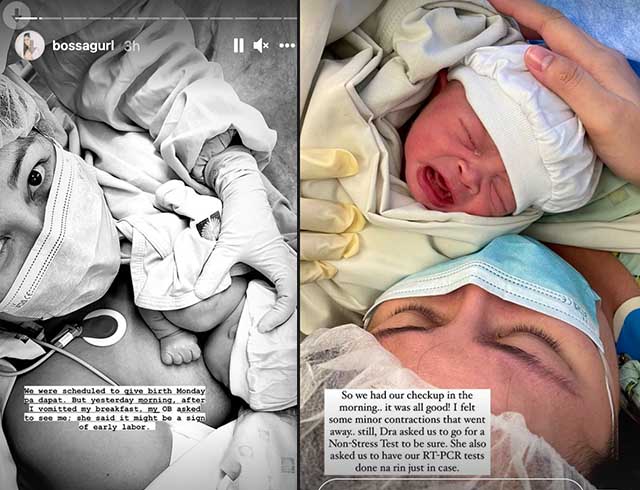 In her next post, Sitti wrote, "Well. just like how my delivery with Lilibubs [nickname of eldest daughter] was, ganun din nangyari kay Osseah [emoji]
"Her heart rate decelerated to around 90bpm after a strong contraction of 100 in the tocometer (which didn't feel strong for me at all hehe).
"So my OB said we would undergo emergency CS that very same day."
One thing expectant parents have to factor in during the pandemic is the swab test, which is mandatory before a pregnant mom is wheed into the delivery room. In Sitti's case, she needed the result right away so she had to spend an extra PHP10,000.00.
"I had to do a repeat RT-PCR na mas mabilis ang result (4-6 hours) which costs P10k+!!
"Kasi kailangan talaga muna malaman kung positive or negative ako before I can undergo CS.
"I had the NST at 2pm, was swabbed at 4pm, had to wait for the results which came out around 9:30pm. 10pm I was wheeled into the OR na."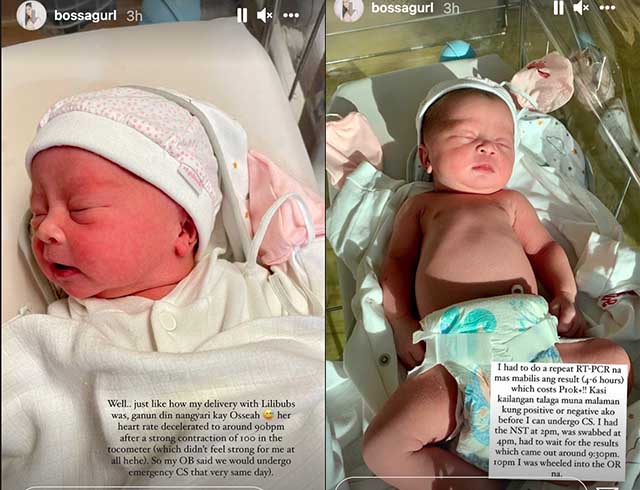 Joey wasn't able to join Sitti in the delivery room because he also had to wait for his COVID-19 test results.
Sitti said, "Joey and I decided na hindi na siya mag repeat RT-PCR. That we will just wait for the results of the earlier one we had (kasi sayang naman, P10k!!).
"So because we were still waiting for his negative swab result, he wasn't allowed into the OR when I delivered.
"He just waited in the hall the whole time. he wasn't allowed into our room too."
Joey was allowed to be with Sitti after testing negative, and after his wife's delivery.
In another post, Sitti recalled, "Finally at around 3am, 4 hours after I delivered Lucybubs, we got his negative swab result. Finally, nakakuha ng maayos na tulog asawa ko."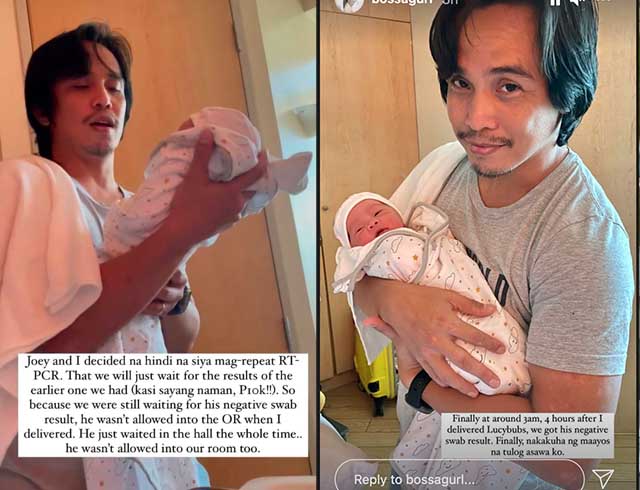 The mother of two is now recovering well, and she has already started breastfeeding their baby.
She wrote, "As for me and Lucybubs, we were together the whole time in the recovery room [emoji]
"I breastfed her and started learning how to care for a newborn again she has a strong and good latch - my nips don't hurt from nursing at all! A far cry from how it was with Lilibubs.
"Or maybe ganun talaga, nasanay na katawan ko mag breastfeed so it remembered?"
Sitti added in her next post, "So far madali siyang alagaan na bata. Dede tapos tulog lang. Hindi masyadong fussy kaya nakapagpahinga ako."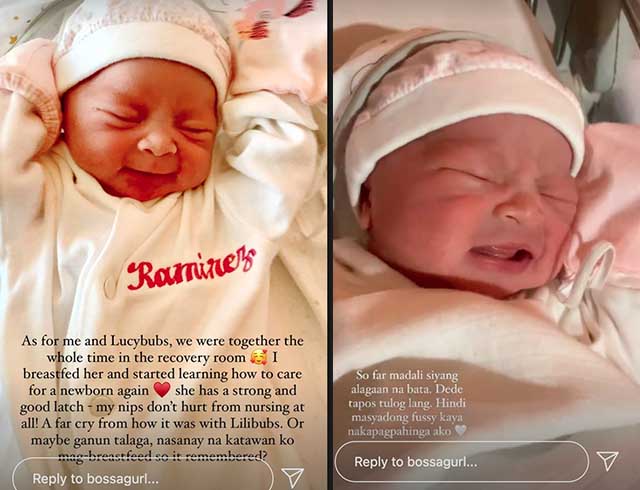 Their two-year-old daughter Issiah Dañelle has already met her baby sister through a video call.
Toward the end of her post, both Sitti and Joey expressed how grateful they are for their new blessing, which was quite unexpected for them.
"At siyempre nag FaceTime na sila salamat po, Panginoon!!
"Sabi ni Joey, 'akalain mo yun! Dalawa na anak natin!' [emoji] sino makapag-iisip na nahirapan kami 'makabuo'? Wala talagang imposible sa Panginoon [heart emoji]."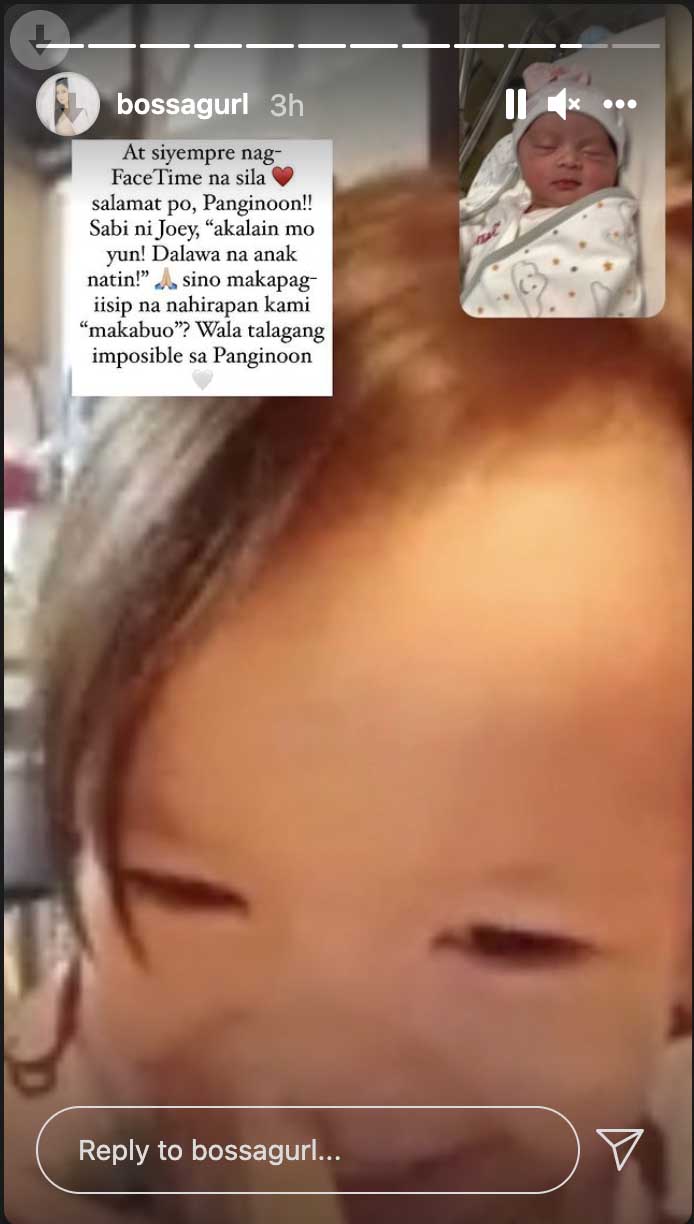 Ginger Conejero, Princess Velasco, Chito Miranda, Zsa Zsa Padilla, Ebe Dancel, Nikki Gil, Leo Consul, and Jason Magbanua were among the celebrities who congratulated the couple in the comments section of Sitti's post.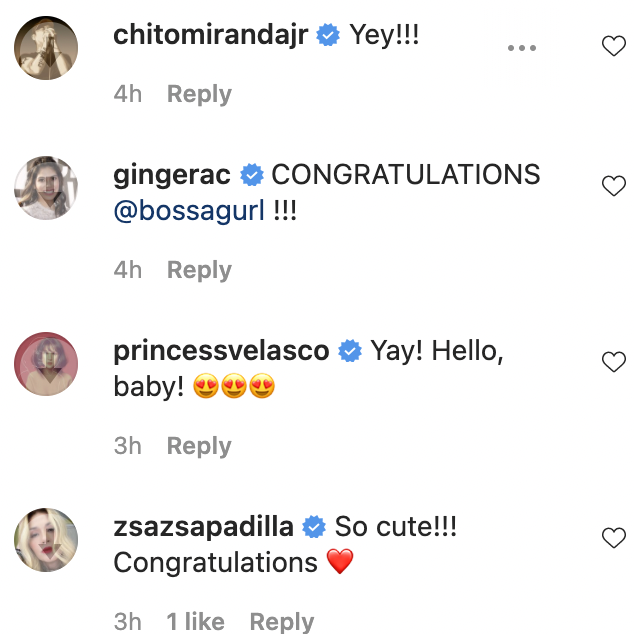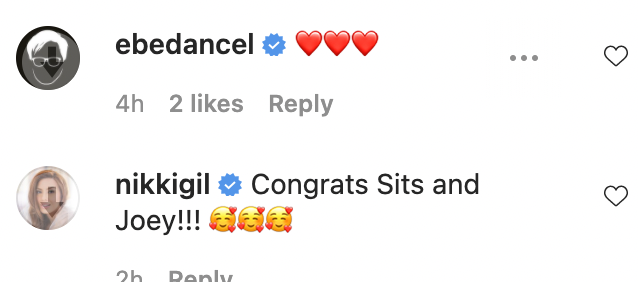 Sitti first revealed that she and her husband are expecting their second baby in April 2021.
In an exclusive interview with PEP.ph (Philippine Entertainment Portal) in May 2021, the celebrity mom opened up about the challenges she encountered during her second pregnancy.
These included her struggles with PCOS (Polycystic ovary syndrome) and APAS (Antiphospholipid Antibody Syndrome) as well as a cancer scare.