Babies bring joy to every household and give hope for better days to come during this unprecedented time of the pandemic. Fans are especially delighted to see the newborn babies of their favorite showbiz celebrities.
At the height of the quarantine in 2020, stars like Anne Curtis, Coleen Garcia, Iya Villania, and Max Collins were blessed with their little bursts of sunshine.
PEP.ph (Philippine Entertainment Portal) brings you a new set of celebrity babies born in 2021.
JANUARY BABIES
Maricris Garcia and Daughter Adaiah Denise
On January 12, 2021, Pinoy Pop Superstar Year 3 winner Maricris Garcia gave birth to a lovely baby girl named Adaiah Denise. This is her first child with husband TJ Cruz.
The couple got married in December 2016, and announced in May 2020 that they are expecting their first child together.
The first-time mom said in her Instagram post, "Life truly is a miracle and a gift from God, with Him nothing is impossible."
Andi Eigenmann and Baby Koa
Koa, a little island boy was born on the 17th of January 2021. He is the third child of Andi Eigenmann.
Veteran actress Jaclyn Jose, Andi's mother, shared the news on Instagram. She wrote, "Congratulations anak for having a successful birth to our newest addition of the family."
Andi's soon-to-be husband Philmar Alipayo, who has a son from a previous relationship, is happy to have another boy in the family.
Koa's big sisters Ellie and Lilo were all smiles, too.
Iwa Moto and Baby Caleb Jiro
StarStruck alumna Iwa Moto gave birth to baby boy Caleb Jiro Iwamoto Lacson on January 21, 2021.
"What a magnificent blessing on the 21st day of the 21st year of the 21st century," she posted on Instagram after giving birth.
Iwa had revealed that her pregnancy with Caleb Jiro or CJ wasn't easy, but it was all worth it.
Baby CJ is Iwa's second child with Pampi Lacson.
FEBRUARY BABY
Romnick Sarmenta and Baby Beanie
Actors Romnick Sarmenta and Barbara Ruaro welcomed their first child, Baby Beanie. on Valentines' Day, February 14, 2021.
In an Instagram Story, Barbara thanked the Lord and her partner Romnick for being there and helping her during her pregnancy journey. She also went through a 24-hour labor.
They have not revealed their baby's gender.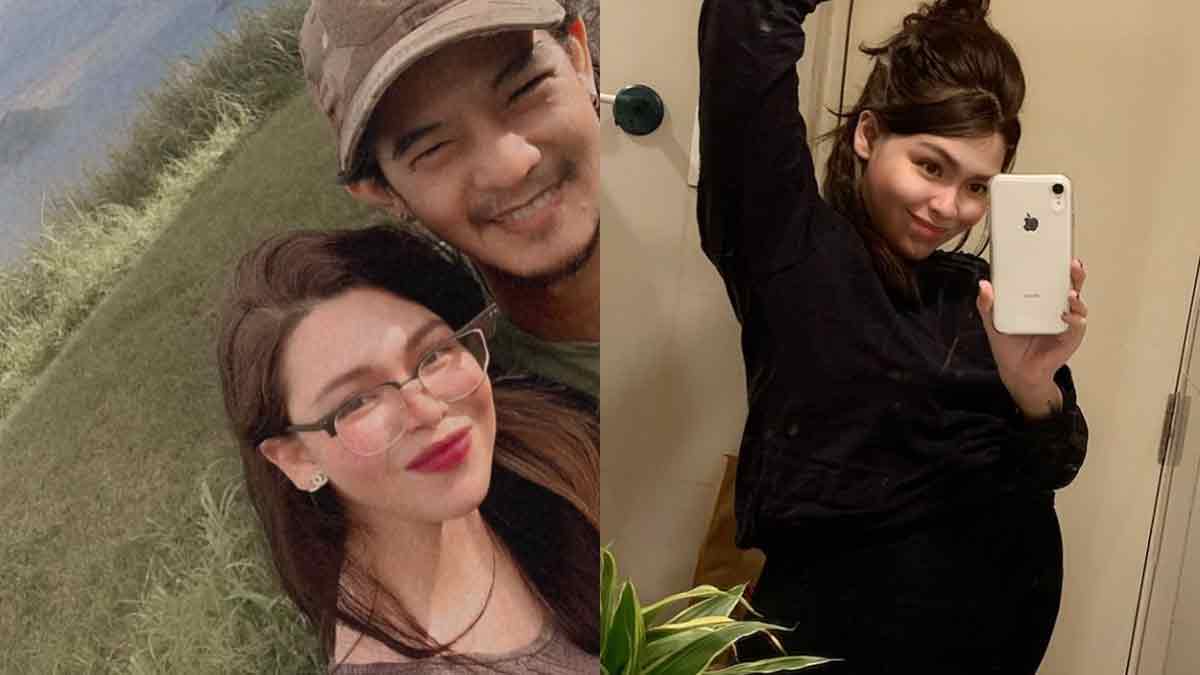 MARCH BABIES
Liz Uy and Baby Matias
Celebrity stylist Liz Uy and husband Raymond Racaza welcomed baby Matias, the fourth member of their family, on March 3, 2021.
Liz took to Instagram with a series of photos that showed her newborn gripping the hand of his daddy.
In December 2020, she announced her second pregnancy with a low-key confession that she and Raymond already tied the knot.
The couple's eldest son is Xavi.
Sophie Albert and Baby Avianna Celeste
Sophie Albert successfully delivered baby Avianna Celeste via Caesarean section on March 15, 2021.
First-time daddy Vin Abrenica was very excited to see his little princess.
Weighing 9.2 pounds at birth, baby Avianna was one of the biggest babies in the hospital that day.
Vin and Sophie have been together for eight years and got engaged in December 2020.
Camille Co and Baby Sienna Elea
Lifestyle and fashion vlogger Camille Co welcomed her first baby Sienna Elea with Finnish husband Joni Koro on March 23, 2021.
First-time mom Camille emotionally shared in her YouTube channel her birthing story while battling COVID-19.
She also posted on Instagram that her journey was nothing like what she expected. "It was a whirlwind of emotions, but we eventually did it. She's finally here—healthy and safe."
This was her first-ever operation, she said in her birthing video.
Rachelle Ann Go and Baby Lukas Judah
West End star Rachelle Ann Go gave birth to her first baby on March 26, 2021, in London, United Kingdom.
She and her husband Martin Spies named their baby boy Lukas Judah, which means "bringer of light" and "praised."
Months after giving birth, she is now back to doing Les Miserables shows.
In an Instagram post, Rachelle Ann admitted to being initially overwhelmed by the thought of juggling career and motherhood.
She added, "But praise God we did it! Always do it scared right?! It all worked out :)"
Jhong Hilario and Baby Sarina Oceania
Actor and dancer Jhong Hilario and his partner Maia Azores had their first baby Sarina Oceania on March 27, 2021.
On November 26, 2020, the couple announced the pregnancy in an Instagram post. They showed Maia's baby bump with the caption "Thank you Lord!"
APRIL BABIES
Georgina Wilson and Baby Charlotte Arabella
On April 5, 2021, Georgina Wilson and her husband Arthur Burnand welcomed their third child and only daughter, Baby Charlotte.
The celebrity mom's Instagram post was overflowing with congratulations from friends. Cousin Isabelle Daza commented, "You make popping kids look soo easy [emojis]."
Georgina announced her third pregnancy on her 35th birthday last February 12.
Baby Charlotte's big brothers are Archie and Alfred Thor.
Isabelle Daza and Baby Valentin
Isabelle Daza and her husband Adrien Semblat welcomed their second son, baby Valentin, on April 9, 2021.
They revealed the pregnancy in December 2020.
Valentin and his Kuya Baltie almost shared the same birthday. Baltie's is three days earlier.
Zeinab Harake and Baby Bia
Zeinab Harake, 23, and her rapper partner Skusta Clee introduced their first baby Bia on April 28, 2021.
In the vlog, Zeinab said while going into the delivery room, "Hala, natatakot ako." Skusta replied, "Kaya mo iyan, mommy."
After a while, Skusta heard Baby Bia's cry for the first time and exclaimed, "Biglang tumigil ang mundo."
Bia is a nickname short for Zebbiana, which is inspired by the 2019 song of daddy Skusta "Zebbiana" dedicated to partner Zeinab.
MAY BABIES
Jopay Paguia and Baby Ariana
Baby Ariana is the second daughter of SexBomb dancer Jopay Paguia and Maneaouvres dancer Joshua Zamora. She was born on May 2, 2021.
In February, Jopay and Joshua announced through a vlog that they are going to be parents again.
They welcomed their eldest child, Isabelle Allesa, in 2017. Big sister Allesa could not hide her excitement upon seeing her younger sister for the first time.
Roxanne Barcelo and baby 'dababycinco'
On May 22, 2021, actress-singer Roxanne Barcelo gave birth to her first baby boy she calls 'dababycinco'.
She announced her pregnancy in a YouTube vlog on January 21, 2021, saying that it was their "most beautiful plan."
Roxanne is very discreet about details of her new life with her husband, whom she recently introduced to her fans and followers.
They got engaged and married in 2020.
JUNE BABY
Dion Ignacio and Baby Dreighton
Baby Dreighton is the baby #2 of Kapuso actor Dion Ignacio and wife Aileen. They welcomed their son together with new ate Dylanne Jailee on June 27, 2021.
Dion revealed his wife's pregnancy during a guesting on Mars Pa More.
JULY BABIES
Juancho Trivino and Baby Alonso Eliam
GMA-7 couple Joyce Pring and Juancho Triviño welcomed Alonso Eliam on July 2, 2021. He was born via normal delivery.
Joyce penned a heartfelt message for her first child, saying, "I love you, my son. Thank you for making Mama and Dada the happiest and proudest parents."
During their first anniversary on February 9, 2021, the couple revealed that they are 19 weeks pregnant.
The couple's love story started on the set of Unang Hirit, where they were segment hosts.
Patrick Garcia and Baby Enrique Pablo
After three daughters, finally, it's a son for Patrick Garcia and wife Nikka! Their baby boy is named Enrique Pablo.
Nikka announced the good news on July 15, 2021, through an Instagram post.
Baby Enrique has three big sisters: Michelle, 7; Patrice, 4; and Pia, 3.
He also has a 13-year-old half-brother Alex Jazz, Patrick's eldest with ex-girlfriend Jennylyn Mercado.
They first announced on January 8 that their prayers for a baby boy had been answered.
AUGUST BABIES
Kristine Hermosa and Baby Vittorio Isaac
It's another boy for Kristine Hermosa and husband Oyo Sotto! They welcomed their newborn baby Vittorio Isaac on August 3, 2021 at St. Luke's Medical Center in Bonifacio Global City, Taguig.
Oyo was praying for a girl, but when baby Isaac's gender was revealed, he jokingly posted, "So paano na Lord? Ibig ba sabihin may kasunod pa ito?"
Ynez Veneracion and BABY Jianna Kyler
Ynez Veneracion became a mom again at the age of 40 after giving birth to her little princess Jianna Kyler. She delivered the baby via Caesarean section on August 3, 2021 at St. Luke's Medical Center.
Ynez and her non-showbiz boyfriend Bryan Julius Recto announced the pregnancy last July 8, 2021.
After almost a decade, she is very happy to be a mom again.
Katarina Rodriguez and Baby Robert Joaquin
Katarina Rodriguez, 29, is a first-time mom.
Baby Robert Joaquin was born on August 25, 2021 via water-birth delivery.
Katarina and her boyfriend, businessman Niño Barbers, announced the pregnancy last August 9.
Katarina shared in an Instagram post that, "Power to overcome pain that feels like death but in turn births life," is the essence of a woman.
Beth Tamayo and Baby Sloane Isabelle
Actress Beth Tamayo welcomed her first baby Sloane Isabelle with husband Adam Hutchinson on August 29, 2021.
Baby Sloane was conceived through in-vitro fertilization.
SEPTEMBER BABIES
Sam Pinto and Baby Mia Aya
Say hello to Baby Mia Aya, the firstborn of 31-year-old actress Sam Pinto and PBA cager Anthony Semerad.
On September 1, 2021, Anthony proudly shared on his Instagram account that Sam has finally given birth to their little ray of sunshine. He wrote, "I'm officially a Dad!"
The couple got engaged in November 2019 and got married on March 8 this year.
Kaye Abad and Baby Iñigo Leon
Meet Iñigo Leon, the second baby boy of 38-year-old actress Kaye Abad and husband Paul Jake Castillo. He was born on September 2, 2021.
The couple announced Kaye's pregnancy on February 27.
They celebrated their 5th wedding anniversary this December 9.
Their eldest son is Pio Joaquin, who is now three years old.
Neil Coleta and Baby Jazmin
After nine months of being together with his girlfriend Chin Kee, Neil Coleta became a dad to daughter, Jazmin Chinnei Marie.
Baby Jazmin was born last September 3, 2021.
Arvin Tolentino and Baby Olivia
Arvin Tolentino of PBA's Barangay Ginebra and wife Brandy Kramer are now first-time parents to baby Olivia, who was born on September 18, 2021.
Arvin wrote on his Instagram post, "Our lovely little angel has arrived."
In April, they announced that they are expecting a baby.
Brandy is the sister of PBA star Doug Kramer.
Jerika Ejercito and Baby Marta Eleanor
Daughter of former President Joseph Estrada, Jerika Ejercito introduced her fifth child and unica hija, Marta Eleanor, with Spanish husband Miquel Garcia Aguilar.
Baby girl Marta was born on September 18, 2021, and she is the "missing piece" of their family, according to her mom's Instagram post which bore the hashtag #FiveAndDone.
Sitti and Baby Osseah Lucille
Singer Sitti Navarro, 39, gave birth to her second child Osseah Lucille via Caesarean section on September 23, 2021.
Sitti proudly revealed on Instagram that her baby girl with husband Joey Ramirez got a 9.9 APGAR score.
APGAR, according to Medicine.net, "is a quick test performed on a baby at 1 and 5 minutes after birth. The 1-minute score determines how well the baby tolerated the birthing process. The 5-minute score tells the health care provider how well the baby is doing outside the mother's womb."
Alaiza Malinao and Baby Noah
Alaiza Malinao gave birth to her firstborn baby Noah on September 24, 2021.
The 27-year-old ex-beauty queen shared the happy news by posting on Instagram photos from her maternity shoot.
Alaiza also put out a baby-bump photo the day before she gave birth, and later shared a photo of two-week-old baby Noah.
OCTOBER BABIES
Anna Cay and Baby Alexei Constantin
Filipina vlogger and businesswoman Anna Cay and husband Geloy Villalobos welcomed their first child Alexei Constantin on October 3, 2021.
She announced her pregnancy through a vlog posted on her YouTube channel.
The couple tied the knot in December 2020.
Desiree del Valle and Baby Alexander Sebastian
Desiree del Valle, 39, gave birth to baby boy Alexander on October 4, 2021.
Husband Boom Labrusca said in his Instagram post, "To my wife, for carrying our baby, for being strong and for being an amazing wife... Good job mommy."
It was in May when Desiree announced her first pregnancy. They got married in the United States in 2018.
Boom is also the father of actor, Tony Labrusca.
Anna Luna and Baby Anne Clarke
Actress Anna Luna is now a mother. She gave birth to her first child, Anne Clarke, on October 7, 2021.
The simple yet beautiful name for their baby girl was derived from her and husband Clark Alpuerto's names.
Neri Miranda and Baby Manuel Alfonso
It's another boy for Neri and Chito Miranda!
They named their second son Manuel Alfonso, and gave him the nickname Cash.
The Parokya Ni Edgar frontman announced the happy news on October 8, 2021, but did not give any details about the birthing journey of wife Neri.
They announced the pregnancy in May 2021.
Divine Lee and Baby Dali
Divine Lee is now a mother of three! She gave birth to baby girl Dali on October 10, 2021 via Caesarean section at Chong Hua Hospital in Cebu.
Just like her first two children, Divine's baby girl was conceived via in-vitro fertilization.
She and husband Blake Go announced the pregnancy on March 21, 2021.
Nikki Gil and Baby Madeline Elle
Nikki Gil and husband BJ Albert introduced baby Madeline Elle to the public on October 10, 2021.
Nikki's Instagram post was filled with celebrity friends' congratulatory comments welcoming baby Maddie.
Her caption read, "Our little miss Madeline Elle arrived a few days ago [emojis] and we're completely smitten!"
The couple's first-born son Finn is four years old.
They confirmed their pregnancy in April 2021.
Riva Quenery and Baby Athena Rae
Actress-vlogger Riva Quenery and boyfriend Vern Ong are first-time parents to a healthy baby girl named Athena.
Riva delivered baby Athena via Caesarean section on October 12, 2021. They shared details of their birthing experience in a vlog on YouTube.
The couple, who have been to gether for two years, announced the pregnancy on May 30, 2021.
Rachel Peters and Baby Kaia Rose
Miss Universe Philippines 2017 Rachel Peters and Camarines Sur Governor Migz Villafuerte announced on October 13, 2021 that they are already parents to a baby girl, Kaia Rose.
Last June 1, they revealed that Rachel is bearing a child. A month later, they confirmed they had already gotten married.
">https://www.instagram.com/p/CVPsWy5phFf/]
November Baby
Nadine Samonte and Baby Harmony Saige
Nadine Samonte's growing family welcomed its fifth member, baby Harmony, on November 30, 2021.
The actress underwent a difficult pregnancy due to Polycystic Ovarian Syndrome (PCOS) and Antiphospholipid Antibody Syndrome (APAS).
"Everyday is a struggle but it's more of a blessing," Nadine wrote on Instagram before giving birth.
Meanwhile, daddy Richard Chua says Baby Harmony is a "great equalizer and referee" to her older siblings Heather and Titus.
We are now on Quento!
Download the app
to enjoy more articles and videos from PEP.ph and other Summit Media websites.