Bettina Carlos is pregnant!
She revealed this through her vlog yesterday, June 18, 2022, where she narrated how she found out that she is expecting.
This is her first child with husband Mikki Eduardo after Bettina had a miscarriage in January 2022.
Bettina also has an 11-year-old daughter named Gummy.
Based on her story, Bettina and Mikki were set to go to a Taco Tuesday celebration with their friends.
Thinking that beer goes well with tacos, Bettina thought of taking a pregnancy test before leaving the house.
She recalled, "Naisip ko, I'm supposed to get my period that day so wala lang, randomly naisip ko to check, this is mga 4:30 in the afternoon, I got the pregnancy test kit.
"And then, I checked, parang wala lang, just to make sure it's safe to consume alcohol.
"Biglang nag-positive! There were two lines pero yung second line, faint!"
Bettina then remembered that years ago, she also got a second faint line when she first found out that she was pregnant with Gummy.
Despite being initially skeptical at the time, her bestfriend told her that no matter how faint the line is, as long as there is a second line, she is pregnant.
Drawing wisdom from her previous pregnancy experience, she realized that there's nothing wrong with undergoing more stringent testing measures just to be sure.
Initially skeptical, she told herself, "Ha, totoo ba ito? Totoo bang we're pregnant?
"E, we're not supposed to get pregnant until six months after my pelvic laparotomy."
Bettina went through pelvic laparotomy, a major surgery after she had an ectopic pregnancy and lost her baby, Wammy, in January 2022.
She continued, "Sabi ko, 'Ah, baka wala lang. Baka late na, e, hapon na ako nag-test, e. Baka cheap yung pregnancy test kit ko.
"So, when I checked 'tapos nag-positive, sabi ko, 'Totoo ba 'to? Totoo bang I'm pregnant?'
"Kasi we were not really actively trying. Parang after losing Wammy, we decided na to take a pause in trying to be pregnant for a while, so hindi talaga namin ine-expect.
"Dahil tinest ko siya ng hapon, sabi ko, 'Ah, baka kaya lumalabo dahil hapon so tomorrow uli.'
"So the next day, what I did, nag-test ako agad, same test kit. So, malabo pa rin. Baka cheap yung pregnancy test kit so sabi ko, 'Oh, masyado pang maaga, huwag kang masyadong ma-excite.
"Siguro yung heart ko, parang holding off also on excitement kasi siyempre, coming from a loss, miscarriage, baka mawala na naman so hindi rin ako masyadong give na give na ito na yun, ito na yun."
Bettina took another test after five days with the same brand of pregnancy test kit and got the same results.
On the sixth day, her "fourth and last attempt," Bettina used a pregnancy test kit of a different brand, which clearly showed two lines.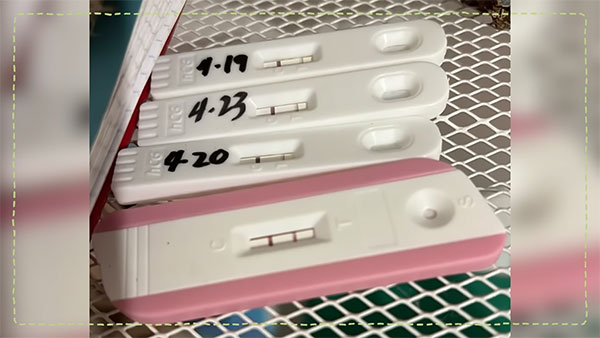 REVEALING THE NEWS TO GUMMY
Then, Bettina and Mikki thought of ways how to reveal the news to Gummy and her loyal househelp, Yatch.
Bettina narrated, "So, nag-lunch out kami after church and then, we were praying, daddy's praying, eyes are closed.
"And then, secretly, nilagay ko yung pregnancy test sa table, para pag-open ng eyes nila, the table was empty, wala pa food namin.
"Pag-open ng eyes nila, they'll see it. They'll be surprised."
True enough, both Gummy and Yatch were surprised as seen in their video.
Gummy even got teary-eyed as she stared at the pregnancy test with two lines, confirming that she will be an ate.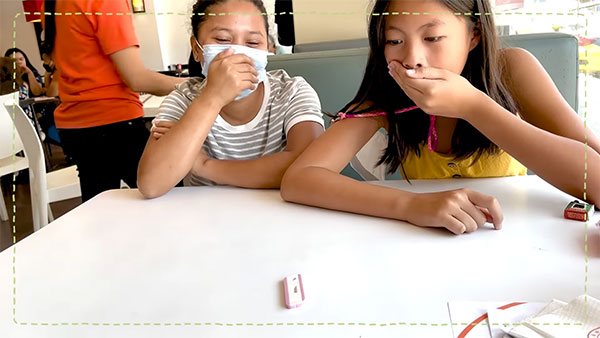 Continuing her pregnancy story, Bettina said that it was an unexpected pregnancy for her and Mikki.
She said, "First of all, according to our doctor, we can only start trying to be pregnant again six months after the operation.
"My pelvic laparotomy was in January 28 so dapat July, dapat next month pa kami actively puwedeng mag-try to be pregnant.
"But you know, talagang si God is a higher authority, more sovereign over the doctors. Si God talaga ultimately may hawak ng time, He's all powerful to dictate life when to allow to happen.
"So kahit pa sabihing six months, if, on the third month, God would want to give it, by all means, He would and He can.
"We were not really so keen on trying to be pregnant kasi nga, I felt like kaka-move on ko pa lang from Wammy.
"I'm starting to feel better, to feel like myself again, 'tapos sobrang gulat na wow, we're pregnant.
"When we think about it, on the same year we had Wammy and lost him, God gave this new baby to us and I am due to give birth in December and all on the same year, end to end!"
GOD PREPARED THEM TO BE READY
Bettina believes that God knows the right time when to give their baby.
She and Mikki realized this when they were doing a backtrack on when they conceived the baby.
She told her viewers, "When I think about my pregnancy, I can't help but really say God knows His time talaga for everything. Parang His timing is always perfect.
"When we count backwards and try to determine around when kaya we conceived this baby, it would fall on the week when we celebrated our first anniversary of moving here.
"So, one year na kaming nakatira dito sa La Union and hindi lang yun yung sine-celebrate namin. That's why I can say na talagang God knows His timing because it was really only during that time when my personal, emotional issues of living here were fully resolved.
"You know, on the first year of our marriage, marami kaming challenges."
Bettina and Mikki got married in December 2020 and thereafter, relocated to La Union.
Bettina continued, "When we think about probably why the Lord did not allow us to get pregnant in January, I guess it's because He knew we weren't fully ready yet, emotionally ready.
"I wasn't fully emotionally secure yet and it was only when okay, na na-resolve na, naayos na, 'tapos na, closed book na kung anuman mga issues ko and that's when the Lord came. So alam Niya talaga yung timing for anything.
"Nakakatuwa kasi parang anniversary gift Niya sa amin yung baby. 'Oh, one year living here, done with all your issues and your drama, okay you're ready. Here's a baby.'
"Kapag iniisip ko yung time ni God, I can't help but think na ang sweet sweet talaga ni God. As a Father, ang sweet Niya on when and how to give His gifts to His children.
"It was April 19 when we found out we were pregnant, it is exactly three months after we're pregnant with Wammy, January 19, and then April 19, I don't know what's with exactly three months.
"I just felt like ang sweet naman ni God, ang bilis bilis, hindi namin talaga inaasahan na He will bless us this early."
NOT AN ECTOPIC PREGNANCY
Throughout the overwhelming turn of events, Bettina thinks the biggest blessing came when she was called by her gynecologist.
"Ito siguro yung pinaka-nakaka-amaze at saka pinaka-nakakaiyak. When we first visited our OB for an ultrasound, we were just five weeks pregnant then, so by counting, five weeks lang.
"Normally, she wouldn't call for an ultrasound kasi wala naman siyang makikita, the earliest would be six or eight weeks.
"But because I had an ectopic pregnancy previously, she just wanted to check na hindi ectopic."
Ectopic pregnancy happens when a fertilized egg grows outside the main cavity of the uterus.
Bettina then showed her ultrasound results, where her baby is right inside the uterus.
She happily said, "There's our baby, our baby is right in the middle of my uterus where the baby should really be."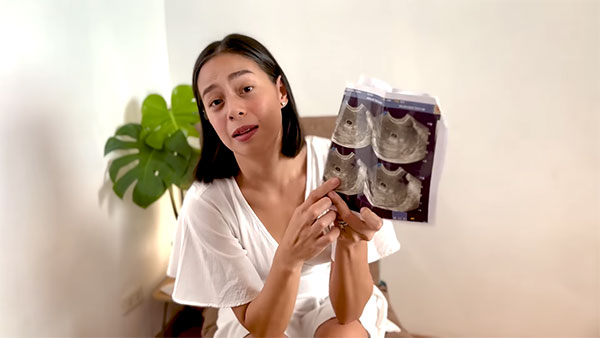 Bettina also showed the first and only ultrasound of Wammy where the egg is outside her uterus.
She continued, "So unang sigaw ng OB namin, 'Yes, hindi ectopic!' kasi that's all she really wanted to check.
"This was April 29, which interestingly was also exactly three months after I had my operation.
"So, I had my operation, pelvic laparotomy on January 28, on January 29, next day Gummy sent me a letter."
In her letter, Gummy confessed that she "had a hard time accepting that I was STILL an only child," but knows that God is still good and that she loves her mother and Wammy.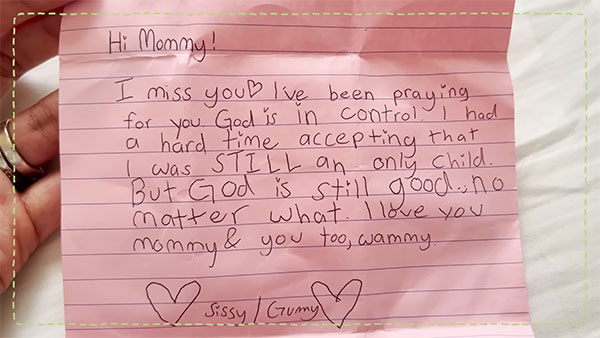 Teary-eyed, Bettina said, "Sweet lang ni God to replace the pain of my daughter in this letter with this unexpected surprise three months later."
In an Instagram post today, June 19, Bettina posted her baby bump as she bonded with Gummy and Mikki by the beach.
She also greeted Mikki for Father's Day, calling him a "daddy of 2."
She wrote, "Happy Father's Day to this Daddy of 2!!
"(na ang lambing ay mang-asar mangloko mangprank at manglunod)
"We love you Daddy @mikki.e.eduardo ! Will forever be thankful its YOU."
We are now on Quento!
Download the app
to enjoy more articles and videos from PEP.ph and other Summit Media websites.