Martin Nievera, 60, was filled with mixed emotions as he spoke of how his youngest son Santino taught him to love fully and unconditionally.
Santino, 16, is Martin's son to ex-partner Katrina Ojeda.
"I have a special child and I'm so proud and so scared at the same time because I'm not gonna be here forever," said Martin, who's open about Santino having autism.
In the October 27 episode of Magandang Buhay, he admitted that it is heartbreaking for him as a father, knowing that his child with special needs would have a hard time navigating through life.
Martin continued, "When he's on his own, who's gonna translate? Who's gonna tell people—not apologize— 'Ang ibig niya sabihin gutom siya. Sorry, medyo in love siya sa mga mermaid.'
"Why? Why does my son, 16-year-old boy, 6 foot [tall], why does he likes mermaids?
"Don't make fun of them. Jump in the water, look for the mermaid. They exist.
"There's magic in their world and we don't know how to handle it until it happens to you.
"And it's happening to me and I love it. I love this child."
Martin has been vocal about being inspired to work harder because he wants to be able to afford flying to the States several times a year just to visit his son who lives there.
READ: Why Martin Nievera always visits son Santino in the U.S.
He would visit Santino "every other month or every other two months" because he knows how much his presence as a father would mean to his child.
The Concert King elaborated: "Nagbago talaga yung buhay ko. Everything I've lived for, everything I do in life.
"[It's] nothing compared to the challenges that Santino will be going through forever. Sa lahat ng mga batang nasa spectrum, it's going to be a challenge talaga.
"And being the father that I am, which is never around, that kind of father, mahirap to instill in Santino, to teach him what I think the world should like like.
"May illusion na sila. I think they know what the world looks like through their eyes.
"Sana we can see the world through the eyes of an autistic child because there's magic there, there's hope there."
As a father, he clearly came to appreciate how a special child sees the world differently.
But admittedly, he worries about how other people might not be as understanding towards his kid.
Martin mused: "We all need to self-improve. But to be judged throughout your life has been my biggest fear—if he can go through life as a child, as a human being, as a man.
"Will he be able to say and admit to the world that he has something that other kids don't have? That's always been my biggest fear.
"So, I've become an interpreter. You know the art of showbiz is to entertain, and now I know how to entertain because literally every second of my life I am entertaining Santino so that he doesn't see the world as ugly.
"The words that people say, the words that go by and maybe he didnt hear it, the looks that people give because he's flapping in public, or he's having a fit, or when he was younger when he used to throw things off the table."
NO NEED TO SAY SORRY FOR HAVING A CHILD WITH AUTISM
It took a while, but Martin said that he eventually learned not to apologize for his kid having autism just to make other people understand what his child is going through.
The Concert King elaborated: "All we can do is pick up the mess. Never mind what people think. This is a lifelong condition so we have to learn to live with it and not apologize for it.
"And that's what I've learned. I've stopped apologizing. 'I'm so sorry, he's special.' You don't do that. No.
"Everyone's child is special. That's what I've learned.
"Stop making apologies. There's nothing to be sorry for. Stop blaming yourself for the situation that he's in.
"Just be there. Be present. Even if you're not physically present, he needs to know that I'm there."
Martin went on to say that he is sometimes surprised with how he feels so connected with Santino.
"There seems to be a bond between Santino and I," he enthused.
"Maybe I was also in the spectrum when I was younger 'coz I understand him. I know what he's trying to say.
"Nahirapan ako sa tagalog, di ba? In the spectrum world of autism, I seem to understand.
"And it's funny, even as a kid growing up, even as early as when I started show business, special kids always somehow gravitate toward me and I don't know why.
"Now I know why. Because I have one."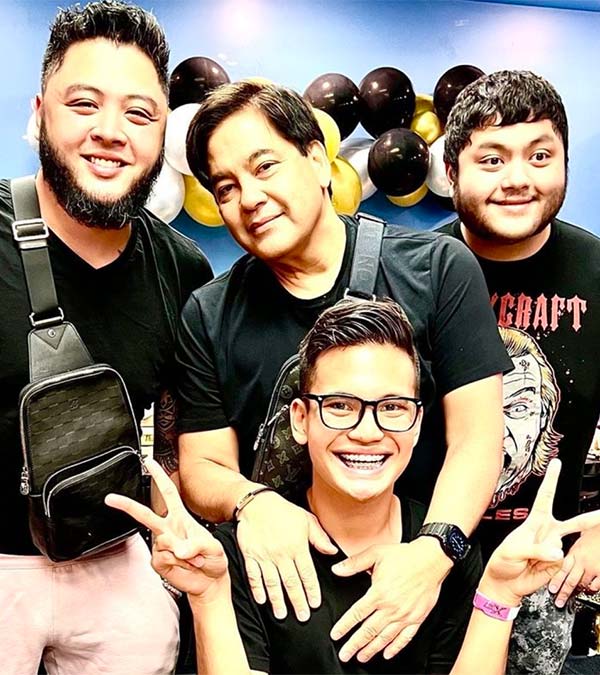 QUALITY TIME WITH HIS THREE SONS
That his sons Ram and Robin are also living in the States is a big blessing for Martin. Ram and Robin are Martin's children to ex-wife Pops Fernandez.
Martin said: "Robin and Ram, they're helping me now because they're close to Santino.
"So this could be a God thing that they're all together in the same country. That they [Robin and Ram] can take over.
"Is God trying to tell me that's it? Maybe you have to start thinking about what happens after. Maybe this day is what it's all about. And it's scary."
Pointing out that he's far from being the perfect father, Martin added, "I wish I was a better father to all three boys, but I'm not. But it is what it is. I do the best I can."