Lee O'Brian, Pokwang's partner, can't wait to cradle Baby O'Brian in his arms.
The couple is set to welcome their first baby in February 2018.
In an interview with Tonight With Boy Abunda last night, June 20, the American actor said that Pokwang is currently on bed rest so she can focus on taking care of herself and the baby.
He said, "It's difficult in the sense that it's very delicate. Every precaution has to be taken and bed rest."
But he assured the comedienne's fans that "she's doing great, she's bedstruck.
"She's totally resting, she's doing well."
He added, "Doctor said every thing's good with the baby."
Pokwang, who's seven and a half weeks pregnant, is currently part of FPJ's Ang Probinsyano and the comedy show, Banana Sundae.
According to Lee, "She has to stop for a while, she stopped in Banana Sundae."
On June 19, the 44-year-old actress posted a photo of her baby's "first picture."
She also extended her gratitude to all her well-wishers.
"Thank you sa lahat ng mga dasal niyo para matupad ito, at sa patuloy niyo pang dasal para ligtas si Baby O'Brian at tuluyan na siya mangulit sa February dito sa earth," she wrote.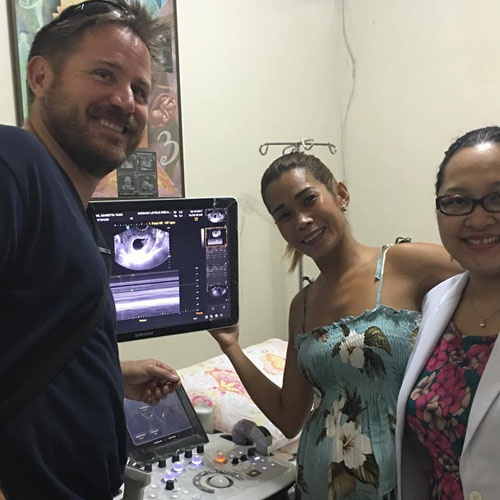 How did Lee take the news about his partner's pregnancy?
He answered, "For many years a while back, I didn't even think I'd be a father to be honest.
"It kind of was a thing that I, it was as much as I had planned on, I just hasn't really met The woman.
"And so, to know that—you know, I'm about to become a father—it was ecstatic."
Asked about the possible names for the baby, Lee said that "William" is on top of their choices if it's a boy.
"Because of my family, that's a tradition we've had going back few generations."
In fact, Lee's real name is William Lee O'Brian.
He resumed, "That's just the first name.
"We're kinda thrown around with names, you know, be it her father or possibly her previous son who passed away."
Pokwang had a five-year-old son named Shin, who passed away in 1998 due to brain cancer.
Still on the baby's name, Lee said, "On the ladies' side, we're thinking of possibly honoring her mother with her name as one of the two..."