With more than 12 million followers on social media and their numerous endorsements, Team Kramer undoubtedly has a superstar status.
This well-known celebrity family consists of Philippine Basketball Association (PBA) player Doug Kramer, his actress-wife Cheska Garcia, and their three adorable kids Kendra (8), Scarlett (5), and Gavin (4).
Just like their parents, Kendra, Scarlett, and Gavin are also popular, with their faces seen in many media platforms.
With so much attention these kids are getting, you'd wonder how Doug and Cheska teach them about fame at such a young age.
The mestiza star said, "They don't understand it. They know that people know them, but the capacity of understanding, they don't know," explained Chesca."
PEP.ph (Philippine Entertainment Portal) got to chat with the couple when they were launched as the first family endorser of Hapee Toothpaste products at The Mind Museum, Taguig City, on Tuesday, October 24.
The 37-year-old actress continued, "In fact, when Kendra had to do an essay for an exam and she was asked the question— 'What would you do to be able to advocate something?'—she couldn't understand the concept that she is in social media and she has an impact, because she doesn't understand it yet."
She and Doug also see to it that the kids do not feel they are entitled to anything, just because they are celebrities.
The cager threw in, "We try to make our children live a normal life, wherein they don't feel like they're above everybody else or just because they're known.
"And I like it to be that way until they really fully understand, and they're able to grasp the proper emotions, and how to handle it.
"Because we don't want raising children that might feel entitled or anything. We try to avoid that.
"It's nice that they can just enjoy being kids. Baby pa naman sila."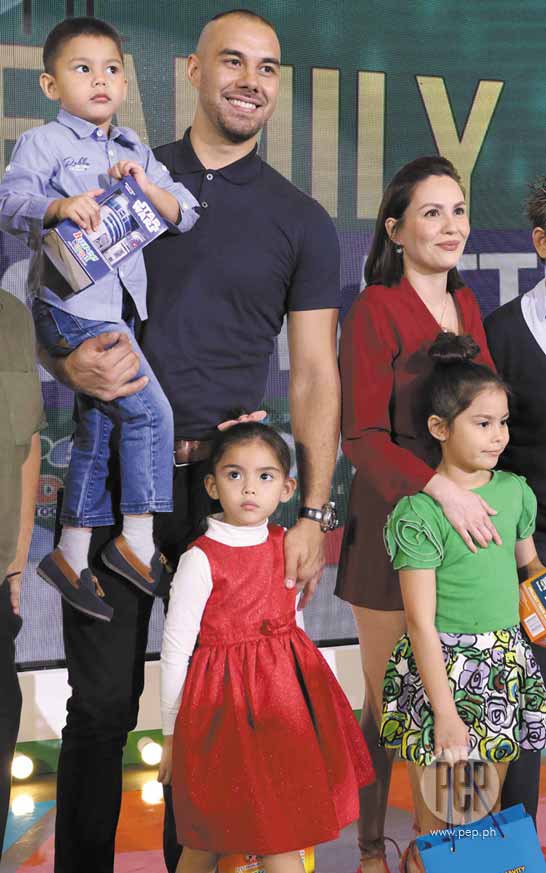 Photo by Noel Orsal
Team Kramer: Counter-clockwise Gavin, Scarlett, Kendra with parents Chesca Garcia-Kramer and Doug Kramer.
NO TO SHOWBIZ. Though a lot pf producers have approached them for a possible TV show, Doug revealed that becoming an actor or singer is currently not part of their plan.
"Not now," he began.
Checka added, "But later on, if they can decide on their own already, then we can discuss about it as a family.
"As of now, we want them to do other things like enjoy being a kid."