On October 20, 2017, Michelle Madrigal and fiancé Troy Woolfolk introduced their firstborn Baby Anika Austin, who "was too anxious to meet the world" because she arrived earlier than expected.
According to Michelle, Anika means "grace, favour, brilliance, or sweet-faced."
Ten days after she gave birth, the celebrity mom admitted that the journey to motherhood hasn't been easy for her.
In her Instagram post last October 30, she confessed, "Not gonna lie, I am exhausted from all the sleepless nights...
"Frustrated when I can't seem to understand what she wants every time she cries.
"Worried if I'm giving her enough milk, and somehow depressed when I'm not producing much.
Michelle added, "It's been a roller coaster experience for me and sometimes I just cry to let it all out.
"My hormones are still all over the place, BUT this little angel is keeping me sane at the same time.
"She taught me what UNCONDITIONAL love is."
Her life has completely changed, thanks to her amazing partner and cute little angel.
Describing her two "amazing gifts," she said, "They make my life colorful and I am forever grateful!
"Not a lot of people know how much this really means to me.
"Today, I am beyond exhausted but looking at this little family of mine makes it all worth it. The reason why I want to be a better person each day."
Nikki Gil and hubby BJ Albert received a "beautiful beautiful gift" on their second wedding anniversary.
Last November 21, the couple welcomed their cute little boy named Finn.
A few hours after giving birth, the first-time mom gushed on her social media account, "Dear moms, I get it now... hello my darling Finn [baby emoji] I still can't believe you're mine..."
Although Nikki limits her posts about Baby Finn, this sleeping photo of the two speaks volumes.
In another post, she wrote, "This 'sleep when the baby sleeps' thing is harder than I thought."
SO far, the "hardest thing" to do for Mommy Nikki: cut Baby Finn's nails.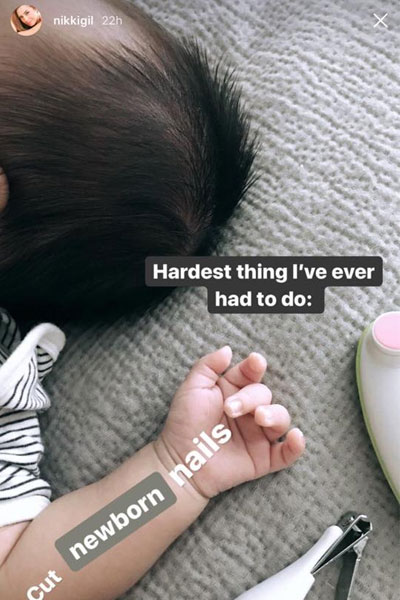 Who's the look-alike of this celebrity baby? Is it his Mommy Nikki or Daddy BJ?
Meanwhile, Bangs Garcia and hubby Lloydi Birchmore welcomed the birth of their Baby Amelia last December 5, 2017, at the Royal Berkshire Hospital in United Kingdom.
In a heartfelt message, the actress expressed how happy she is that her dream of becoming a mommy finally came true.
Her caption for their family photo: "Before you were born, we dreamed of you, we imagined you, we prayed for you. Now that you are here, we hope for you, we love you, we thank God for you."
On Baby Amelia's seventh day, her "Mummy and Daddy" brought her to the exact same pub where they "found out that I made it and actually brewing inside Mummy's tummy already to meet them after 9 months!"
Gushing over her day-old baby's cuteness, Bangs wrote on one of her Instagram posts last December 13, "You are certainly worth the wait my little sunshine."
On another note, the celebrity mom was all praises for her hubby and "the best Daddy in the world."
In a short chat with her a few days after she gave birth, she recalled how Lloydi had been "extremely supportive all the way."
Bangs recounted, "He was holding my hand in every contraction I had and took all the painful squeezing each time.
"I even accidentally scratched his face and bled. Lol!"
She continued, "And like me, he never got to sleep so it was as if he gave birth too."
Now that Baby Amelia's here, Daddy Lloydi also shares some parenting duties with his wife.