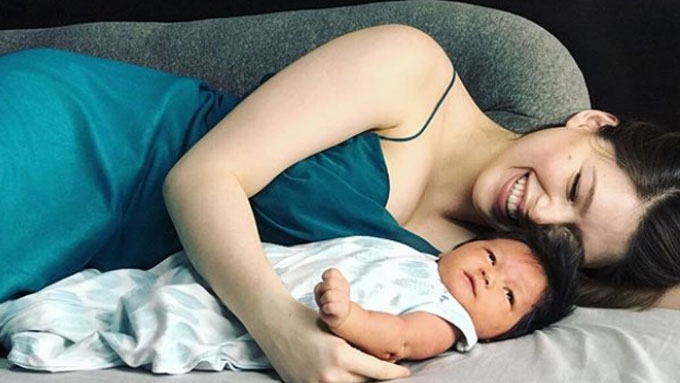 IMAGE @kylienicolepadilla on Instagram
---
Being a mom is definitely not easy.
It's especially hard for working moms. Some even have to put aside their careers, even if temporarily, for motherhood.
GMA-7 actress Kylie Padilla is presently going through all that—taking care of a baby and keeping house, on top of making time for her fiancé Aljur Abrenica
She gave birth to their son, Baby Alas, in August.
In an Instagram post dated January 7, 2018, the former Encantadia actress related that she's "experiencing motherhood at full blast nowadays."
The beautiful daughter of Robin Padilla wrote, "[Our] house helper decided to get married this year and leave us abruptly without any notice.
"I thought taking care of an infant was hard enough. But to add cleaning, doing laundry, and finding time for your partner is going to drive me to go insane.
"But I am facing this head on because I feel and know there is something to learn here.
"It's a different path but one that sets new levels of understanding and appreciation. I have never felt so overwhelmed in my life."
The 24-year-old Kapuso actress thanked her parents because, she said, before she entered showbiz she was taught the value of doing household chores.
As Kylie put it, "Good thing we were trained for this kind of thing when we were younger. After this, I can definitely say, I know what being a housewife means.
"What the sacrifice is, what it means to have self control and patience when you feel like everything might fall into complete chaos if you lose it.
ADVERTISEMENT - CONTINUE READING BELOW
"And you can't [lose control] because whatever your mood is, everyone else's mood follows. And it's a difficult reality I have to deal with."
Kylie went on to reveal one of the most important lessons she learned from her current situation.
She wrote in her post, "Controlling my emotions was always difficult but now you, uhem. I have no choice.
"Because it's not just about me anymore, it's about every member of the family. Your decisions affect the family as a whole.
"At the end of each and everyday, you appreciate people who are willing to help more, you appreciate the people in the past who give their lives in order to take care of you just the same."
Before ending her post, Kylie admitted that she misses working.
But that, in the meantime, she's giving a hundred percent to being a full-time, stay-at-home mom.
"Motherhood is just an on going array of life lessons. But... the thing is. I miss working and creating, and it's something I cannot leave behind.
"I don't think I could leave it forever. I will then, in fact, go nuts. But for now, I have to be content with seeing the haggardness and busyness of all this.
"And accepting the fact that now there is no me. There is a family. Xoxo mommy Kylie. P.S. Ramdam ko na. Nanay na talaga ako."