Former Pinoy Big Brother housemate Axel Torres is now a proud dad to his son Nathan.
Today, January 18, the 25-year-old former DLSU Green Archers basketball player shared a photo of his two-year-old son.
Axel's brief caption is: "No words! Thank you lord. #minime #blessed #thankful"
The hashtag #minime has led his followers to believe that Baby Nathan is his firstborn son.
Baby Nathan is his son with fellow PBB housemate Aina Solano.
Axel's followers are happy now that Axel has formally introduced his two-year-old through his social media account.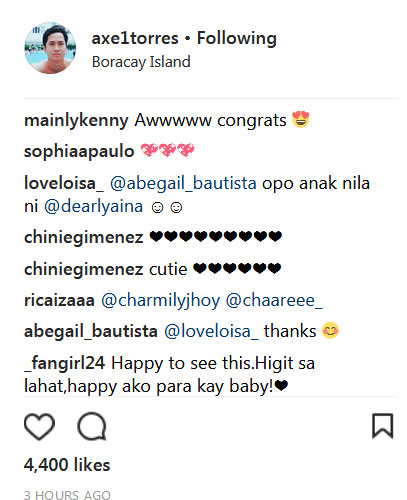 Early this month, Axel flew to Boracay with his son Nathan and Aina.
Aina also shared photos of their trip on Instagram, and wrote, "Exactly what we needed mon amour. #BoracayIsland"
Based on her Instagram posts, Aina and her son are based in France.
In an Instagram post last October 25, Aina greeted her "soulmate," who celebrated his second birthday.
She wrote, "'We all picture our soul mate as being someone who sweeps us off our feet. A romantic attraction and someone who makes life beautiful and carefree for us without even realizing it.
"'We picture a perfect love where there are never any problems or disagreements and a situation where your 'soul mate' is always by your side.
"What if we explored the definition of a soul mate and considered the possibility that a soul mate doesn't have to be a romantic connection? ...
"'Your soulmate is not someone who comes into your life peacefully. It is someone who comes to make you question things, who changes your reality, and someone who marks a before and after in your life.
"It is not the human being everyone has idealized, but an ordinary person, who manages to revolutionize your world in a second.'
"JOYEUX ANNIVERSAIRE SOULMATE. #Nathanturned2"
Axel and Aina are both former housemates of Pinoy Big Brother: All In which aired on ABS-CBN in 2014.