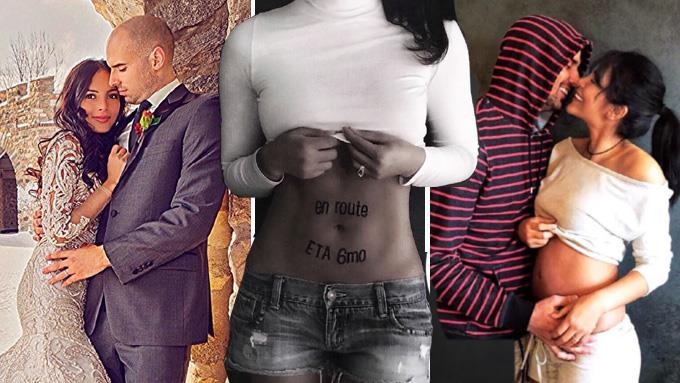 IMAGE @mischejewel on Instagram
---
After three years of marriage, Jewel Mische and her American husband Alister Kurzer are expecting their first child.
On April 1, the former actress made the announcement on Instagram by marking her flat tummy with, "En route, ETA 6 months."
She captioned: "Been the hardest secret to keep!!! #LatePost #babyontheway #forreal"
In another post, the 27-year-old soon-to-be mom recounted how she "tried" and "kept failing to get pregnant" for the past years.
"Until one night God spoke to me, He told me not to worry & gave me peace. 
"So I quit as I trusted Him and rested on His promise!
"By the time I managed to do so [writing about getting pregnant], guess what, I already was [pregnant]."
She resumed, "After almost a year, just as we were settled in to our new home, ready & free from all the tasks (among other good things), I got pregnant... that's GOD's timing!!
"Like my husband always says, be patient..God has always the bigger picture in view.
"When 'I' learned about our baby 'accidentally,' I was euphoric.
"I can't say it was a skyrocketing faith experience, but it was once again, an incredible witness to my Father's faithfulness!!!
"What I am tremendously amazed over right now is my smooth and easy pregnancy, even though I expected no less than that!!"
Jewel is 24 weeks pregnant.
The couple who love travelling have to put their trips on hold, and stay at their "dream house" in Michigan, United States, until she gives birth in July 2018.
ADVERTISEMENT - CONTINUE READING BELOW
IN GOD'S PERFECT TIMING. In December 2017, Jewel opened up about being asked one of the most dreaded questions: "When are you gonna have a baby and start a family?" 
To this, she said, "First off, Alex and I started our family on the day we said 'I do.'
"And I feel like my marriage is complete with or without kids just like how I didn't need a husband to complete me."
She continued, "Alex and I decided from the beginning that we will wait at least 2 years before we start having babies.
"We wanted to be well adjusted as husband & wife and have a solid marriage before we bring kids in to the mix.
"But the longer we were married, the more I felt content with just the 2 of us (Alex felt the same way).
"Don't get me wrong, we like kids and we love our nephews & nieces to pieces.
"But we weren't sure we wanted one on our own anymore (prior to marriage we used to joke we're gonna have 8, HAHA)."
The two decided to just be happy with what they have.
"Until one night I had a dream… basically God told me in the dream that 'HE WON'T HAVE A PROBLEM PUTTING A BABY IN MY WOMB.'
"I woke up and I knew exactly what it meant.
"So after that, I stopped 'trying.'
"I told Alex about it and he thought I had a great plan but surely I cannot beat God's haha.
ADVERTISEMENT - CONTINUE READING BELOW
"I have learned, once again, to rest and look at every season as a gift.
"How long are we gonna wait? I don't know. 
"I just know God told me not to worry and I take His word at it."