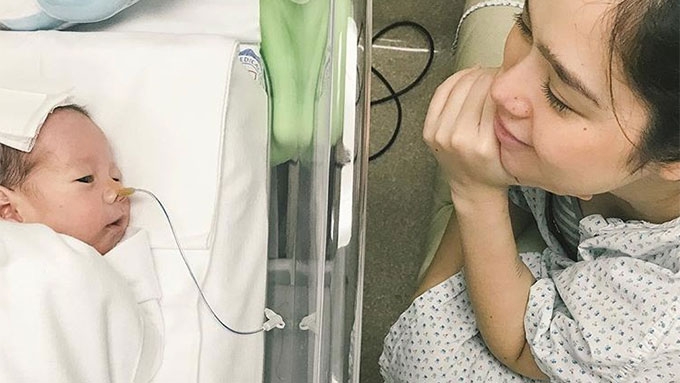 IMAGE Courtesy of Saab Magalona on Instagram
---
Saab Magalona goes into full mom mode now that Baby Pancho is home.
On April 6, Friday, the Cheats lead singer shared on Instagram one of the main challenges of being a first-time parent: changing diapers.
She wrote, "Third outfit change for today because of pee and poop booboos. We'll get better at this, I promise!!"
More than anything, Saab expressed how grateful she is. Weeks ago, she had a bigger concern: Pancho was in a critical condition.
In a separate Instagram post, the 29-year-old first-time celebrity mom wrote, "Here's a stolen shot Jim took of Pancho and me while he was still in the IMCU (Intermediate Care Unit).
"I remember being advised to go to him in the NICU (Neonatal Intensive Care Unit) the night I gave birth.
"I didn't want to because I felt sick and I didn't want him to catch anything just in case.
"The doctors said it was important that I see him, implying that it was to say goodbye.
"They said he was in critical condition. That he might not make it.
"This photo was taken days ago, just counting the hours when we would take him home.
"Praise God for listening to our prayers. Love to his guardian angel Luna.
"Thanks to them, we get to keep our beautiful miracle boy."