Nadine Lustre and James Reid, aka Jadine, are the latest famous showbiz couple who are said to have broken up due to "irreconcilable differences."
A source close to both Nadine and James confirmed to PEP.ph (Philippine Entertainment Portal) columnist Jojo Gabinete that they've already parted ways. Talk of the breakup made headlines Wednesday, January 1.
But, Nadine's reaction to the rumors has suggested otherwise.
Responding to Philippine Star entertainment editor Ricky Lo, who confirmed the PEP.ph report on January 4 both in print and online, Nadine countered: "None of what you said was true..."
JaDine fans have also become riled by the news, reminding everyone that James and Nadine celebrated Christmas and New Year together.
That said, Nadine and James have set the bar high on #relationshipgoals or #couplegoals. Their individual Instagram accounts have become a treasure trove of their sweetest moments and memorable travel destinations.
Here are some of the couple's most memorable trips in the country and elsewhere in the world after admitting their relationship to the public in February 2016.
SAGADA
Sagada is one of James's favorite destinations in the Philippines. In September 2017, the couple went on an adventure to Sagada, Mountain Province. James and Nadine must have really loved the experience because they went back for another round of trekking the next year, in March 2018.
BENGUET
In August 2017, JaDine conquered Mt. Ulap in Benguet with some friends. Mt. Ulap is known for its surreal view of a sea of clouds.
The couple loved the view, and returned in January 2018. This time, they returned with Ivan Dorschner, Alex Diaz, and James's brother, Jack Reid.
PALAWAN
Aside from trekking and hiking, the couple also enjoyed beach hopping.
In May 2019, James celebrated his birthday with Nadine and some of their closest friends in El Nido, Palawan. He turned 26 last May 11.
The Kapamilya actor posted more photos from their Palawan trip in May 25, putting this caption: "Thank you for this gift of life love and beauty #HappyBirthdayEveryone"
Nadine uploaded her own Instagram photos of the El Nido trip. For one caption, she quoted from SG Lewis's song "Warm": "even if I'm dreaming, I'm dreaming with you."
In another post, she included lyrics from Ivy Sole's song "Bones": "every breath, I spend it best, right next to you im drowning btw..."
CARAMOAN
In May 2017, James checked off another item on his bucket list, after visiting the Caramoan Island in Camarines Sur. After performing at the province's Kaogma Festival, the couple snuck in some downtime by the beach.
ZAMBALES
James and Nadine were seen turning up the heat on a visit to Nagsasa Cove in Zambales in March 2018.
BOHOL
In the last days of 2017, James and Nadine went with friends to the beautiful Panglao Island in Bohol. The couple stayed at the Eskaya Boutique Hotel and enjoyed activities on Alona Beach.
BATANGAS
In the first days of 2017, James and Nadine took a short vacation to Tali Beach in Batangas. For this January respite, the couple was again joined by close friends.
In February 2019, they celebrated their third anniversary at the wellness destination, The Farm in San Benito, Lipa City.
SIARGAO
Siargao was one of the couple's favorite beach destinations.
It was where they celebrated their second anniversary and Valentine's Day in 2018.
THAILAND
The couple also took their love for the ocean outside the country. In March 2018, James and Nadine enjoyed a Holy Week break in Thailand, particularly at the Phi Phi Islands.
CALIFORNIA
The United States has been a destination for James and Nadine countless times, both for work and for leisure.
In June 2018, the couple went to California as part of their The Revolution Tour. During their visit, they took time to enjoy a jacuzzi surrounded by the desert view of the Joshua Tree National Park.
NEW YORK
New York was one of the stops for their JaDine In Love concert tour in 2016.
The couple was in NYC in June, and had a photo taken on the Brooklyn Bridge.
GREECE
In August 2016, James and Nadine took in the sights of Athens, Greece, while filming their teleserye Til I Met You.
FRANCE
James and Nadine took a side trip to Paris, France, midway through their JaDine in Love World Tour in Europe. Some tourist spots they visited were the Eiffel Tower and the Arc de Triomphe.
JAPAN
Japan was also a go-to travel destination for the couple.
Fortunately, the country was the shoot location of their rom-com movie, This Time, in 2016.
In February 2017, they celebrated their first anniversary as a couple in Japan.
They returned in October 2017 to celebrate Nadine's 24th birthday.
Recently, James also went on a solo trip to Japan.
SOUTH KOREA
James and Nadine made several trips to South Korea.
For her 23rd birthday, Nadine celebrated with James and their squad in Seoul in October 2016.
The couple returned to South Korea in April 2017 to watch the Coldplay concert. They were joined by Sam Concepcion, Kiana Valenciano, Alex Diaz, Donny Pangilinan, and Lauren Reid.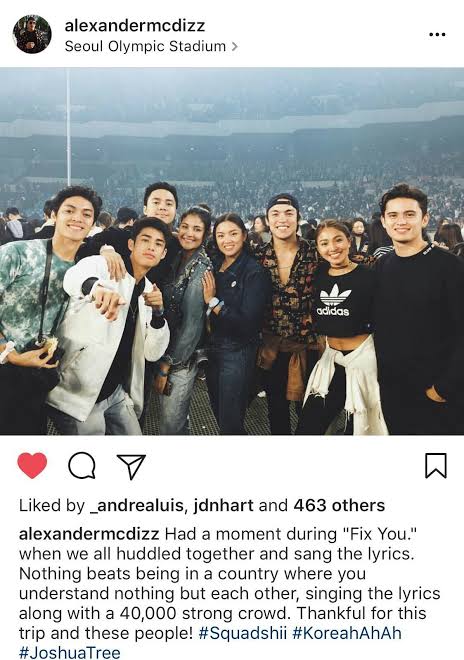 James and Nadine's latest trip to Seoul was in March 2019, when they attended shows at the Seoul Fashion Week and filmed the music video for their song "Risky."
DUBAI
In April 2016, the couple brought their JaDine In Love World Tour to Dubai.
They were again in Dubai in May 2017 for another concert titled Always JaDine.
As part of their revelry, they joined a desert safari, visited Jumeirah Beach and Burj Khalifa, and attended a yacht party.

In 2019, Batangas and Palawan became two of their most memorable travel destinations.
Recommended Videos