Thailand boys' love (BL) stars Tay Tawan and New Thitipoom, collectively known as TayNew, are back in the Philippines.
They were lead stars of the Thai BL series Dark Blue Kiss produced by GMMTV in 2019.
Happy and excited, Tay and New had their second Manila fan meet dubbed Beyond Limitless on July 30, 2022, at The Theatre in Solaire.
Tay said at the press conference a day before the fan meet, "We're very excited because this is our first time [to] fly out from our country."
New chimed in, "This is our first time since the pandemic," adding he has been enjoying this short break after working non-stop for the past few weeks.
"I'm very happy to be here because my schedule is very full. I'll have my vacation here.
"So happy! It's my first time [waking] up late after 60 days [of waking up] early every day.
"Today's my first day I woke up late."
PINOY FOOD AND TRAVEL DESTINATIONS
Since it's TayNew's second time visiting the country, the two look forward to enjoying the food they've come to love in the country.
New told the press, "The last time we visited, we only had two days in Manila.
"But this time, we have four days and I would like to try Kare-kare and the other one is Halo-halo."
Tay said he wanted to try the food from a local fast food chain and the classic Filipino dish Adobo, quipping, "It's a famous Filipino food, right?"
The two even shared in their Instagram Stories several photos showing their halo-halo experience from their visit.
Aside from the food, Tay and New also hope to visit some of the Philippines' must-see tourist destinations.
Any place in particular?
Tay said, "Many places because both of us are very busy and [we have] no time to travel so we want to escape from work. In the Philippines, it's Boracay!"
New, on the other hand, preferred "to go to Chocolate Hills."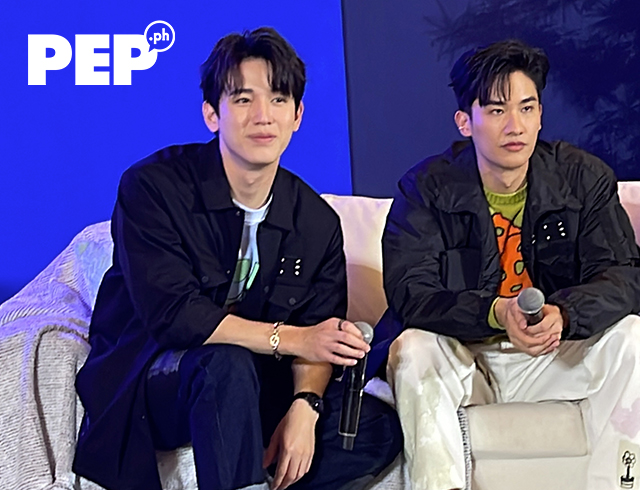 COLLAB WITH FILIPINO CELEBS
Hours before the press conference, Tay reunited with his friends Khalil Ramos and Gabbi Garcia.
Tay and Khalil worked together, with singer-actor Daniel Sher from Singapore, in the third season of the Japanese reality program Find the Wasabi in Nagoya.
Tay related, "I just met Khalil today. Maybe in the next two days, we can collab. We can sing with Khalil.
"Last four years, I met him [on a] TV show and Khalil is a singer. That time I couldn't sing and now I'm just a rookie."
Tay and Khalil have maintained their bond and continued to stay in touch long after the reality program ended years ago.
As for New, he expressed a wish to collaborate with Richard Juan who, according to him, "is a friend of a friend."
HIGHLIGHTS BEYOND LIMITLESS
This time, at their second fan meet organized by GMMTV, Globe, and Rise Media, the Thai stars made sure to surpass the expectations of their Filipino fans.
They kicked off the event by serenading their fans with the song "Kan Goo" from the official soundtrack of 2gether: The Series starring their fellow GMMTV co-artists Bright Vachirawit and Win Metawin.
They also prepared games, including a famous TikTok challenge called "On The Contrary," "Whisper Game with TayNew," and "Fast Talk," where they were asked to choose between two Pinoy favorites.
Then, TayNew took the opportunity to learn Tagalog phrases "Ang gaganda niyong lahat!," "Mahal ko kayo!," "Maligayang Pasko!," and a famous Pinoy gay expression "charot"—which elicited even more cheers and laughter from the audience.
The fan meet was filled with surprises not only enjoyed by the fans but also by TayNew themselves.
Little did the two know that their Filo Polcas had prepared a surprise for them, a heartwarming video.
Fans also didn't miss the opportunity to celebrate Tay's birthday. They surprised him with a birthday cake. The actor turned 31 last July 20, 2022.
Toward the last segment of their fan meet, TayNew treated their lightstick-waving fans to a live performance of "Mai Mee Niyahm" from the soundtrack of their BL series.
Tay enthused, "Thank you so much! You guys gave an amazing energy to me. Thank you for being here and for the love you're giving us.
"You fulfilled our 4 days in Manila. You make this feel like I'm not going to work, but to spend time with Filo Polcas.
New raved, "You guys are my vacation. Thank you!,"
Tay again rhapsodized, "That's so meaningful to him. That's so meaningful to me and so meaningful to you. Thank you!"
READ MORE:
We are now on Quento!
Download the app
to enjoy more articles and videos from PEP.ph and other Summit Media websites.