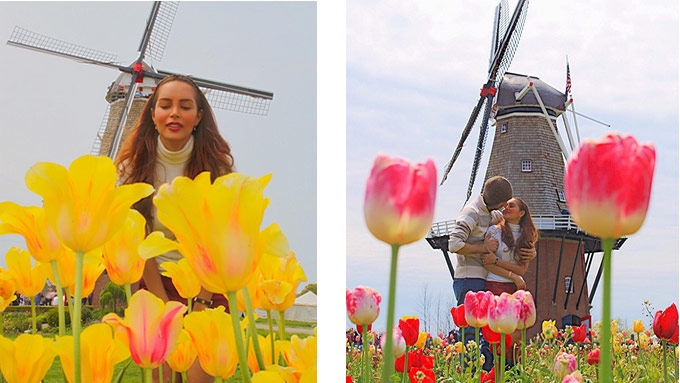 IMAGE @mischejewel on Instagram
---
How's Jewel Mische?
She doesn't need any interview or presscon to tell how happy her life has been since she became Mrs. Alister Kurzer in February 2014.
Her recent post on Instagram is about falling in love:
"You don't fall in love together just once.
"You fall in love together over and over with places, songs, books, art, houses, pets, people, cities, ventures, new destinations, memories, new dreams, ideas, seasons.
"You fall in love learning from mistakes--from each other. You fall in life together."
The couple recently went to Europe, where she celebrated her birthday. She turned 26 last June 29.
Her Instagram post read, "Turning another dream into a plan! I'm soooo blessed to have a hardworking #husband who also happens to have the same #passion and vision like I do for living an unconventional #life and exploring the #world!
"Soooo #thankful to the Lord for making it all possible!"
Jewel and Alister went to seven countries and explored over 12 famous destinations, where they took these postcard-like photos.

1. ITALY
Backdrop: Piazza Duomo or the Capital Square in Milan.

Backdrop: "...the famous cathedral dome Santa Maria Del Fiore" in Florence.
The view: Amalfi Coast
National Geographic described this piece of paradise as "Italy's most scenic stretch of coastline, a landscape of towering bluffs, pastel-hued villages terraced into hillsides, precipitous corniche roads, luxuriant gardens, and expansive vistas over turquoise waters and green-swathed mountains."
Backrop: The Ancient City of Pompeii, which, according to the former actress, is just "three hours drive away from Rome."
Taken in Rome.

ADVERTISEMENT - CONTINUE READING BELOW
Travel Tip: "We travel light. The most important thing is to be in a good mood, to be grateful, be a #blessing and enjoy each other."
Backdrop: The sunset in Venice.

Marriage Tip: "Keep #Jesus at the center of your relationship goals. And let your relationship with Him set the course for every other relationship in your life."
2. France

Backdrop: Eiffel Tower in Paris

Backdrop: Arc de Triomphe

Relationship Tip: Marry your "best friend," "travel buddy," and the "love of your life."
3. Netherlands
Backdrop: "The timeless and peaceful Dutch countryside."

4. Hungary
The view: Balaton Lake in Kaszthley
5. Austria
The view: Hallstatt is a village in the Salzkammergut, a region in Austria.
Jewel had two words for it: "beyond beautiful."
6. Germany

The view: Neuschwanstein Castle in Bavaria
Also known as the Fairy Tale Casle, it was built on a rugged hill against a backdrop of picturesque mountain scenery.

7. United Kingdom
The view: Big Ben across the River Thames.