"Traveling is the only thing you buy that makes you richer," a famous adage says.
This is also what nomadic couple Maxene Magalona and Rob Mananquil have in mind every time they explore a new place, be it in the Philippines or in another part of the world.
PEP.ph (Philippine Entertainment Portal) caught up with the couple and learned more about their travels during the culminating dinner of Klook's launch in Puerto Princesa, Palawan, on Sunday, September 24.
Maxx and Rob have been traveling together for almost two years, or ever since they officially became a couple in July 2015.
Most of their Instagram followers would have booked-marked their pages and treated the trips as their own #TravelGoals, but the couple agreed that there was more to traveling than just the pretty pictures.
Maxx explained, "Traveling, for me, it refreshes your mind, your perspective. It opens your eyes to so many different possibilities and it makes you appreciate the world you live in."
For his part, Rob added, "For me, traveling is not just going on a vacation. It's like a continuous learning or rediscovering probably your own country or what it could offer. Be it in our own country or a different country, it's always about continuous learning for me."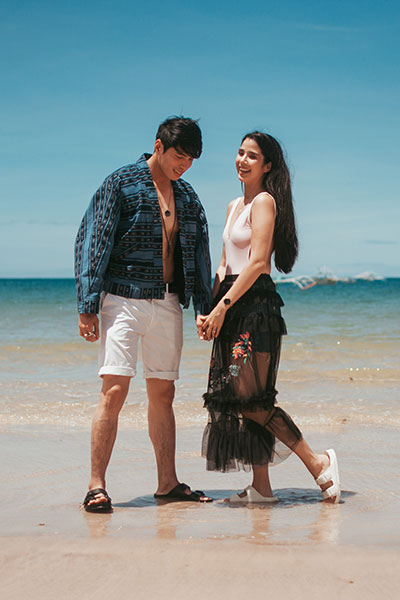 The Kapamilya actress revealed that it was Rob who was responsible for reintroducing her to the joyful benefits of traveling.
She narrated, "Ako, I'll admit I only loved traveling even more because of Rob. He grew up na his parents would encourage him to travel because travel nga is a form of education."
Rob's parents are Robert and Millet Mananquil. Millet is the Lifestyle section editor of The Philippine Star.
"So when I met him," Maxene continued, "it just made me appreciate traveling even more because, before, I only travel for work or just a few times lang for vacation. But I never really thought of it as something I could learn from."
Rob added, "Like going to the museums, trying the food, their culture, meeting the locals."
Maxx finished with, "Getting inspiration from, like the streets, you know, fashion, and everything. It really opens your eyes."
When asked what their favorite destination was, Maxx said their European trip last July was definitely memorable.
She narrated, "I had such a very wonderful time as it was my first time to visit Europe. Rob's family invited me, and it was like, grabe, one of the best things ever."
The Kapamilya star continued, "Sila kasi nakapunta sila... and it's definitely one of the most beautiful places. Iba talaga yung culture doon. I mean, every area is beautiful kasi na-preserve yung culture, yung history, and you can see it."
For his part, Rob named Japan as the country that will always come first on his list.
"I still have a very soft spot for Japan," Rob said, harking back to the moment he asked Maxx to be his wife.
Maxx agreed, "We love Japan, always. I think that's our favorite destination."
REDISCOVERING PALAWAN. Aside from their European and Japan trips, both Maxx and Rob agreed that they both have a fondness for Palawan.
The couple visited the municipality of El Nido in July 2015.
Maxx recounted, "We went to Lagen [Island], and it was very memorable because that was the first trip Rob and I officially became a couple."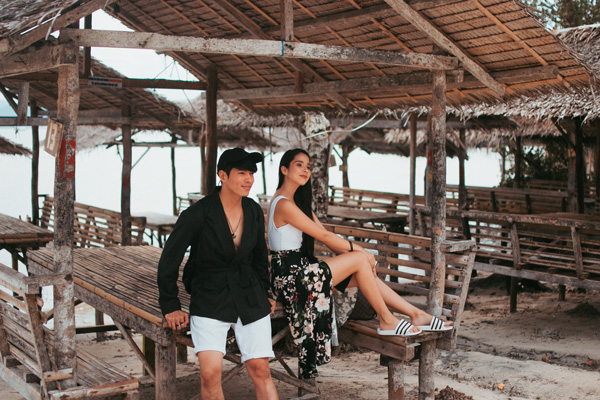 This time, from September 22 to 25, the couple were ecstatic about exploring a different area of Palawan, after the travel app Klook tapped them to explore Puerto Princesa, along with selected members of the press, including PEP.ph.
Maxx enthused, "Super enjoyable, as in. I never thought that I'd get to do this much on a trip. Kasi kami ni Rob, when we travel we like to go with the flow and be spontaneous."
Rob continued, "For me, I love the fact that you can squeeze in so much activities in one day. With the touch of your fingers, everything's accessible and you can plan it. That's the beauty of it for me."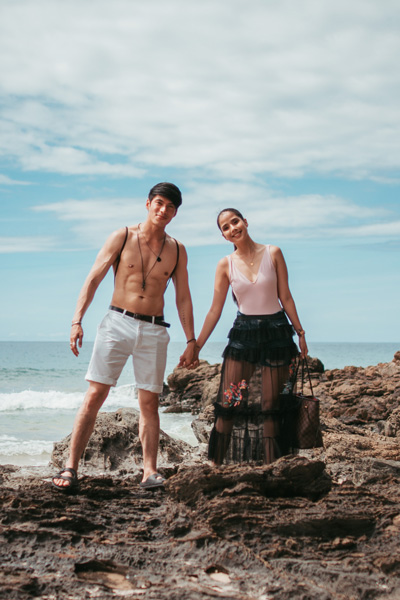 In the Puerto Princesa adventure, Maxx and Rob were able to cross off scuba-diving from their bucket list, and they also managed to have a close encounter with marine creatures.
The 30-year-old actress recalled, "I enjoyed the scuba-diving because that's also a first for me. Rob and I were only able to do the snorkeling before, and then ngayon, scuba-diving."
Maxx added, "It's a totally different level, you're like in an aquarium, so sobrang saya nun."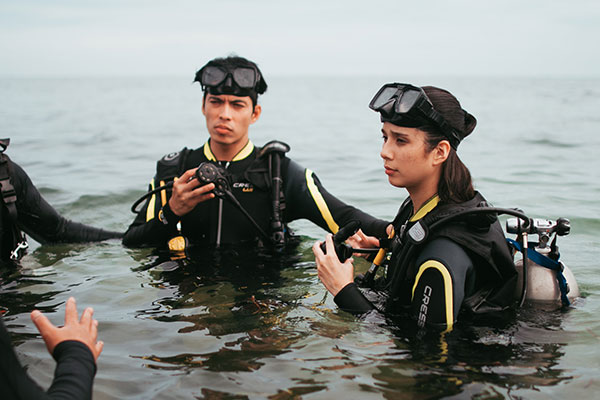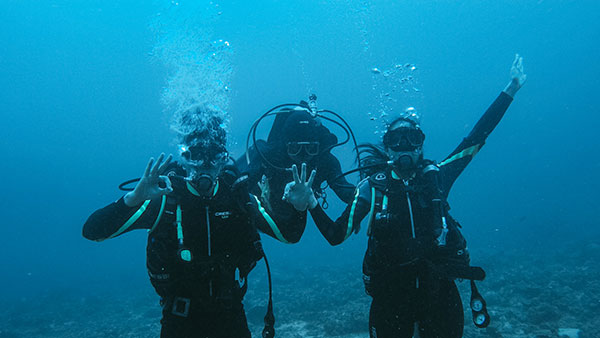 The couple also enjoyed star-gazing and listening to the sounds of nature through the Iwahig Firefly Watching tour on the Sabang River.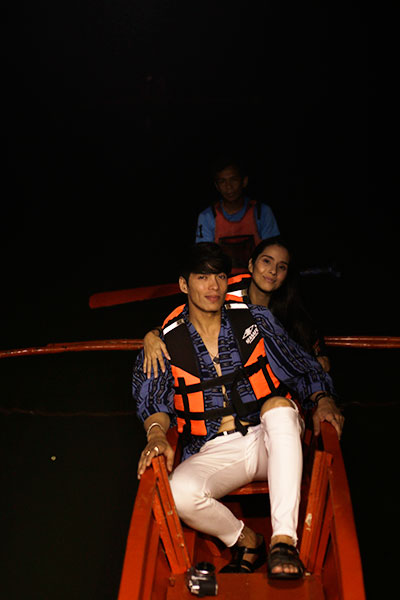 The next day, the couple and the press explored the first kilometer of the Puerto Princesa Subterranean River, one the New 7 Wonders of Nature.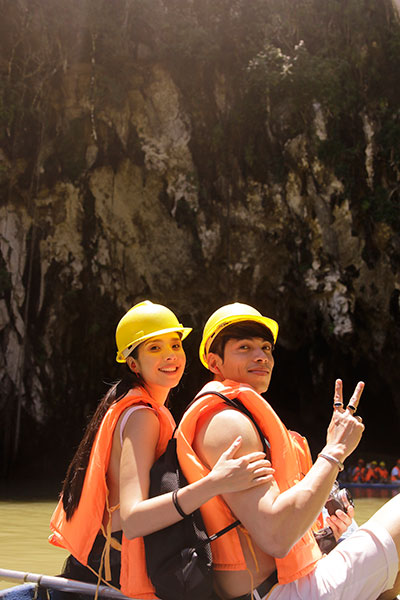 Moreover, Maxx conquered her fear of heights with Rob as they glided on an 80-meter-high Zip Line by the beach.
As she put it, "I also enjoyed zip line! I never thought that I'd get to do it.
"Hindi ko inakalang magagawa ko siya, but I conquered my fear and I loved it."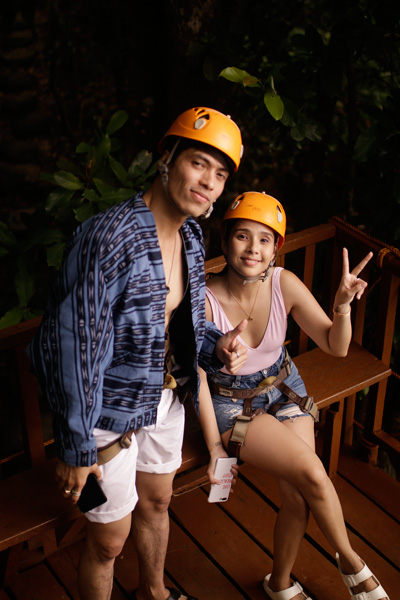 Rob also said he enjoyed every activity especially because it was his first time to do most of them.
He told PEP, "For me, definitely the scuba-[diving], because it was my first time.
"I also enjoyed the firefly watching and the caves."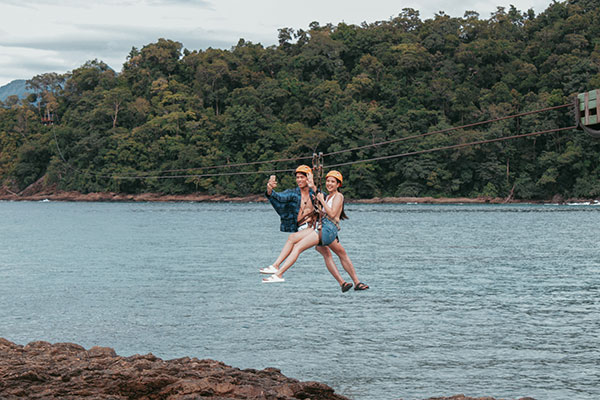 On the same trip, Maxx and Rob also learned about the rich biodiversity of Palawan, especially during the Mangrove Paddle Boat tour through the Sabang River.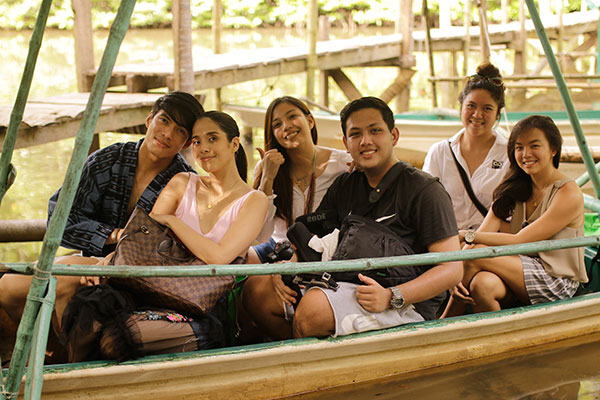 The couple and their crew ended the trip with a picnic at Nagtabon Beach, one of Puerto Princesa's virgin beaches.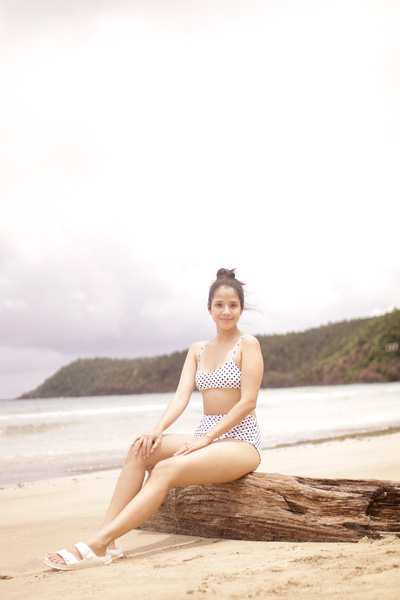 Rob also treated everyone with acoustic music while chillin' by the beach.