The annual Belen-making competition and exhibit officially opened on November 6, 2017, in Tarlac City, which is now touted as the Belen capital of the Philippines.
This year's theme "Panahon ng Kapayapaan" paid tribute to all the soldiers and policemen who fought in Marawi.
These heroes were invited to the ribbon-cutting ceremony and the lighting of 43 entries.
The giant Belen in front of the exhibit site Camp Servillano Aquino in Tarlac City, was put up by Philippine Army soldiers who served in Marawi.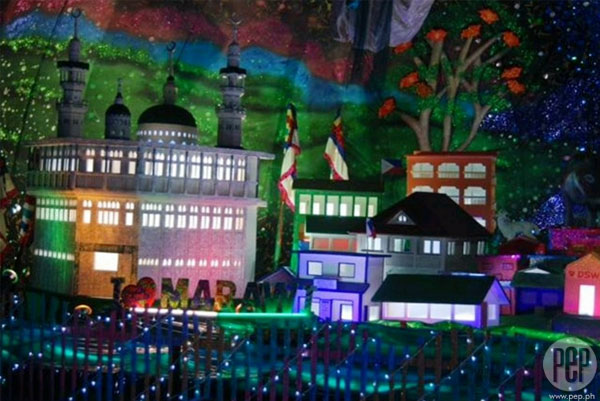 The project was supervised by Lt. General Rolando Joselito Bautista, who thanked his comrades during his speech.
"Members of this Philippine Army Belen team actually served in Marawi.
"This Belen is a tribute to their comrades, the heroes of Marawi.
"May their memories be forever etched in the hearts of our countrymen.
"No one wants to a fight a war in his own shores. No one wants terrorism to gain a foothold in any part of his or her own country.
"The siege of Marawi is a part of our history that we don't want revisited, nevertheless, we, the Filipino nation must go all out to help our Muslim brothers and sisters rebuild, recover, and get reintegrated back into the mainstream.
Meanwhile, singer and former New Minstrels member Ding Mercado designed a Belen using recycled materials, discarded tarpaulins, leftover plywood, and camouflage clothes, plus the net used to cover military tanks.
The 10-year-old tradition was started by Doña Isabel Cojuangco Suntay (5th from R) and her daughter Dr. Isa Suntay (4th from L) of Tarlac Heritage Foundation.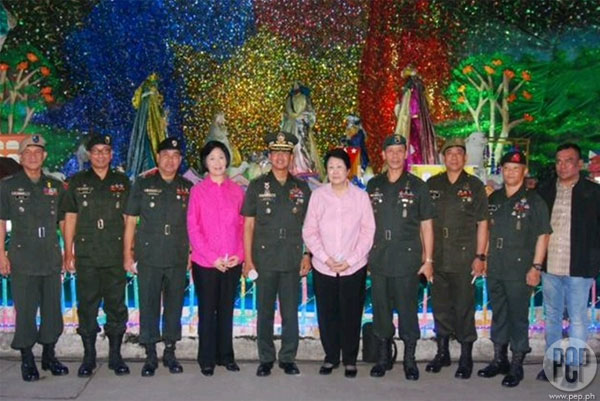 Dr. Isa said, "The annual Belinismo Festival is the earliest reminder of Christmas in the country, a time for giving, loving and sharing.
"This year, our entries draws inspirations from the heroic deeds of our men and women of the Armed Forces of the Philippines and the Philippine National Police in their efforts to liberate Marawi, with an entry rendered by two personnel from the Northern Luzon Command, 13 personnel from the Philippine Armies, combined units from the 7th Infantry Division and the mechanized infantry division, and seven personnel from the Philippine National Police Regional Office 3."
The Belen exhibit—by far the biggest in the country—will run until January 2018.