Some of the Hollywood stars and celebrities who came to shoot a film or perform were so charmed by the Philippines, they chose to stay awhile and enjoy our islands.
A few made it their second home; others did charity works.
But regardless of their reason for visiting, they all experienced first-hand the vaunted Filipino hospitality and what it was like to be a Pinoy.
Mariah Carey, for example, ended her six-city Charmbracelet Tour 2003 with a two-day stay at Amanpulo.
Michael Jackson, Tom Cruise, Beyonce, and Robert de Niro also had low-key trips to the same picturesque island.
Zac Efron's visit in September 2012 included a three-day escapade in Bicol with his dad David, who used to serve under the Merchant Marines and frequented Mindoro.
With an ATV (all-terrain vehicle), the actor explored the 2009 Mayon Lava Front, a three-kilometer trail away from Mayon Volcano's crater.
He described it as "one of the fondest things that I've ever done in my entire life."
He also tried windsurfing and water skiing, and liked balut, sisig, tuyo, dilis, chicken and pork adobo, sinangag, and San Miguel Beer Pale Pilsen.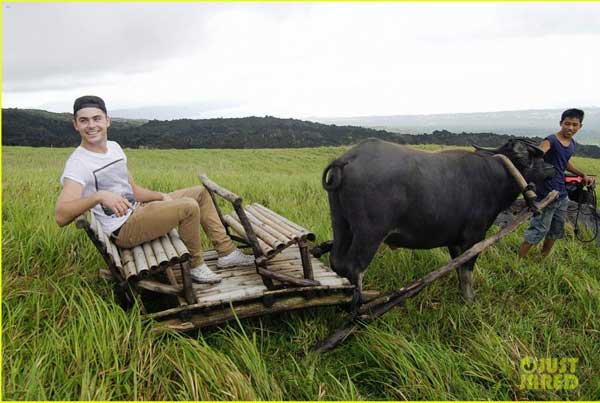 Jeremy Renner and Rachel Weisz spent a month in the country, where the last 40 minutes of their film The Bourne Legacy was shot in 2012.
They saw the "unglamorous" parts of Manila where people, according the lead star, were "so generous with their time."
They also had the chance to see Boracay and Palawan, which "are some of the most beautiful islands I've ever seen," said Jeremy.
Rachel was likewise mesmerized by El Nido, and exclaimed, "I can live in Palawan forever!"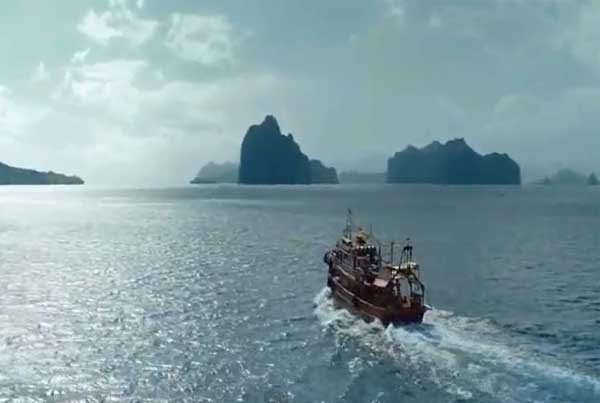 Margot Robbie fell in love with El Nido—the last itinerary in her 2015 visit to the Philippines that lasted almost two weeks.
"I think I died and went to heaven," was her caption.
She also cooked for kids of Rise Above Foundation Cebu...
...and also ziplined across Loboc River in Bohol.
The Suicide Squad star described the Pinoys as "gracious."
Evangeline Lilly, who is set to play the Wasp in the upcoming Ant-man, first set foot on one of the country's beautiful islands 20 years ago. It was for a religious mission.
In an interview with ABS-CBN, she recounted, "When I was 18, I spent three weeks on the island of Palawan, in the jungle. I was basically playing with kids.
"It was a wonderful experience. Palawan, particularly, was so beautiful and remote and untouched.
"The tribal people that we stayed with were so incredibly generous and hospitable and kind."
Johnny Depp was 23 years old when his movie Platoon was shot in Cavite and Laguna, particularly, Mt. Makiling.
On weekends, they would travel to Manila, which he described as "beautiful" in an interview with TV Patrol, while promoting his film Mortdecai (2015).
He was quoted as saying "We'd coast down to Manila every weekend or every chance we got.
"Oh, Manila was beautiful, I love Manila. That was a great, great, great time."
Also part of the movie were Willem Dafoe, who had a 24-hour stomach bug after drinking river water, and Charlie Sheen.
Timothy Olyphant was a young boy when his family briefly resided in Davao City.
During the launch of his Netflix series Santa Clarita Diet in March 2018, he said, "I used to live here...When I was young, my father worked for Del Monte and we lived here for a little bit. It was a very short time."
He added that his great grandfather, Abraham G. Gideon, headed "engineering at the University of the Philippines."
According to CountryHistorian.com, Gideon was "attached to the University of the Philippines where he was engaged as a 'professional lecturer'" in 1920s. He also became the "managing director" of the Metropolitan Water Supply of Manila" and "director of the Philippine National Bank."
Owen Wilson spent a few days in Manila in March 2016 upon invitation of two Filipino businessmen.
He played tennis at the Manila Polo Club, had coffee at Toby's Estate in Salcedo Village, checked out Las Flores Restaurant, Revel, and Bank Bar in Bonifacio Global City, and strolled around the Legazpi Sunday Market.
He arrived on March 11, and quietly left Manila on March 13.
Quentin Tarantino's childhood dream came true when he graced the opening rites of the ninth edition of Cinemanila on August 8, 2007.
"I've been wanting to come to the Philippines since I was a little boy, and to actually come here, actually have people know who I am and actually welcome me in this way...it's overwhelming. Absolutely overwhelming."
During his week-long stay, a typhoon got him stuck in a major traffic jam for more than two hours while he was on his way to an awarding ceremony.
Clad in a Barong Tagalog, he ended up taking a pedicab near the Nagtahan Bridge all the way to Malacañang, the event's venue.
His black pants and shoes were soaking wet, but he told the reporters, "It was a lot of fun. It's the way it is, I guess. ... It was wild.
"No worries. I've done more serious things than that."
The Kill Bill director received a Lifetime Achievement Award from then-President Gloria Macapagal Arroyo.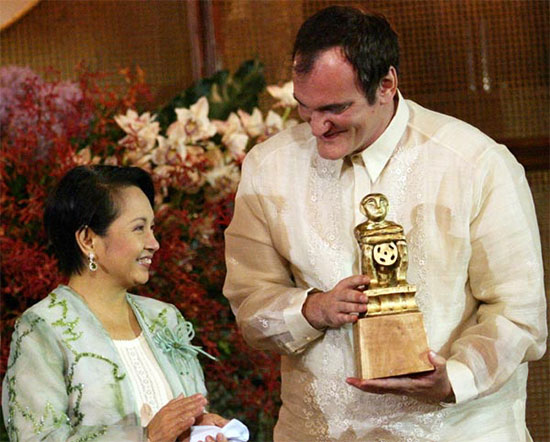 Steven Segal had visited the Philippines "close to a hundred" times, most of which were unannounced.
His latest was in October 2017, when he did preproduction work for the TV series General Commander.
Aside from Manila, he has been to Vigan, Boracay, and other small islands.
David Pomeranz considers Philippines his "second home," and has lost count of the number of times he has been visiting the country since 1980s.

In his 2013 interview with Ricky Lo, he quipped, "I love the loveliness of the Filipinos and their sweetness. They also love the same music that I've grown up with."
That same year, he did a benefit concert for the victims of super typhoon Yolanda.
Sofia Coppola lived in the country for more than a year when his dad Francis Ford Coppola shot Apocalypse Now in March 1976.
She was then five years old, and could still sing "Lupang Hinirang," the national anthem.
She told Philippine Daily Inquirer while promoting The Bling Ring, which she directed, "...I have nice memories of the Philippines and its people.
"My nanny, who raised me, was Filipino. It was such a warm culture and a beautiful place. I'd love to go back."
Martin Sheen topbilled Apocalypse Now, which also starred his son Emilio Estevez (in photo) along with Laurence Fishburne.
These stars lived in the country for one year and four months, and experienced a strong typhoon, which, according to Martin, killed about 240 people.
In a separate interview with Philippine Daily Inquirer, he recounted, "I've never been in a situation like that before.
"We had to be rescued and brought home."
Marlon Brando, who was also part of the cast, first visited the country in 1955. It was reported by movie writer Iking Garcia that he fell in love with a colegiala named Marie Cui from Lipa, Batangas.