The Muhlachs are one of the most loved and admired families in showbiz, and for a good
reason.
Aga and Charlene raised their kids away from the limelight to let them lead normal lives.
Atasha and Andres get to enjoy things kids their age normally would: going to a regular
school, engaging in extracurricular school activities, hanging out with friends, and bonding
with their parents during family excursions.
"They'll be in college soon, so we try to spend as much time with one another," says Aga in
an interview with PEP.ph (Philippine Entertainment Portal) .
The Muhlachs are well-traveled and it's not hard to imagine them on a road trip. The house
they're currently building in Batangas could easily be one of their future road trip
destinations.
As hands-on as they are when it comes to anything concerning their family, Aga and
Charlene are very much involved in planning out-of-town family trips.
Here are some road trip planning tips from the couple, which they have tried and tested over the years.
1. PICK AN EXCITING DESTINATION.
Ask yourself and your companions: What do we want to do on this trip? Where do we want
to go? Finding the answers will help narrow down your options and finalize where you're
driving to.
In the case of Aga and Charlene, they get recommendations from trusted friends and
relatives.
"If someone we know has been there and tells us it's okay, then it's worth a visit," says Aga.
Charlene throws in, "Sometimes, the kids would make the suggestion, 'Let's go to this place,'
then we check it out.
"The important thing is, we let the family explore, do some adventures, and take a break."
Include stopovers and restaurants in your itinerary. Check if there's a wi-fi or if there are
added attractions that the kids can enjoy. This will help set expectations and the budget.
2. PACK A FIRST AID KIT.
"You never know when someone will feel dizzy, or get a headache or a tummy ache during
the trip," says Charlene.
Make sure to have a first aid kit handy, especially if your kids or any of your companions
would need medication for allergies or some other condition that needs maintenance.
Make long drives extra comfortable by packing travel pillows and maybe a blanket or two.
And if you or any of your companions get cold easily, don't forget to bring a jacket. Wrinkle-free hoodies that keep your head and cheeks warm work best.
3. HAVE FILLING SNACKS AND LOTS OF WATER ON HAND.
Most road trips start early, and sometimes, kids are still too sleepy to eat anything before
hopping into the car (they might still even be half asleep!).
Prepare simple snacks that don't spoil easily like sandwiches and nuts to keep hunger at
bay. Some crackers, chocolate, and a bit of candy will help tide you through your next meal,
too, should hunger pangs persist.
4. CHOOSE A RELIABLE AND SPACIOUS CAR.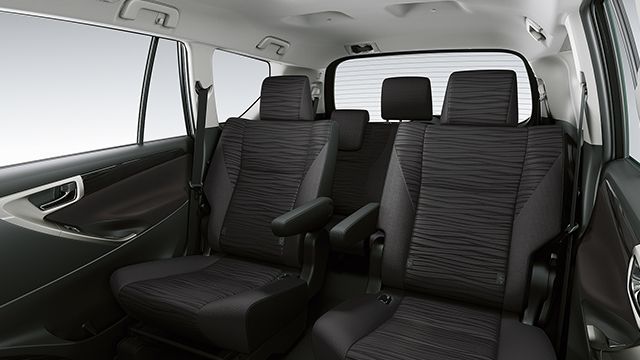 That small yet trendy car couples buy on their first year together will eventually not be
enough once the kids start to grow. You're going to need more space sooner than you
realize it.
"At 18, our kids are still growing. Andres, for one, is a member of his school's basketball
team—ang tatangkad nila! So, whenever we're riding a car, it's necessary for them to have
legroom. Sometimes they even argue over it," says Aga.
"Nakakatawa pag nag-aagawan sila sa space," adds Charlene.
Space and comfort are even more valuable during road trips. Nobody wants to sit uncomfortably with their knees hunched close to their chins for hours.
For long drives, a vehicle that is spacious enough to comfortably seat all passengers and
belongings, and assures safety while driving is the best option.
5. GET YOUR CAR'S ENGINE AND TIRES CHECKED, AND HAVE IT TUNED UP, IF NECESSARY, BEFORE THE TRIP.
Safety should be a top priority during road trips. Experiencing car trouble—or worse,
accidents—is the last thing you need.
"Whether bago pa or not yung auto mo, you really need to have your car checked before
going on long drives. Yung preno, yung gulong, yung makina—dapat maayos lahat before
you even gas up," says Aga.
Always check if your wheels are aligned and that they're not wearing thin, if your brakes and shock absorbers are in place, and the engine is in tip-top condition.
"We make sure that everything is safe for our kids," says Charlene.
"And we have the car for that," says Aga.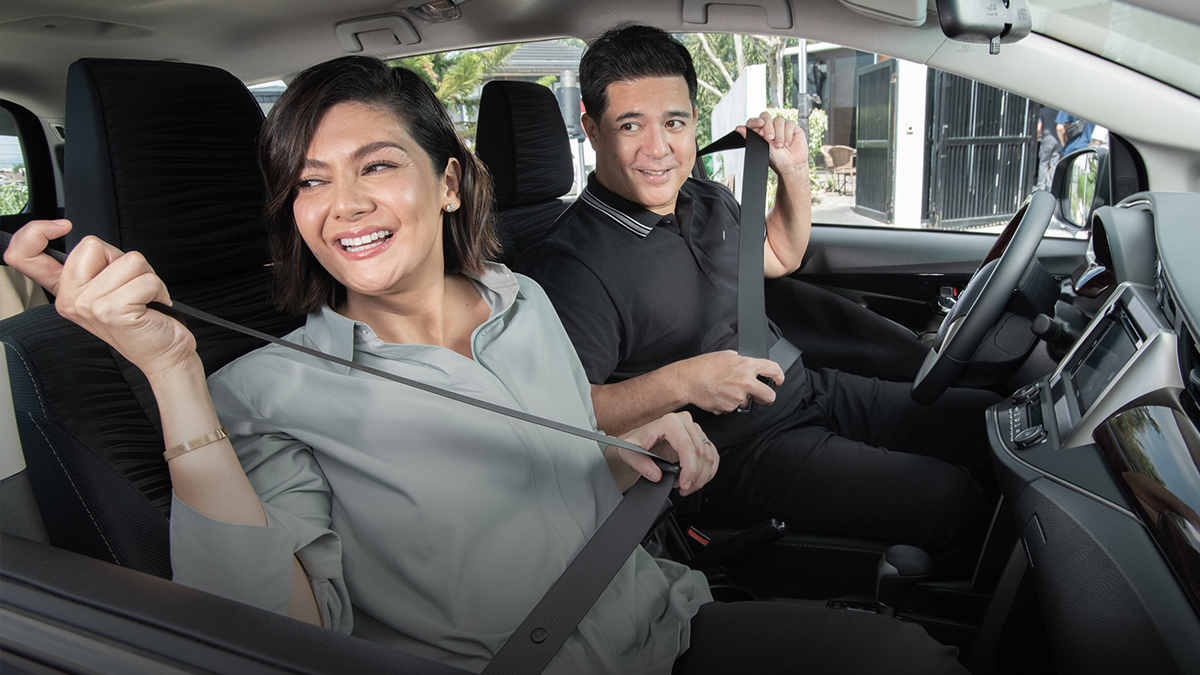 The Toyota Innova has everything the Muhlachs need for a comfortable, safe, and fun
driving experience, whether it's an out-of-town road trip or around the city to do errands or go to tapings. Its sleek exterior is complemented by spacious and luxurious interiors. Seats are ergonomically designed for lounge-like comfort and accommodate up to eight people comfortably.
The Toyota Innova has either a 2.0 or 2.8 engine with 6-speed auto transmission, and features Eco and Power modes that can be adjusted depending on one's driving needs. It also has a hands-free entertainment system that lets one play music on the go and take a phone call anytime.
"As parents, it really gives us so much comfort knowing the Innova is such a safe car. And I
can also bring many people with me," says Charlene. "There's more space for more great
moments."
Aga adds, "Now that we've experienced having an Innova , Charlene and I know that we will
always want one in our garage."
Visit your nearest Toyota dealer to learn more about the Innova. You can also follow Toyota Philippines on Facebook for updates, and check out the car's features on the official website.