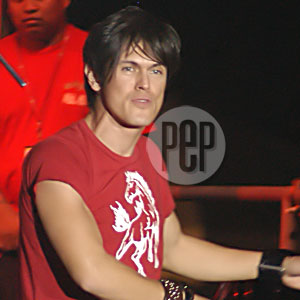 ---
RockStar: INXS third placer Mig Ayesa is back in Manila to release his first album, titled Mig, under Universal Records.


Mig (whose full name is Miguel Alfonso Ramon Legarda Ayesa) was one of the performers in the 2006 MTV Music Summit for Aids last December 5 at the Fort Bonifacio Open Field. PEP (Philippine Entertainment Portal) caught up with the Filipino-British singer there.


"I'm living in Los Angeles now. I got a recording deal with Universal Records out of New York. I finished an album. It's out in the Philippines first. It's called Mig—the debut album I've been working on this year. I recorded half of it in London and half of it in Capitol Records in L.A.," said Mig about his self-titled album.


"It's actually in the stores today for the first time. We're pushing "Baby I Love Your Way," which is a song in RockStar: INXS. In the album, I'm actually playing with Peter Frampton." (Peter Frampton was the original singer of Mig's debut single.)
Asked whether he will establish a career in the Philippines, Mig replied, "I think I will have to come back every year. I feel comfortable. I feel at home in the Philippines. It's nice to be welcomed back at home. People welcome you as a long-lost son. It's nice to be treated warmly by everybody. I appreciate that. It's my fourth time in the Philippines after RockStar: INXS. I've been here twice this year."


Last August, he performed alongside INXS in Araneta Coliseum as part of the band's world tour. Mig placed third in the hit reality show RockStar: INXS, wherein rock singers all over the world compete to become the lead vocalist for the Australian band INXS. The grand winner of this reality show turned out to be J.D. Fortune while first runner-up was Marty Casey.
ADVERTISEMENT - CONTINUE READING BELOW


With the release of his debut album, Mig can't help but recall the hard climb up.
"I grew up in Australia and I've been trying to be a recording artist for a long, long time," narrated Mig. "I was in band since I was 15. I thought I was too old for a while. I stopped dreaming [of becoming a] recording artist. I stopped trying. I had several close calls and it didn't work out."


Later, he just went for it. "I just decided to do what I do. I did a lot of theater. I did a lot of music theater. Recently, I got into this show RockStar: INXS. I got a recording deal, signed in the United States. It's a gift from God. It's a long hard struggle but I'm so excited to be here. RockStar: INXS is a complete life changing experience. My life has never been the same."


His performance at the MTV Music Summit became extra special. He told PEP that he was with his father for the first time in four years.


"The last time I saw my dad was at my wedding in March 2002. After my wedding, I moved to London. He lives in Tasmania. I've been in London for the last four years. Tonight's a very special occasion," he said.


He then added, "It's great. It's nice to get in touch with him. It's sad that we don't get a chance to see each other. Haven't been with my Dad in the Philippines since I was two years old."


Mig has been married to Simon de la Rue for four years.


At the 2006 MTV Music Summit for AIDS, Mig performed the Beatles hit song "Come Together" with local alternative band Razorback. After performing, he gave out a copy of his CD to the crowd.
ADVERTISEMENT - CONTINUE READING BELOW


Since Migs has friends with HIV and knows people dying from AIDS, the MTV Music Summit for AIDS is an event close to the singer's heart.


"I have friends of mine who are living with HIV. I have friends of mine who died from AIDS. It's very important for people to be educated. A lot of people think that they are immune to the disease. A lot of people think that there's a cure. There is no such a thing as a cure yet. The only thing is prevention," said Mig.
He made this pitch: "When you're doing it, its as easy as putting it on before putting it in."
The album Mig includes the songs: "Baby I Love Your Way," "Kiss From A Rose," "Life on Mars," "Waterloo Sunset," "Can't Find My Way Home," "Wrapped Around Your Finger," "Have You Ever Seen the Rain," "Who Wants To Live Forever," "Someone Saved My Life Tonight," "Jeremy," and "Angie."
It is produced by Matthew Wilder and Rob Mathes under Decca Records, a division of Universal Records.