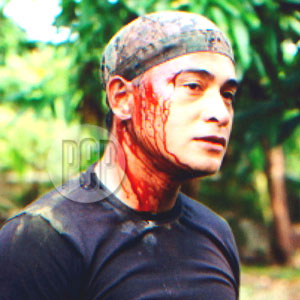 ---
A Hollywood producer is reportedly interested in a Hollywood remake of Ligalig, a Filipino film produced, directed, and starred in by Cesar Montano. The film is one of nine official entries in the 2006 Metro Manila Film Festival.

Cesar himself broke the news during the second press conference of Ligalig last December 4 at Baang Coffee on Tomas Morato, Quezon City.

If this pushes through, Ligalig will be the second Filipino film to be remade in Hollywood, after Yam Laranas's Sigaw.

Cesar said that he just met with Lawrence Vender, the producer of From Dusk Till Dawn which starred George Clooney and was directed by Quentin Tarantino. Vender is also one of the producers of The Great Raid, the Hollywood war movie that Cesar starred in with James Franco, Joseph Fiennes, among others.

According to the multi-awarded actor, he has already shown the trailer of Ligalig to Vender. He said the Hollywood film producer liked the trailer but wanted to see the whole film. So as soon as Cesar is done with post-production work, he will send a director's cut of the film to Vender.
ADVERTISEMENT - CONTINUE READING BELOW

After the Metro Manila filmfest, Cesar is scheduled to go back to the United States to finalize the deal.

"Nothing's definite, there is nothing to brag about yet. Wala pang certainty, but I'm hoping na maganda ang kalabasan ng pag-uusap namin," said Cesar.

If the Hollywood version of Ligalig does get made, Cesar said, he would like to be part of it, if not as director, then as one of its stars.

Cesar disclosed that the trailer of Ligalig was already approved for television by the MTRCB. The actor-director-producer-scriptwriter also said that he and sexy actress Gwen Garcia have a love scene in the film where they are totally naked, but that this would be trimmed down to get a PG-13 rating.

Meanwhile, Cesar was caught by surprise when he found out that Borgy Manotoc named him one of the "worst celebrity politicians" should the actor decide to run for public office. Borgy, the son of Representative Imee Marcos and grandson of former President Ferdinand Marcos, made the statement during an interview in DJ Mo Twister's radio program last November 29.
ADVERTISEMENT - CONTINUE READING BELOW

Pressed to comment on this, Cesar replied with a sharp statement: "I think the Marcoses are the worst politicians."

With additional report from Nitz Miralles