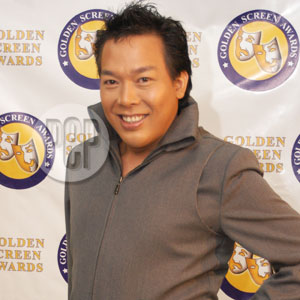 ---
John Lapus looked fresh for war on S-Files yesterday, December 17. He spoke straight at the camera, he spoke fast, he kept his anger in check—but, clearly, the comedian-host was poised to tap into his considerable wit to win this one. And he did, with dispatch. His enemy: Jobert Sucaldito, a TV host, tabloid columnist, and PR to the stars.
Sucaldito has been hitting John in his showbiz columns—calling him "ipis," saying John has no real friends in the business, claiming that John's restaurant has no customers, and generally digging "dirt" on the fellow he used to work with as co-host of ABS-CBN's The Buzz.
John, who has since transferred to GMA-7's S-Files, took offense at what he said were Sucaldito's inventions and "mga walang kuwentang bagay mula sa nakaraan." He challenged Sucaldito to hit him with things "na totoo, hindi iyong mga imbento."
The comedian, who is also called "Sweet" in the business, couldn't care less about being sweet yesterday. He hit Sucaldito hard with something like: "Nung nagtratrabaho ako riyan [The Buzz], tumingin ako sa kanan, tumingin ako sa kaliwa, may nakikita akong kaibigan. Dito [S-Files], tumingin ako sa kanan, tumingin ako sa kaliwa, may nakikita akong kaibigan. Pero tumingin ako sa kanan, tumingin ako sa kaliwa, wala akong nakikitang kaibigan mo."
ADVERTISEMENT - CONTINUE READING BELOW
The war between the former Kapamilya co-workers began after John appeared on DJ Mo Twister's Good Times program last December 13. As answer to the question on which host of The Buzz he would take out if there were cost-cutting measures there, John said: "Jobert Sucaldito." (The other hosts of The Buzz are Kris Aquino, Boy Abunda, and Cristy Fermin.)
Apparently, Jobert Sucaldito did not take that as cooly as Lorna Tolentino did. Lorna's own manager, Lolit Solis, had given Lorna's name as answer to the same question, but in reference to StarTalk, when Lolit was a guest there weeks earlier. (Lolit and Lorna are both hosts of GMA-7's StarTalk, along with original co-host Butch Francisco and the latest addition to the show Joey de Leon.)
John explained on S-Files, which goes up against The Buzz on Sundays, that the question was "hypothetical" and that he had given a "hypothetical answer." He said he was not saying that he wanted Sucaldito out. He said he was saying that should there be moves to cut down on expenses and one host out of the four had to be dropped, he believed that would have to be Sucaldito.
ADVERTISEMENT - CONTINUE READING BELOW
Heating up, John addressed Jobert thus: "Baka kasi di mo naiintindihan ang ibig sabihin ng hypothetical!"
John said he was totally surprised by Jobert's violent reaction because he thought they were friends. He said he expected a friend to assume that no harm was intended and to talk it out if he had trouble with the answer. Instead, the stage/film/TV comedian said, he found himself hit in Jobert's columns and radio program with what he called false information.
To explain himself, John mentioned comedian Chokeleit as an example of a friend whose name he had also dropped in the "Forbidden Questions" game of Good Times. John had given Chokoleit's name as answer to the question: Who in showbiz had B.O. [body odor]?
But instead of a fight, John said, he and Chokoleit remained chummy at the Enpress [Entertainment Press] Christmas party last December 14. That's because, John said, Chokoleit and he were real friends who knew that what one would say about the other would be no more than playtime. (Enpress is headed by showbiz veteran Jun Nardo and is a breakaway group from the PMPC, or the Philippine Movie Press Club.)
ADVERTISEMENT - CONTINUE READING BELOW
"Biro" is the word John used in an earlier PEP (Philippine Entertainment Portal) interview where he explained why he had given Chokoleit's name. In that interview, John said that he knew he would get flak with any answer he gave, and so gave the name of someone he was close to, like Chokoleit's, who he said would just laugh it off.
Asked by S-Files host Pia Guanio if he had asked forgiveness from Jobert by text messaging, as Jobert wrote in his column, John said, "Hindi!" He sent the text message, he said, because he wanted peace between them, not because he was apologizing.
Jobert had taunted John in his column, saying he would have had more respect for the comedian had the latter the balls to stand up to his answer and not come creeping back with an apology.
The stand-up comedian, whose tongue is as sharp as his mind is fast, said he did not, and would not, ask for an apology from Sucaldito, and further said he had no intentions of forgiving Sucaldito "kahit dumami pa ang pimples mo."
ADVERTISEMENT - CONTINUE READING BELOW
John made special mention of Cristy Fermin, a known Sucaldito ally, as someone he hoped he would not clash with over this issue. Saying "malaki ang respeto ko ke Tita Cristy," John made clear that his fight was with Sucaldito alone.