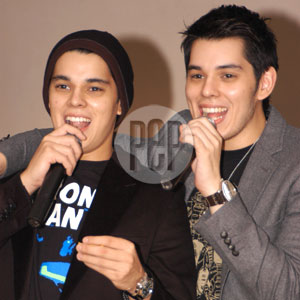 ---
"It's better to give than to receive" is the most-used saying during Christmas time. But it's probably the most-used because it's the way things should be during this season.
Certainly, this is the message that the Gutierrez family sent loud and clear last Sunday, December 17, to the entertainment press, when they organized a thanksgiving-and-Christmas party at Mother Lily's Imperial Palace Suites in Quezon City.


"It's our way of giving back to the press," says Richard Gutierrez, who hosted the events with his twin Raymond. "They have been very supportive of us all these years. And this is a very good year for us."


"It's our way of saying thank you to them," adds Raymond. "Without the press, we won't be where we are right now."


And what a "thank you" it turned out to be! More than a hundred members of the entertainment press went home with loot bags, "red envelopes" (patterned after the Chinese good-luck envelopes), and fabulous raffle prizes. The last included: two refrigerators, an airconditioner, several television sets with flat screens, DVDs, microwaves, toasters, flat irons, deskfans, and Maggi (Richard is an endorser) gift packages.
ADVERTISEMENT - CONTINUE READING BELOW

Richard is the male lead in Mano Po 5: Gua Ai Di, Regal Entertainment's entry this year to the Metro Manila Film Festival. His fantaserye Captain Barbell remains on top of the ratings game. And the year 2007 promises to remain a good year for Richard as he stars in a new GMA-7 series after Captain Barbell ends in January.


During the party, the press was challenged to come up with a title (like Superstar, Megastar, et al.) for Richard. The winning title was "Super Idol of Philippine Cinema." And the winner bagged the P5,000 cash prize. We just have to wait and see if the title catches on.


Richard also plans to put up a foundation next year that will help out-of-school youths to get quality education.


"We want to help children that cannot afford to go to school," says Raymond. "Priority ng magiging foundation namin is education."


Seen also during the party was Regal matriarch Lily Monteverde, who couldn't get her hands off the delicious lechon Cebu. Cebu, of course, is where Annabelle Rama's clan hails from. Only those who've been away in Mars will not know that the famous "Tita Annabelle" is the mother and manager of the Gutierrez twins.
ADVERTISEMENT - CONTINUE READING BELOW
In fact, more than likely, it was she who stage-managed the buying and organizing of all the food and gifts that were given away during the riotous Christmas-and-thanksgiving party.