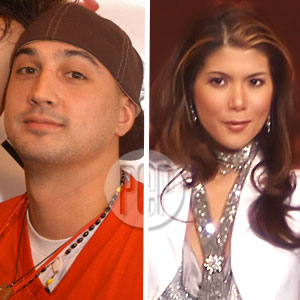 ---

MTV VJ KC Montero guested on S-Files last December 17 to defend his wife, Geneva Cruz, against showbiz reporter Cristy Fermin who criticized the singer-actress following the latter's interview in DJ Mo Twister's radio program.
Yes, you read that right: Geneva is the wife of KC. The couple have been married for nearly three years now but they managed to keep this from the public eye.
KC revealed the real status of their relationship for the very first time. He said: "[We're] married under God. January 4, 2004, we had a wedding at my house [in Seattle, Washington]. We're on our third-year anniversary. People in showbiz are looked at and everything is dissected.
"If there is anything that I would like to keep myself sacred and safe, it would be my wife. Our marriage is strong and we are able to make it through the intrigues so far. Marriage is something that is part of you and your wife. With 10 million people involved, it will be totally different. Before, people were saying, KC and Geneva, they are living in sin. We haven't been—at least for the past three years."
ADVERTISEMENT - CONTINUE READING BELOW
Prior to his big announcement, KC was there to defend his wife Geneva, who has been dragged into controversy after guesting in Mo Twister's Good Times. After that guesting, Geneva—who is in the States right now—was criticized by Cristy in her columns, where Geneva was called a "lousy performer" and a "retokada."
"I'm here to defend Geneva because she's not here to do that. I'm really the type of guy who really doesn't want to get involved with this. When I see my wife hurting, I have to come out," KC said. "With Cristy and Jobert [Sucaldito], I'm not really that sure what they're saying about her. I don't understand why they are involved? Their names were not mentioned when Mo asked who in the press you don't like."
He continued, "I don't even know why she's [Cristy] in the mess. As a journalist, you are supposed to be a responsible journalist. When celebrities come out on shows, they're not journalists. What they say is their opinion. You should be careful with what you're saying."
ADVERTISEMENT - CONTINUE READING BELOW
KC, who was raised in the U.S., hit back, "She's mad at Mo, and anybody who comes out in the show is attacked by Cristy like a pit bull 'coz she kinda looks like."
It is generally assumed in showbiz that the reason why Cristy is criticizing Geneva and her best friend Rachel Alejandro is because the two named Sam Milby as a closet gay in DJ Mo's radio show. Sam is known to be one of the stars that Cristy always comes to the defense of.


KC also cleared the air with Keempee de Leon whose name Geneva dropped in the same program. Geneva claimed in the same program that she and Keempee had a one-night stand. Keempee denied this.
The younger brother of Troy Montero said, "I texted him [Keempee] also. It's not really whether or not something happened [to them]. The point is that this happened even before we [Geneva and I] even knew each other. It's not a big deal. It's in the past. There shouldn't even be a problem in the first place."
ADVERTISEMENT - CONTINUE READING BELOW
With all the flak that he and Geneva have been getting after guesting in Good Times, KC was asked whether he has regrets about having appeared in the radio show. He replied: "[The stars have] to know where they're getting themselves into. I don't regret it. Even though I said something that affected someone, it's not a fact. Whatever I said doesn't change the way I feel about the person. Anybody is entitled to his own opinion."
From KC's point of view, "Everybody enjoys it until they're mentioned in the show. I was mentioned in the show. Borgy [Manotoc] called me plastic, so what's the big deal?"
KC left the country yesterday to celebrate Christmas with Geneva in the U.S.
"I'll meet with my wife and my sisters-in-laws. We're gonna celebrate Christmas there and we're gonna go to my Mom and Dad's place [for New Year]," said KC.
Geneva has a son, Heaven, with former Introvoys band member Paco Arespacochaga. Heaven will be with Geneva and KC in the U.S.
ADVERTISEMENT - CONTINUE READING BELOW