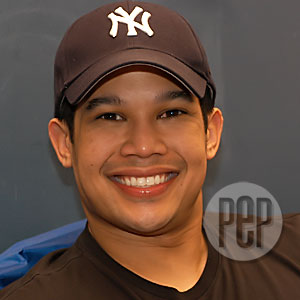 ---
Magic 89.9 radio program Good Times held its first-ever Good Times Radio Awards this morning. Hosts Mo Twister, Andi 9, and Mojo Jojo celebrated the year that was.
It's been almost a year since the show first aired—bringing a different flavor to FM radio. Their motto: More talk, less music.
In the past few months, Good Times and main host DJ Mo got a lot of media mileage—positive and negative—from the show's segment "Forbidden Questions." The segment challenges celebrity guests to answer provocative questions about themselves and their fellow celebrities. This means that all the names being dropped and the name-dropper too are well known to the public tuning in—which directly accounts for the show's heightened excitement.
As a consequence, even showbiz is a-flutter! Entertainment talk-shows were giving their two-cents worth about whether the radio program's format was intrusive, the answers offensive, and the host ethical. DJ Mo Twister has answered, with reason, that he saw no difference in what he did and what those shows did.
ADVERTISEMENT - CONTINUE READING BELOW
The disc jockey said he sees those TV shows screaming all the time about stars on the prowl, stars getting abortions, stars changing partners, stars getting fat, and so on. He asks, correctly: Why are they up in arms against his program? He doesn't give the answers, his guests do.
Good Times and Mo Radio Awards look back on the show's 2006 exploits and misadventures. Here are some of their awards:
Best Segment. Hands down, the three hosts chose "Forbidden Questions," the segment that catapulted the show to its current status in the ratings game. Some might go on even further and say that Good Times has toppled the competition—RX 93.1's Chico and Delamar—for morning radio's #1 spot.
Worst "Forbidden Questions" Guest. Former Pinoy Big Brother (PBB) housemate Cass Ponti was named the worst guest for allegedly being dishonest with her answers. The hosts thought she lied when she said she hasn't had any plastic surgery done.
ADVERTISEMENT - CONTINUE READING BELOW
Best "Forbidden Questions" Guest. Even though Mo Twister and Lolit Solis had a falling out earlier, everything turned out dandy in the end. Manay Lolit—as the talent manager and TV host is known in the biz—guested on the show, socked it to them, and got a perfect score! In return, DJ Mo promised to appear in Lolit's No. 1 showbiz show, StarTalk.
Enemy of the Year. With all the words exchanged between Mo Twister and entertainment writer and host Cristy Fermin—including "idiot" and "Shrek" from Mo to Cristy; and personal up-front invectives and constant digs over the radio from Cristy to Mo Twister—Cristy got this award. Losing to Cristy were nominees Jobert Sucaldito, Lolit Solis, and tabloid writers.
Mo was disappointed when he found out that the list of nominees did not include the Kapisanan ng mga Brodkaster ng Pilipinas (KBP). The KBP got into the act—rather eagerly and excitedly after only a little prodding—and said it was monitoring Good Times and getting ready with sanctions.
ADVERTISEMENT - CONTINUE READING BELOW
(Anti-censorship activists looking in were just as disappointed. They believe that getting the KBP into the scene was a terribly short-sighted move. Think about it, they said: what's to stop the KBP from monitoring The Buzz and StarTalk and all the other showbiz talk shows from now on? What makes these shows think that the KBP, once in, can't find something distasteful with them? Taste is, after all, very arbitrary. Wrong move.)
Good Times aired its last show this morning—its last show for the year! They'll be back next week at 6 a.m. sharp, wreaking satirical havoc and mayhem for all early-risers to enjoy.