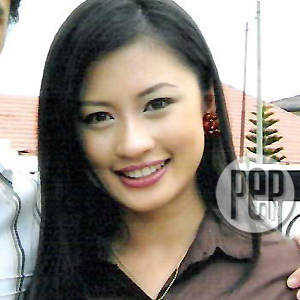 ---
Indeed, she is a sight to behold. Her beauty is breathtaking. And there is an aura about her that makes anyone stare.
Miss Chinese Cosmos International 2006 Carrie Lee is currently in the Philippines to finish her taping for GMA 7's Muli, a new soap opera soon to hit the local boob tube, where she plays opposite Filipino actor Alfred Vargas.
PEP (Philippine Entertainment Portal) had a one-on-one interview with the Malaysian beauty queen last Tuesday, January 23, during the taping of Muli in San Juan.
How do you find the Philippines?
"I'm excited to be here. The people here are very sweet and warm, and the places here are of natural beauty. The climate is better because in Malaysia it's very, very hot. I like eating street foods like dirty ice cream and taho."
How are you coping with your recent break-up with your Malaysian boyfriend?
"I'm sad, but when it comes to work, I'll forget everything behind. Work is work, you have to be really concentrated on your work. Forget everything about the past."
How did you guys break up?
"We broke up because he's not from show business. So he has difficulty understanding my work. We were from different worlds. He can't accept, that's why we have to break up."
Is it true that Alfred Vargas was one of the reasons of the break-up?
"We broke up because of the drama show, or because of my work. It just so happened that Alfred is part of that show. It's not really because of him. Actually, it's just guys. He [her boyfriend] cannot accept other men in my life."
Was your boyfriend jealous of Alfred?
"He did, because of some pictures of Alfred that he saw in my phone. Just pictures taken during the scenes that we shot. He got mad, he cannot accept. He just erased everything. But actually, he did not erase everything. He just erased the photos where we're together, Alfred and I."
ADVERTISEMENT - CONTINUE READING BELOW
"It's okay to have a photo, but he doesn't like me to put them on the phone. He doesn't want me to put men's photos on my phone. It's not good for him that he is my boyfriend and I keep another guy's photo on my phone. He has a reason to get mad, in a way, yes."
Is there a chance for a reconciliation?
"We don't know, I don't know. Actually, there might be an opportunity in the future. But we don't know now because it's really tough for people to accept our job. Usually those people who don't understand are not from show business."
How do you find Alfred?
"He is gwapo, very obvious that he is gwapo. He is also a really nice guy. Even when we were in Malaysia, he gives a lot of opinion, he is caring."
How about the other co-star in Muli, Victor Neri?
"No! Because he is one of the actors in this drama... I've just been here for around ten days. He took me around for dinner. After the dinner, we have a bunch of friends who joined us."
Is he courting you?
"No, I'm not sure."
How does she find Victor?
"Okay, okay. For me, he is a very serious actor. He teaches me a lot, he shared his experiences with me. Apart from being an actor, he told me that he's also a director."
How's you career in Malaysia?
"I did dramas, I did hosting, I did advertisements. Apart from Malaysia, I did advertisements in Hong Kong and Vietnam."