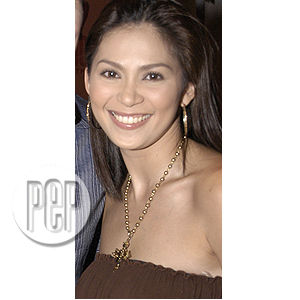 ---
"I'm 32! I'm proud to say I'm 32!" declares Sherilyn Reyesin her birthday party held at Bubble Gang Toppings, Quezon City last Saturday,February 10.
The Moms co-host says she has nothing more to wishfor on her birthday.
"My birthday wish? Actually I don't really have a birthdaywish. Siguro if I will have one, I wanna be healthy kasi nagiging sickly akolately. Even if I have work, I really wake up early in the morning for my kids,especially when it's a school day. I'd like to be more healthy—good health.
"To be honest with you, parang I think I have everythingalready kasi my priority is my family. I'm very happy and successful with myfamily so parang wala na akong mahihiling. And being in Moms is my dreamjob, hosting a talk show. I have Bahay Mo Ba 'To? pa so parangnakakahiya naman kung mag-wish pa ako!"
On the contrary, her husband, Chris Tan, has a big wish for thebirthday celebrator.
ADVERTISEMENT - CONTINUE READING BELOW
He reveals, "Gusto ko sanang magka-baby, hopefully, nextyear."
He manages to joke, "Kung hindi po siya papayag, wala siyamagagawa! Voluntary rape! Boy or girl okay lang, basta gusto ko lang sana isa pa.'Yon iyong wish ko."
Sherilyn shrieks, "Diyos ko po!"
The comedienne-TV host already has two sons. Her eldest, Paoie,is her son from a previous relationship, while Chirstien is her son with Chris.
She is proud to say that Chris has been a dad to both kids.
Chris explains, "I never considered Paolo different fromChirstien. Paolo is my eldest. Kumbaga, why would I treat him differently? Ilove his mom... He's my son. I never introduce him as my stepson. He's definitelymy son..."
Sherilyn simply smiles, "Family kami."