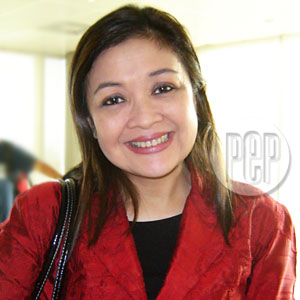 ---
At the 9501 restaurant yesterday, February 12, Manila Genesis Entertainment—anartist management company—held a press conference for one of its talents, HeartEvangelista. Heart is currently involved in a lot of projects,including a hit single in Australia.
Showbiz reporters were wrapping up the interview with Heartwhen Angeli Pangilinan walked in. Immediately, attention shifted from the youngactress to her talent manager.
Heart simply smiled and managed to joke, "Excuse me po,press con ko po 'to."
Angeli gave an interview to the press in attempt to clarifythe issues she is involved in.
FAMILY FIRST. Angeli recently disclosed that shewould be resigning from the Professional Artist Managers Inc. (PAMI). She hasyet to give a formal letter of resignation.
Angeli began,"Actually, the truth is really for so many years, I've been trying to resignkasi—not for anything, but I'm a very busy person. I have all thesefoundations, organizations, and companies apart from Genesis that I am part of.
ADVERTISEMENT - CONTINUE READING BELOW
"But Keana, who'sthe only daughter, 'yong parang her age na hindi pwede ma-late coming home.She always wants me for dinner or to be together, so all my meetings are lunchor breakfast. I've been appealing na kung pwedeng i-lunch na 'yong mgameeting [sa PAMI].
"Gina and I talkedabout it. Everybody was saying to revive the music managers guild—'yong STAMP[Samahan ng mga Tagapamahala ng mga Mang-aawit sa Pilipinas] dati. For several years, hindi ko nire-revive kasi I can't be involved in somany organizations. For the longest time, I've been telling June Rufino na'Magre-resign na ako ha.' She said, 'Wag na.'" June Rufino is the currentpresident of PAMI.
Angeli added, "Ilove the PAMI naman talaga. I love all of them. I don't wanna quit, but I'm notalone. I travel so much. I'm married to Gary Valenciano. So sabi ko, 'Gina,since ikaw showbiz—asawa mo si Leo [Martinez]—ikaw na lang sa PAMI, ako nalang sa singers...'" Gina Valenciano-Martinez is Angeli's sister-in-law and partner inGenesis Entertainment.
ADVERTISEMENT - CONTINUE READING BELOW
LOVING LOLIT. When Angeli expressed her desire toresign from PAMI, talk also went around, pointing at Lolit Solis as the cause.Angeli and Lolit, both members of PAMI, had a recent "tampuhan" when the latternamed the former as the most plastic person in show business in Mo Twister's"Forbidden Questions."
"Everybody knowsabout the Mo Twister story 'di ba, na nagtampo ako? Lolit told me 'Alam mo namanako e, ganoon lang ako pero hindi ko naman mini-mean.' That's why she saidsorry in Startalk. In fairness toLolit, we all love her naman talaga," said Angeli.
She admitted,"Siyempre nagtampo ako... But if I really wanted to quit, I would have wanted toquit right away, but I did not. I did not quit because ang babaw naman na I'llquit because of her. I think track record, I've been in the business for 28years. I don't make decisions just like that.
"I was hurt andGary was hurt. Me, these things don't bother me as much anymore, but my husbandgets bothered because if it's me, he takes it also. Alam mo naman si Gary. Imean he loves me so he got hurt also. He's always like that when somebody inPAMI hurt me. He'd say, 'You better quit na.' And later on, 'No, no, no.' Lolitpa e, fan na fan 'yan ni Gary.
ADVERTISEMENT - CONTINUE READING BELOW
"Ganyan lang namankami. Before, she also did something and she said sorry rin to me. Lolit Solisis Lolit Solis. She's an institution. Everybody loves her. In fairness to her,I was watching Startalk. I was just laughing because, you know, I knowher so well."
In last Saturday's Startalk,Lolit said that Angeli is too sensitive to be in show business.
Angeli simplyremarked, "But I am, you know that's why I don't like issues like this."
Lolit has also beenin a spat with Gretchen Barretto. She also says in the show that if she were to choose between Angeliand Gretchen, she'd pick Gretchen. True to Lolit's comic bluntness, shejustified her answer with "kasi mas mayaman."
Angeli breaks into a smile, "Hindi, I know Lolit alreadye. Alam mo 'yon? Joke niya lang 'yan. Even if she's on Gretchen's side, okaylang 'yan. She'll be on my side naman on August 26, my birthday. I know LolitSolis. I think we've gone through so much already."
ADVERTISEMENT - CONTINUE READING BELOW