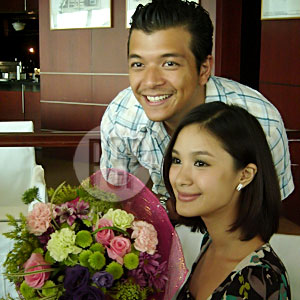 ---
Jericho Rosales arrived with flowers and a cake at 9501restaurant in ABS-CBN yesterday. He was there to surprise his girlfriend HeartEvangelista—who at that time was having a press con. Heart will celebrate her birthday tomorrow, February 14.
In separate interviews, Heart and Jericho chatted with PEP(Philippine Entertainment Portal) about their past, their relationship, andtheir plans for the future.
LAST YEAR'S CONTROVERSIES. Heart and Jericho, or Echoas showbiz folks would call him, went through a lot of controversies last year.
First, tabloid reports have feasted on rumors that Heart gotpregnant and had an abortion. Second, talk has it that both Heart and Echo havebecome snobs and prima donnas. Third, it has also been reported that Heart'sparents objected in her relationship with Echo. Lastly, there has also beenspeculation that fans weren't buying the Heart-Echo tandem.
A year later, Heart proudly says that she learned a lot fromthe issues thrown at her, but admits that she doesn't want it to happen again.
She explained, "I don't think I wanna repeat it again 'causeit was hard, but I wouldn't want to erase it in my life. I mean let's admit, Ireally went through a lot. Parang 'boom boom boom boom!' Feeling ko kung nagingiresponsable ako, you would see me in bars, nagwala na siguro ako. Di ba, 'yonyung escape ng mga young ones nowadays?
"But I needed to, I really needed to go through bugbuganstage because 'yong wisdom naman na nakuha ko, di ba? Parang ang laki ng tinandako dahil doon. I was 20 but I had the mind of a 16 year old, so I need to getthrough that. It was needed."
Heart also revealed that she hasn't completely reconciledwith her parents yet, especially her dad.
She remarked, "With my parents, like before I gave a littlebit ano... I think hayaan ko muna mag-heal-heal. Like before, they would getbothered reading [reports], so bago pa man namin maayos 'yong mga bagay, umiinitna ulo ng dad ko. Naloloka na siya, di ba? So hayaan na muna natin. It takestime. I admit my mistakes. I just wanted to learn to do things onmy own."
ADVERTISEMENT - CONTINUE READING BELOW
Heart said she is slowly fixing her relationship with herparents. Although she hasn't been speaking with her dad, she has anopen communication with her mom.
She admitted, "I really am a daddy's girl. I totallyunderstand why he is like that. I've made mistakes too because you know, I wasin that stage na I wanted to learn. So you know, this time, I'm making goodchoices."
Echo isn't giving details on the issue. He simply said, "Iwill not lie about that. Maybe I shouldn't talk about it. You know, nothing badis happening. It's a little bit silent so I'd rather keep it like that. I'mgonna give you a big surprise next time. Some say time heals all wounds. Let's see..."
HEART'S DAY. Heart will be celebrating her 21stbirthday on February 14, Valentine's Day. She says she still has no idea whather boyfriend—whom she fondly calls "Babe"—is cooking up.
"Gusto ko surprise," said the birthday girl. "Actually 'pagbirthday ko, selfish ako dahil Valentine's day ang birthday ko, so dapat nasaakin ang spotlight. Bahala na, surprise, surprise na lang ang hinihintay ko."
Last year, the couple spent V-day in Hawaii. This year,Heart said, they will probably spend it here in the country.
Jericho kept mum.He said, "I have a little something. Definitely, I have a little something. Akopa!"
Heart has only one wish on her coming birthday. Sheremarked, "Wish? You know I used to have a lot of wishes, but all I need,continue lang na magkaroon ako ng peace of mind, everything will be well.
"Before, I had so many things going for me but I wasn't atpeace. I was a teenager. I wanted to do this and that, hindi ko na-appreciate.Now, everything is not so dami, mas naa-appreciate ko siya. Mas masaya ako."
Meanwhile, Echo has another wish for his love. He revealed,"She's a little bit torn ngayon sa mga decisions niya. She wants to be aveterinarian and I still has to find the time to study. At the same time, Ihope she'll realize na the fans are, you know, gusto nila 'yong... Ayaw siyemprenilang mawala si Heart.
ADVERTISEMENT - CONTINUE READING BELOW
"If she deserved the kind of career she had before, I thinkknowing her now in a deeper way, parang she's deserving to be there again whereshe [once was]. She's a better person now. So I wish her guidance from theLord. But it's not bad at all, if she wants to be a vet, I'll be here."
MARRIAGE? Heart wore a diamond ring on her left ringfinger. PEP asked if it was an engagement ring.
She replied, "This one, gift niya sa akin 'to last year,'yong first year anniversary namin. No engagement yet, but don't worry, we'llannounce kung meron."
Heart said they don't have wedding plans yet. But when shewas asked if she's ready for marriage, she simply gave a one-word answer: "Anytime."
Meanwhile, Echo disclosed that he is already building ahouse in Loyola Grand Villas. He described it as a four-level '60s beach housewith a pool, roof garden, recording studio, gym, and office. He says he hasbought the 1,000 square-meter property a while back, but has only recentlydecided to put the land into good use. He also revealed that the house is set tocost him an eight-figure amount.
Is the house a sign that Heart and he will soon be settlingdown?
Jericho replied, "No plans yet. Well, we always talk aboutthings. No pressure sa akin. Being a man is really tough. You have to deal withso many things and she understands that... She was just saying in a way, which Ican also say, I'm not looking for anybody else. I'm really preparing for afuture.
"It's like this, I wouldn't say that it's not for Heart, butI wouldn't say yes that it's for her. You know what I mean? I don't wanna saynaman na baka may dumating pang iba 'cause wala na."
He explained, "I am, for example, I wanna be a, medyo selfishpero I wanna be secured. Gusto ko maging secured ako sa pagkalalaki ko na 'yongtipong if dumating 'yong time na I wanna settle, [alangan naman] that's theonly time na I'm gonna move pa lang? I wanna be ready before I decide and whenI decide, there, di ba? Traditional pa rin ako."
ADVERTISEMENT - CONTINUE READING BELOW