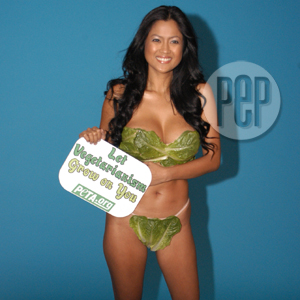 ---
Sexily clad in a bikini made of only a few lettuce leaves, actress and FHM cover model Alicia Mayer posed for a brand-new ad for People for the Ethical Treatment of Animals (PETA) Asia-Pacific.
Alicia urges people to embrace a healthy, humane, and delicious meatless diet. The star of Lagot Ka, Isusumbong Kita posed provocatively while holding a placard that says "Let Vegetarianism Grow On You!"
"I'm asking people to turn over a new leaf and go vegetarian," she says in a statement. "With so many delicious alternatives now available, it's easier than ever to enjoy great food without causing animal suffering."
Alicia follows the likes of Diether Ocampo, Ornussa Cadness, and Borgy Manotoc in stripping off to highlight the pro-animal campaigns of PETA.
Last November 2006, Diether made a bold statement for the animal-rights group when he posed with a placard placed strategically on his private parts that says "Naked Truth: Animals Don't Belong in Zoos." He was photographed while inside an open zebra-striped box.
The two models—and real-life sweethearts—Borgy and Ornussa agreed to be covered in tiger body paint last September for PETA's ad advocating the tagline: "Even the wildest animals don't belong in zoos."
According to PETA campaigns manager Rochelle Regodon, the stars who pose for PETA agree to do so without receiving any payment in return for their advocacy. Ace photographer Raymund Isaac volunteered to shoot Alicia's pro-vegetarian ad for PETA.
Anyone who wants to help PETA out can call 8175292, 8183668. Or reach these animal-rights activists through telefax 8183556.