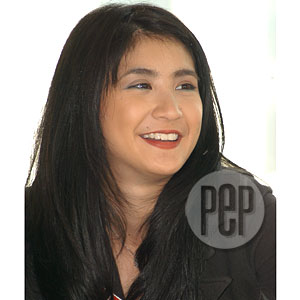 ---
Rica Peralejo excitedly tells PEP (Philippine EntertainmentPortal) about her new career—a college freshman at the Ateneo de ManilaUniversity.
She happily narrates, "I remember distinctly that lastJanuary, the girl from Ateneo na tinanungan ko kung kailan lalabas 'yong[Ateneo College Entrance Test] results, sabi niya baka February 14. And then Isaid bago ako matulog, sabi ko, 'Lord, I came by faith na ito na 'yongpa-Valentine's mo sa akin.' I slept na.
"And when I woke up, first text I got from my mom was'CONGRATS!'—all caps. And then I knew right away kung ano 'yon. Confirmed napumasa nga ako, Creative Writing."
The 26-year-old actress added, "Kinabahan pa ako. 'Yongnilagay kong second choice, Psychology. Noong na-pass ko na, doon ko langnaisip na, 'Hay naku, ang syonga-syonga mo naman, o! 'Yon pangquota course ang nilagay mo sa second choice!' Sabi ko, 'baka ito pa 'yong reasonkung bakit hindi pa ako makapasa!'"
GOING BACK TO SCHOOL. Rica admits that she is veryexcited to go back to school.
"It has always been my dream, more than being famous oranything else. I'd be a student talaga. Parang ako nga kung magkakaroon ako ngheaven, it would look like campus grounds. You know kasi, I'm so much of astudent. I'm a learner. I'm very young inside," she explains.
She added, "It's something that I really want my kids to seeabout me. You know, they can take everything away from you, but the knowledgethat you have, the education—and it's very important the kind of school you'rein, the values of that school, if they revere to the God you worship, di ba?'Yon yung very important sa akin."
Rica takes a more jolly tone.
"Grabe 'yong dream ko talaga! Grabe 'yong fire inside of meto go back to school kasi, e! E, I never got the chance lang," she exclaims.
ADVERTISEMENT - CONTINUE READING BELOW
Rica explains that her whole high school life is verydifferent than most people.
"I was under home study for two years, and the other two years Itook PEPT [Philippine Educational Placement Test]. So can you imagine, fouryears of no formal schooling and I passed Ateneo! I'm like, 'Wait, this is clearly not me!'" she managed tojoke.
CAREER VS. SCHOOL. Rica currently stars in ABS-CBN's SineseryePresents: Palimos ng Pag-ibig, which will premiere on March 5. The soapopera will run for six weeks.
She says her career will have to take a backseat when the school year starts.
She explained, "I'll be very honest, if they want tonegotiate with me and my schedule, why not? But starting June, my life is goingto be school. If they want to be second or after that, I don't want to beunfair also, 'di ba?
"Hindi naman ako magko-commit sa isang bagay na hindi namanpala ako puwedeng mag-commit 100 percent. If they're willing to make me commit 30 percentlang, I'm blessed."
Rica reiterates how important education is for her.
"It's not a fallback. Pag-aartista is my fallback. It's theother way around," she stressed.
"I'm always gonna be an artista. I'm alwaysgoing to be a performer, but I'm pretty sure that my purpose is way beyondthis. God is not limiting me. Why should I limit myself, 'di ba?" ended Rica.