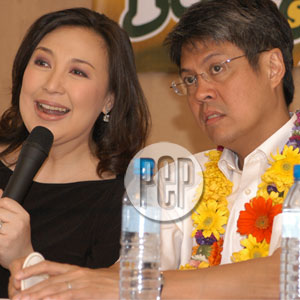 ---
"This time around, I know it's a more difficult, moreexpensive fight," admits Sharon Cuneta about this election's campaign for hersenatorial re-electionist husband Kiko Pangilinan.
In his first political salvo in 2001, Kiko ran under theadministration ticket.
Sharon recounts, "My husband did all he could to raise fundswithout asking for my help. Of course, I offered help, but the help I offeredwas not even a fraction of what I thought he would demand of me. He did notdemand of anything and he did it on his own."
In the course of his first term as senator, Kiko askedPresident Gloria Macapagal-Arroyo to step down during the impeachmentproceedings. The Senator also opposed former President Joseph Estrada. Kikosays he cannot, in good conscience, join either Team Unity or GenuineOpposition.
Now, he is running as an independent candidate, meaningalmost all campaign funds will be coming from his own pocket.
Sharon reveals, "I offered him that we should, if we had to,the last resort would be isanla namin 'yong bahay kasi may trabaho naman kamina babayaran ['yong pagkasanla]. Again, he said 'No' because obviously, you have to think ofyour family. All candidates wala naman ganoon, e, 'yong buong kabuhayan moisusugal mo."
The Megastar adds that she and her husband do not haveliquid finances—most are invested in land.
"Hindi naman naipapalit ng ganoon kadali ang lupa paramaging sticker!" she remarks.
Sharon also says that the money her kids—KC, Frankie, andMiel—earn from product endorsements goes directly to the kids' savings, not a single cent is spent for the campaign.
The premiere actress/TV host says she will be busy workingwhile her husband is campaigning. She manages to joke, "Kailangan may kumita ng pera!"
Sharon expresses her gratefulness to MotherLily Monteverde, who is endorsing Kiko for the second time around.