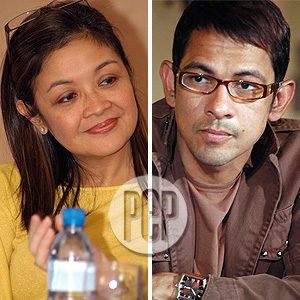 ---
Angeli Pangilinan-Valenciano has been in the news because of her resignation from Professional Artists Managers Incorporated (PAMI). Controversy followed after talk went around, pointing at Lolit Solis as the cause.
Angeli and Lolit, both members of PAMI, had a "tampuhan" when the latter named the former as the most plastic person in show business in Mo Twister's "Forbidden Questions."
Angeli clarified the issue in a previous interview with PEP (Philippine Entertainment Portal).
She admitted, "Siyempre nagtampo ako, but if I really wanted to quit, I would have wanted to quit right away, but I did not. I did not quit because ang babaw naman na I'll quit because of her. I think, track record, I've been in the business for 28 years. I don't make decisions just like that.
"I was hurt and Gary was hurt. Me, these things don't bother me as much anymore, but my husband gets bothered because if it's me, he takes it also. Alam mo naman si Gary. I mean he loves me so he got hurt also. He's always like that when somebody in PAMI hurt me. He'd say, 'You better quit na.' And later on, 'No, no, no.' Lolit pa e, fan na fan 'yan ni Gary."
She explained that she wanted more time with her family that's why she decided to quit.
PAMI issued an official statement saying that they have yet to receive a resignation letter from Angeli but had accepted her resignation anyway. They also remarked that their organization does not require much time from their members.
Angeli kept mum after PAMI's statement was published in PEP and in different publications.
GARY SPEAKS UP. In an interview with PEP during the Sana Maulit Muli album launch, Gary Valenciano talks about the issues surrounding his wife Angeli.
He reacts, "Wow, labo! But more than that, it's parang kasi kaibigan, e. Buti kung talagang people na you don't know.
ADVERTISEMENT - CONTINUE READING BELOW
"Everybody naman is entitled to his own opinion about certain things, but when it comes to friends—I guess it hurts a little more because you don't become friends overnight. You become friends over a period of time, and then overnight parang the bridges are burned and relationships are...
"I don't think I do that [to them] and if I did, I'd go up to the person later on and say 'I am sorry.' I have friends who can testify that I go out of my way to say 'I'm sorry.'"
Gary says that Angeli shares her feelings about the controversies with him.
"I can talk to her all the time. I can actually give her advice sometimes. I tell her, 'Honey, maybe you should let go of certain things and all.'
"Apparently, she tells me, 'I have. It's just I'm just being hit with stuff that I may have said years ago, and figured it out, bringing it out to the open...' But I said, 'Why? What did you say ba?' Then she tells me what she said and I'm like, 'Wait a minute...,'" he tells PEP.
Mr. Pure Energy remarks, "There's not much advice to give her 'cause she's handling it very well... And I'm amazed that the amount of patience and love this person has for people who she has treasured for so many years. Then all of a sudden, for some reason I don't know, it's natural to the people to hear one side of the story and tend to believe immediately. But I've learned and I'm still learning that there are two sides of the same coin. There's the heads and the tails."
Gary admits though that the hullabaloo is affecting him and their family.
He explains, "It's sad that Angeli and I are one. Anytime anybody hits any of my family members, especially my wife, it's hitting me. It's hard when I hear people say, 'No, Gary is okay.' But I'm like, 'Hold on. Let's not beat around the bush.' Let's settle it sana and all, but she's handling it really very well. That's one thing I'm proud of because it's teaching me how to deal...
ADVERTISEMENT - CONTINUE READING BELOW
"My sons are young boys and my daughter is a young girl. And, of course, as any family would if anybody of the family is hit by what—I would even say—made up stories about them, there is an initial reaction more than anger. It's parang, 'Why? What happened?' But I think they have also been handling it well and they realize that there are other more important things in life that need to be thought of, especially being young like that. And I'm proud that they are handling it that way.
He adds, "They'll joke about it once in a while. I know my sons and my daughter when it comes down to really searching one's heart. They're okay. They're fine with that."
What would Gary do if he saw Angeli's detractors?
He answers, "Probably when I see them, you know, I don't know. Maybe I'll just go up to them and give them a hug, whether they say they apologized or not. I'm just gonna have to keep on loving them the same way I've been loved despite my mistakes."