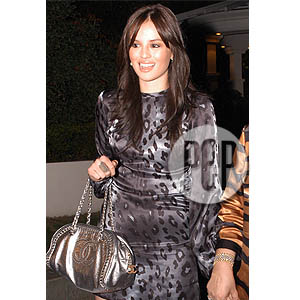 ---
Georgina Wilson, a model and the niece of Miss Universe 1969 Gloria Diaz, was enjoying herself at the despedida partyof Tina Tinio, Shu Uemura's former business unit manager, held at the Embassy Club.
The girlfriend of Richard Gutierrez was, asusual, dressed fabulously and lugged a brand-new Balenciaga bag. The bag, RuffaGutierrez describes, costs a cool $5,000.
Embassy is a known bar for the moneyed.
A PEP (Philippine Entertainment Portal) source says that a male partygoer, who was dressed liere the rest of the Embassypatrons, tried to steal Georgina's bag!
The thief almost got away, but the bouncers were quick tocatch him and gave him a beating.
Embassy Club's part owner Tim Yap said in his text message to PEP Managing Editor Karen Pagsolingan, "We ran after him. Our bouncers were quick to capture the thief as he left the grounds of the club. I was personally there until the thief was brought to the jail at the Taguig City Hall cell. We cannot allow incidents like this to happen in our club that's why we made sure to report it, have him blottered, and detained to teach the thief a lesson."
It was found out that the thief was a male nurse whopretended to be one of the party's guests.
Ruffa says that she wasn't at the party, but was told aboutthe incident.
The former Miss World 2nd Princess will be having a party too at Embassy forPhilippines' Next Top Model launch this Saturday, March 10, and warns peopleof gatecrashers.