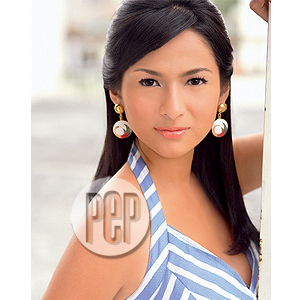 ---
It's hard to find someone who doesn't know Jennylyn Mercado.Catapulted to fame after being named the Ultimate Survivor of Starstruck'sfirst season, Jennylyn has since become a household name and one of the hottestyoung actresses in showbiz today.
This March, Jennylyn sits down with Cosmopolitan magazinetoshare her stories of survival. She refuses to talk about the traumatic childhood that left her physically and emotionallybattered, saying, "Hindi ko na maalala 'yung mga nasa isip ko n'ung mgapanahon na 'yun at di ko na rin iniisip 'yung mga pangyayaring 'yun."
Shehas since buried the hatchet and moved on with her life, especially after heraunt Lydia Mercado legally adopted and raised her. "Okay na ako bastaandiyan lang mommy ko," she shares.
Mommy Lydiawas also present that afternoon when Cosmo shot Jennylyn for theircover. In a shoot that required three outfits instead of the usual two,Jennylyn struck the Cosmo staff as quiet but responsive. "It was a fastshoot," says Red de Leon, art director of Cosmopolitan Magazine,"She was very cooperative and easy to work with, and of course, maganda nakasi talaga siya." Editorial assistant Joanne Go agrees, "Hindisiya maarte at all."
Keeping things real has contributed to Jennylyn's staying power, becausewhile winning in StarStruck made her entry into showbiz much easier, theride did not prove to be smooth sailing all the way. Plagued by intrigues leftand right, Jennylyn has learned to shrug these off. "Hindi ko na lang silapinapansin, tutal hindi naman sila totoo," she says.
Find out more about the challenges Jennylyn has survived by grabbingyour copy of the March issue of Cosmopolitan Magazine, now available inall leading bookstores and magazine stands nationwide at P125 per copy.