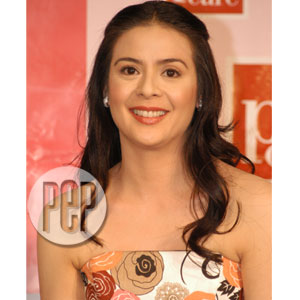 ---
Dawn Zulueta runs up the hill to the arms of a man. Sherides the bike with him on the streets of Batanes. She passionately hugs him atthe lighthouse.
These are scenes from Dawn's new pH Care commercial—scenes,some say, that are reminiscent of her hit movie with Richard Gomez, HihintayinKita sa Langit. The movie was also filmed in the same location.
"Parang similar siya, 'no? I guess you know, 'yong theme ngcommercial... some of the shots we've taken are very romantic," says pH Care'snewest endorser.
The product's executives explain that the association withthe film was unintentional, but at the same time, serendipitous. They say thattheir goal was to shoot a love story and that Batanes is one of the mostromantic places in the country.
Dawn confesses that the shoot brought back alot of memories.
She says, "Not much has changed. The only thing that hasreally changed is it's more convenient for travelers, like now they havehostels. Unlike before, about 15 years ago, wala pa masyado pero ngayon meronna.
"It [the shoot] was very melancholic because every streetcorner na pinuntahan namin, while we were hanging around the island in Batanes,really had so many fond memories. Especially the people, hindi sila nagbago, e.Ganoon pa rin sila. They're a quiet town.
"We traveled all around. When you go to the areas nanapaka-romantic, Moorish ang itsura niya, naaalala ko talaga noongnagsu-shooting kami doon ng Hihintayin Kita sa Langit. Nami-miss kotalaga sina Tita Armida [Siguion-Reyna], sina Direk Carlitos... Nami-miss kotalaga 'yong mga katrabaho ko noon."
And what about her co-star and ex-boyfriend Richard Gomez?
"Of course, it reminded me also of my co-star!Doon nagsimula ang lahat!" she giggles.