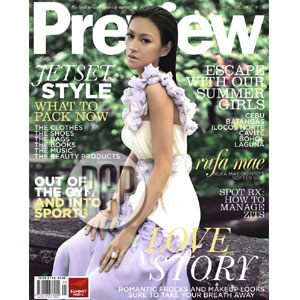 ---
Everyone knows Rufa Mae Quinto as Booba. That was, after all, her launching role. The sexy comedienne earns a living by making people laugh with her "dumb blonde" antics, and has always known for being loud and outspoken.
This April, Preview magazine unveils the demure side of Rufa Mae. Asked why they picked Rufa Mae to be their cover girl, Preview fashion assistant Kissa Castanedasays, "Rufa Mae hasn't really graced any covers aside from the men's magazines, and she hasn't really done that in a while either. Plus, we think people are now more receptive to new faces on the cover of Preview."
True to Preview's transformative style, Rufa Mae trades her sexy look to don a fairy-like, romantic look, one of the biggest trends in spring fashion.
In a photo shoot that started at eight o'clock in the morning in Paco Park, Manila, the Preview team felt instantly comfortable in Rufa Mae's presence. A very down-to-earth woman, she had no star complex whatsoever and even seemed willing to learn from the people around her.
"I would say she is one of the Top Three nicest celebrities I've worked with," says Kissa, who styled Rufa Mae for the shoot. Truly, what you see on TV is what you get with Rufa Mae in person—very bibo, candid, and always sincere.
Discover a side of Rufa Mae you've never seen before. Grab your copy of the April issue of Preview Magazine, now available in all leading bookstores and magazine stands at P120 per copy.