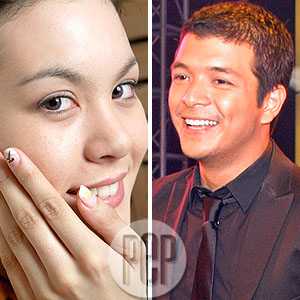 ---
"Did you or did you not sleep with Jericho Rosales?" asked Mojo Jojo in the Good Times segment "Forbidden Questions" yesterday morning, May 2.
Celebrity guest Aliya Parcs answered, "I already admitted that I made out with him, that's how far I'm gonna go..."
Hosts Mo Twister and Mojo Jojo did not believe the model-singer's answer. They probed further.
"How about this? Is it a tall venti or grande?" asked Mo, referring to Jericho's "wang."
Aliya stressed, "I never said anything beyond making out, and I'm not gonna, I'm not gonna entertain this question. I'm digging myself a grave. I'm not gonna answer. Just because they continue questioning me doesn't mean I'm digging myself a hole. They're bullies, e. They're just bullying me!"
Mo insisted, "Did you or did you not sleep with Jericho Rosales?"
Aliya reiterated, "I'm gonna stick with my answer. And I tap out."
The model-singer scored a low 18 out of the 40 questions asked on the show.
Here are some of the questions and answers:
FAMOUS PEOPLE. "Your boyfriend is the lead singer of South Border, Vince Alaras. And since he's your boyfriend, you love your boyfriend?" asked Mo.
Aliya said yes.
"And because [it's] love, not only do you express it emotionally but also do physically, yes?" asked Mo.
Aliya agreed.
PLEASURE. Mo asked, "When's the last time you pleasured yourself?"
Aliya answered, "Months ago. I'm serious... I'm not totally, totally lying. I swear to god! I'm celibate. I'm so dead serious... I'm pathetic. I have no life. I'm sorry!"
ADVERTISEMENT - CONTINUE READING BELOW
OVERRATED SINGER. Aliya's answer to this: "How can you say something like this without jeopardizing your work? Okay, this is like totally totally nothing personal... Paolo Santos. This is nothing personal. My apologies. It's just not my thing, technically and, like, just creatively, it's not my type."
GIRL CRUSH. Said the model-singer, "I have one! what's her name? Cristina Garcia and Tweety de Leon."
VINCE OR DUNCAN. Mo asked, "Who is a better singer—Vince, your boyfriend, or Duncan, the other singer?"
Aliya answered, "Vince, of course. Forget Duncan! No, Duncan's a really good friend but I have to go with Vince."
SEX TAPE. "No, no, no, no, no! I don't have a camera. No, never. I'm so praning with that coming out," stressed Aliya.
ABS-CBN OR GMA-7? "I don't watch either... It depends on the show. Basically, these questions are questions I wouldn't really care about because it doesn't affect my life whatsoever. I enjoyed working for both stations," she said.
WORST BILLBOARD IN EDSA. Aliya answered, "The Ellen something. I'm sorry somebody should've done something about it—the makeup, the whole layout. You know what's wrong with the billboard? That the face is so outstanding that I just kinda forgot to read the rest of the billboard. It's like, whoa! What happened?" Incidentally, Ellen's is a dermatological clinic.
VIRGINITY. "How old were you when you lost your virginity?" asked Mo.
Aliya answered, "My mom's listening. Can we get back to this later? Who said I lost it? Actually it's with my first love. We're still good friends... I was almost 18. I was 17..."
ADVERTISEMENT - CONTINUE READING BELOW
She joked, "My mom's having a heart attack right now!"