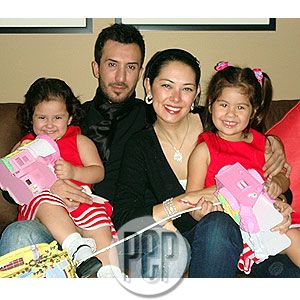 ---
Earlier today, PEP (Philippine Entertainment Portal) reported that Ruffa Gutierrez and her Turkish husband Yilmaz Bektas have mutually agreed to end their four-year marriage. The two are now in the process of filing for an annulment of their marriage.
The news may have come as a shock to many, especially since Ruffa has never shown, by mood or word or behavior, that they were experiencing serious marital problems. In fact, she mentions in the May 2007 issue of YES! magazine that after four years of marriage, her business-minded husband finally allowed her to go back to her showbiz career.
"He's really changed a lot," Ruffa tells Anna Pingol, associate editor of YES! "I mean for him to even, like, send me here? For the first three years of our marriage, hindi talaga. And I really devoted naman my time to my family. So, siguro he trusts me more na rin talaga."
But this does not mean that Yilmaz has stopped being the jealous guy that he was when she met him.
"Nagseselos pa din siya, ha? Hindi na mawawala daw 'yon. He said until I'm not 60 daw, he's gonna be selos with me. 'Sweety, by 60, I'll be menopause...' Pero ganoon daw talaga 'yon pag love, di ba? I don't know. Kasi ako, nagseselos din ako sa kanya. Hindi mawawala 'yon."
She says that his jealous fits occur less frequently now. "Before we got married, ay, nako, all the time. But now, it depends on Yilmaz's mood."
Ruffa also says in her YES! interview that she deserves Yilmaz's trust.
ADVERTISEMENT - CONTINUE READING BELOW
"May sinasabi siya sa akin before na, 'You know, it's not important what you do when you are in front of me, but what you do when you are far way from me.' Sabi ko, 'Sweety, I protect our family name, 'no!'
"I'm honest naman with him, 'no! I tell him everything. 'Tsaka, hoy, in fairness naman sa akin, hello, ang bait-bait ko nga, 'no! I don't even go out at night, 'no! I'm home by seven [p.m.] unless I'm working, di ba?"
In the past, it was always a struggle for Ruffa to convince Yilmaz about her need to go back to her acting and hosting career in the Philippines. So when he gave Ruffa the go-signal to accept the hosting job for RPN-9's Philippines' Next Top Model, she was ecstatic.
Ruffa recounts to YES! what she told Yilmaz: "Puppy, you know, I've been such a good girl, and I've been taking care of you since 2000. I dedicated my life to you and to our family since 2003. So, can I just love myself naman for a month? Can I take care naman of my creative instinct for a month?"
That one month turned out to be longer than what Ruffa promised Yilmaz. Aside from Philippines' Next Top Model, Ruffa also agreed to pinchhit in The Buzz for Kris Aquino, who is on maternity leave. For now, however, it is not clear if Kris will go back to the show, or if Ruffa will become its regular co-host.
ADVERTISEMENT - CONTINUE READING BELOW
Although Ruffa finds fulfillment in being a working woman, she admits that Yilmaz "is still the breadwinner."
Ruffa adds, "And you know, he doesn't even ask how much I make. He doesn't even take one single penny from whatever project I make. You know, he just wants me to be happy. That's why he allows me. But that's as long as the project is something that he believes in."
The 1993 Bb. Pilipinas-World titleholder was set to relocate with her family to Barcelona, Spain, before news of their separation broke.
"Magre-rent muna kami ng condo for a month before we go looking for a place to stay for a long time," narrates Ruffa. "Kasi, you can't find the place that you really want to stay in na overnight, 'di ba? It takes time. But it's gonna be so much fun!"
Little did she know that the fun-filled search for a new home would no longer be.
Ruffa and Yilmaz have two daughters—the three-year-old Lorîn and the two-year-old Venice. There is no word yet on who will get custody of the two children.