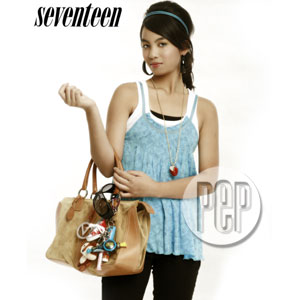 ---
One downside to being a celebrity daughter is constantly being in the shadow of your parents. But Dominique Cojuangco finds a bright side to being the daughter of actress Gretchen Barretto.
In the May issue of Seventeen magazine, it's clear that Dominique inherited her mother's genes as she sails through her very first fashion shoot with flying colors. Mommy Greta is one of showbiz's most fashionable women, and Dominique admits raiding her mom's closet from time to time.
"Mom has a lot of clothes and stuff for events, so whenever I have nothing to wear, I just raid her closet," she tells Seventeen.
But Dominique has a style that is uniquely her own. The Seventeen fashion editorial—entitled "Mom's Pieces, My Way"—shows that Dominique dares to be different. "When I'm in shorts, I like to loop a belt or a tie around my waist, or have keychains hanging on one side," she shares.
At twelve years old, she is just beginning to blossom into a pretty young lady. The awkward stage prompts critics to compare her to her mother, and Dominique admits it bothers her sometimes. "When people say, 'Oh, Gretchen is sooo much prettier than her daughter,' it does hurt. But it's not like I'm going to cry over some little comment like that," she says.
Is Dominique a fighter like her mother? Or is she a spoiled daughter to one of the richest men in the country? Discover more about Dominique Cojuangco and other celebrity daughters who stepped out of their mothers' shadows. Grab your copy of the May issue of Seventeen magazine, featuring Anne Curtis on the cover, now available in all bookstores and magazine stands nationwide at P85 per copy.
ADVERTISEMENT - CONTINUE READING BELOW