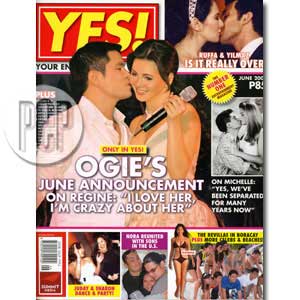 ---
The long wait is over. Ogie Alcasid finally made his muchtalked about announcement in YES! magazine's June issue. In fact, hemade two.
Ogie's announcement, for some, may seem like a confirmationof what has been speculated since his wife, former Miss Australia Michelle vanEimeren, and kids, Leila and Sarah, migrated to Australia.
"I'm separated. Michelle and I are separated, and we havebeen... for a long time," Ogie finally dropped the bomb.
YES! editors Jo-Ann Maglipon and Anna Pingol wrote:"Like everyone else, we've been thinking this, but when we actually hear it, itrenders us silent somehow."
Ogie proceeds to talk about being separated from his family,about his in-laws, and about the rumored annulment being filed.
Two hours into the interview, the name that all have beenwaiting for, Regine Velasquez, hasn't come up yet. The question—Is there lovebetween the songbird and the songwriter?—has not been answered.
"I think what I'd like to say with regards to Regine... I... I'min love with her... very much," Ogie finally said. There goes the secondannouncement.
The songwriter talked about his muse with much admiration.He answered several rumors that have been reported about them—Regine'snon-showbiz boyfriend, Ogie's supposed jealous fit over the Regine-Robintandem, Regine's alleged jealous fit over Miriam Quiambao, Regine reportedlysaddened by Ogie's absence in her 20th anniversary concert, Ogie andRegine rumored to be living together, Regine being rumored to reason for Ogie'sbreak-up with Michelle, and Ogie and Regine's supposed plan to get marriedsoon.
The 16-page article on Ogie's personal life will most likelyput Ogie and Regine under much public scrutiny.
ADVERTISEMENT - CONTINUE READING BELOW
"E, ngayon pa lang marami nang sinasabi, e... So at the end ofthe day when you're happy, if you're okay, then you're okay. It doesn't matterwhat people say, you have to do what you have to do with your life. You've gotto be true to yourself," Ogie admitted.
Catch Ogie's detailed interview, only in
YES!
,now available at your local bookstores and newsstands.