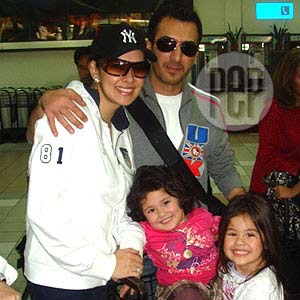 ---
"I will say now that Mother Annabelle is not thematerialistic relative that I was referring to. That relative knows who he orshe is. I will tell the public who it is when I come to Manila to fetch myfamily," clarified Yilmaz Bektas in his latest statement issued to Startalk.
In an interview with The Buzz, Ruffa Gutierrezseconded her husband's explanation. "I think we jumped into conclusions. Wala namangsinabi si Yilmaz na si Mommy 'yong materialistic relative. Inako na ni Mommy'yong kasalanan na siya 'yon... Hindi [daw] si Mommy ['yong tinutukoy ni Yilmaz].Siguro si Yilmaz lang ang makakapagsabi kung sino 'yon," said Ruffa.
Ruffa answered some points that her husband, Yilmaz, raisedabout her parents, Annabelle Rama and Eddie Gutierrez, and about trying to fixthe marriage.
ENVY. "Some of the people surrounding Ruffa are justjealous because she is beautiful, she has a nice life, she is so famous. Inever intend to stop her from mingling or socializing or going out. I'm justtrying to protect her from some people," claimed Yilmaz.
Ruffa reacted, "Am I [beautiful]? Thank you! At leastnapansin niyang maganda pala ako. You know Yilmaz used to say, 'Ruffa, I trustyou but I don't trust the world.' Kasi kung sa akin lang, mabait daw akong tao,mabait akong babae, I'm a good wife, I'm a good mother... But it's the people inthe world that he doesn't trust."
She added, "That's just the way Yilmaz is, e. You know whenhe loves and when he speaks, he's very deep."
IN LOVE AND WAR. "Right now, it looks like shedoesn't want to see me running behind her. But only until she tells me shedoesn't want me or doesn't love me anymore that I'm going to move on with mylife. Then, I'll pray to God to give her happiness she deserves," said theTurkish businessman.
ADVERTISEMENT - CONTINUE READING BELOW
Ruffa explained, "You know what, I think loveis not the issue here, e. It's iyong pagiging babae ko, 'yong self-respect koas a woman. You know, I feel that I have to keep my dignity. And a lot ofpeople know na rin what happened in the last few months. I think it's Yilmaz'sturn now to make amends with my family, to speak to me, to come and exert theextra effort."
Ruffa noted, "You know what, you only realize that you lovesomebody 'pag nakikita mo na unti-unti ng nawawala sa iyo 'yong tao na iyon. So Ithink that's what he's realizing right now, na nakikita niyang unti-unti naakong nawawala sa kaniya and so he's trying to do everything to win me back."
KEEPING PROMISES. In his statement, Yilmaz stressedthat he wanted his family back: "If this has to end, I want a good end. But ifwe still want to keep this marriage, we better start working on it now beforetoo much damage is made. I obviously prefer to save our marriage."
Ruffa asserted, "Well, he should start working on it. I'mjust here waiting. He keeps saying that he's coming, he's coming... In fairnessto him, he really wants come, he's around Asia right now, but I guess, you know,he's afraid of the press or he's afraid of what could happen when he's here."
She swore that she is not going back to Istanbul.
"Right now, I stand firm on my decision. Let's see sapag-uusap namin—I'm sure one day mag-uusap kami, maghaharap kami. Kailangannamin pag-usapan tungkol sa mga bata, tungkol sa mangyayari sa amin. And ifever there will be an ending, I want it also to be a good ending. I don't wantit to be an ugly bad ending," said Ruffa.
ADVERTISEMENT - CONTINUE READING BELOW
The former Miss World 2nd Princess said that she is notclosing doors on her relationship with her husband of four years and fatherof her two daughters Lorîn and Venice.
"Alam mo, ayokong lagyan ng period. Ayokong lagyan ngtuldok. Kagaya ng sinabi ng Mommy ko, 'Lagyan mo na ng tuldok, Ruffa.' But myMom is not me. As of now, you know we have two kids, iniisip ko pa rin 'yon,'Magbabago pa ba kaya si Yilmaz?' I'm now in the stage—I can't say that I'vemoved on or I'm moving on. I'm in the stage where I'm still the woman in themiddle of the storm," she disclosed.
She has this message for her husband: "Yilmaz, if you'rewatching right now, you know whatever it is that you're promising, whatever itis that you're saying, do it. Show us and promise me—actually, you have topromise my Mom and Dad—that you will change and that you will take care of me,you will love me. Because my Mom and my Dad love me. I'm the only girl. Noongibinigay nila ako sa iyo, you know they expected that you will take care of me.And when I came back and they realized that you didn't take care of me,siyempre they got really upset. So I think you need to speak to my Mom and myDad, and you need to speak to me. We'll see what happens."
HIATUS. Ruffa announced, "Tomorrow [May 21], I'm going awayand I'll be far, far away for two weeks. Just to clear my mind. You know now, Ican't really think because I'm surrounded by all this mess. Everyday, somebodywrites about me in the papers. Andaming nagsisitsit. Andaming nakikialam. Ithink me and my kids are going away tomorrow..."
ADVERTISEMENT - CONTINUE READING BELOW
Ruffa clarified that she is not going to Turkey. She alsosaid that her "Lovey" knows where she is going and that she is open to seeinghim.
"Why not? I mean if he wants to follow, if hewants to do everything that he can para i-prove sa akin na he wants me and hewants his kids back, I'll give it to him. Let's see what he's gonna do," she ended.