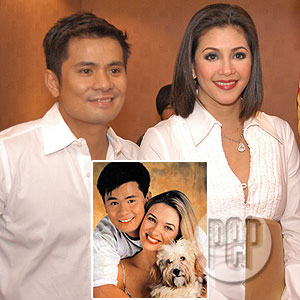 ---
"Abangan nyo sa June, sa isang magazine, nagpa-interview na ako. Maramingnagsasabi baka wala ako sa June. Abangan n'yo po, sa isang magazine, sinabi kona po lahat."
Those were Ogie Alcasid's words-words that created hype and speculationsabout what he would reveal. Now, the long wait is over, even earlier thanexpected. The June 2007 issue of YES! is the magazine Ogie was referringto. In a tell-all interview, Ogie reveals the real score between him and RegineVelasquez and his separation from his Australian wife, Michelle van Eimeren.
YES! Magazine's associate editor, Anna Pingol, who interviewed andwrote the article with Editor-in-Chief Jo-Ann Maglipon, shared her thoughts onShowbiz Central regarding Ogie's announcement.
"Sa pagkakasabi niya," Anna began, "Enero of this year,feeling niya [Ogie], maganda ang bukas ng taon sa kanya. He feels like he wantsto say something about his life, about himself. At the same time, dispel someof the rumors na talaga namang hindi totoo. So, sabi niya, gusto na niyangmagsalita na."
It seems like Ogie had a lot to say that it took 16 pages of YES! towrite all about it.
"Ever since, lahat tayo, speculations," said Anna in her May 20appearance on the GMA-7 showbiz talk show. "Tinanong namin siya about thosespeculations. Sumagot naman siya. So, umamin siya sa dalawang bagay."
Those confessions that Ogie wholeheartedly shared had no lies andpretensions, but it revealed a different side of the award-winningsinger-composer.
"Iba pa rin 'pag narinig mo from his own mouth, or 'pag nabasa mo.Though sinabi niya, iba pa rin na confirmation of everything, e. Ibang klase parin. Nakakatulala pa rin for a while."
ADVERTISEMENT - CONTINUE READING BELOW
Anna also adds: "Kasi si Ogie, at this point in his life—nabasa koha—the past doesn't matter. He's just looking forward at mas importante sakanya ay 'yong ngayon. 'Pag binasa mo ito [YES! June 2007 issue],makikita mo rin 'yong totoong Ogie na hindi mo pa nakikita sa TV."
True enough, when Showbiz Central received its manager's copy of YES!Magazine, it contained Ogie's announcements in a 16-page article.
Ogie has always been a private person when it comes to matters regarding hisfamily. Nevertheless, this is not enough for intrigue to continue hoveringaround his kin. A lot of rumors had gone out about the true status of hisrelationship with his wife Michelle van Eimeren. This time, Ogie decides toface the issue and clarify a lot of things in his YES! Magazineinterview—a realization that occurred to him early this year.
Here are some excerpts from YES! Magazine:
"2007 seems to be a good year for me, but deep inside me, I said Idon't deserve a good year if I don't expose myself, or at least say somethingabout what I've been hiding all this time."
After this, Ogie declared his first announcement: "I'm separated.Michelle and I are separated."
Ogie didn't give out details on how long he and Michelle have beenseparated, mainly, on Michelle's request.
"There's a lot pain—a lot of pain, a lot of heartache, a lot."
The Alcasid kids, Leila and Sarah, are still clueless about the real statusof their parents' relationship. But Ogie and Michelle are doing their best tobe good parents. As Ogie would put it: "At this point in our lives, Ithink Michelle and I realized so many things. We are great parents even thoughthis was happening. And we are the best of friends right now."
ADVERTISEMENT - CONTINUE READING BELOW
Ogie refused to answer when asked about Michelle's status in Australia. Thisis, so to speak, his way of respecting the privacy of Michelle.
"The big reason why she's there is because she wanted to live a privatelife. And I want to give that to her. Hindi ko na dapat siya isali pa saanumang pinagdaraanan ko. All I have to say is that she's doing very, verywell. I will not talk about Michelle's life."
Ogie also added that he's ready to face whatever may bear fruit from hisseparation from Michelle. Even if this would mean sacrificing the time spentwith his kids.
Is it true what Ricky Lo wrote in his column last August 19, 2006 that hisannulment of his marriage with Michelle is already underway?
"There are still some things that I want to fix. I want to get clear onthat. Legal or what, nothing has been done yet. And I'm not going say anythingabout that. And that's why, when this news about me having an annulment cameout, that's totally untrue," Ogie said in his YES! interview.
The next question, what exactly is the reason for their separation?
"As of now, it is not important. Whatever the reason is for us, I guessthere are a lot of reasons behind that. One, there's some pain involved. Two,it was between me and Michelle, e. Sa amin na lang 'yon," he answered.
Could one of these reasons be Regine Velasquez? This question eventually ledto Ogie's next announcement in the interview: "I think what I would liketo say with regards to Regine... I ... I'm in love with her... very much."
ADVERTISEMENT - CONTINUE READING BELOW
But this statement isn't a confirmation about his rumored relationship withRegine. For even Ogie is not sure about Regine's feelings for him.
"With regard to her position towards me... well, you might want to askher. I don't know. I mean it's kind of mysterious how we are. If you see us in SOP,how would you react? And that's basically is what we are."
Ogie also added, "I'm in love with her, I'm crazy about her and sheknows that."
In the same interview, Ogie explained why he fell in love with Regine.
"She's very humble about everything, even if she's freakin' RegineVelasquez! She's very, very, matulungin. I don't want to expound because shehates saying it. But she's that kind of person. She has a very goodheart."
Ogie also clarified that he and Regine are not a "live-in" couple.
"No, that's not true," he said.
However, he evaded the question when asked whether it's true that he's buildinga house for Regine.
"I'm not prepared to talk about that yet."